On to the second day of London Collections: Men on Tuesday and the theme of the day must have been a fusion between new and old; experience with ingenuity; confidence with risk taking; as designers took to the various locations to showcase their Autumn/Winter 13-14 collections.
Alexander McQueen was the toast of the day, with Sarah Burton not failing to deliver on a unique and creative collection with the utmost skill on tailoring.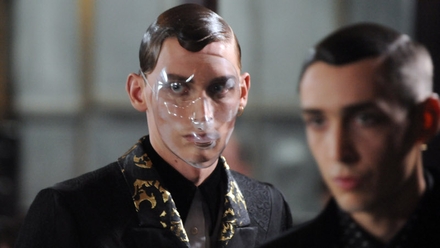 Models wore plastic masks and finger wave, Gatsby-inspired, ultra-wet look hair styles. The focus of the collection seemed to weigh on the offset of stripe and polka dot, with contrasting shapes and patterns. A darker palette burst into fiery red mid-way through before the shining glory appeared, the light of stained-glass suits in a variety of colours and patterns.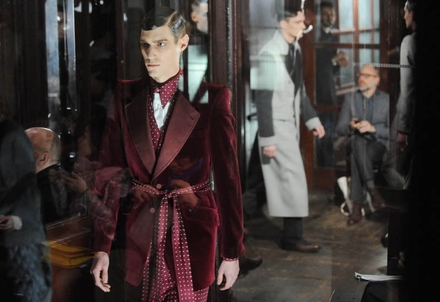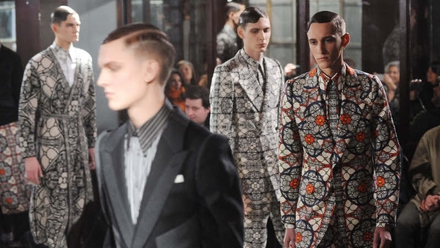 Some of the stand-out pieces included heavy lapelled coats, oversized shirt collars and of course the covetable suits.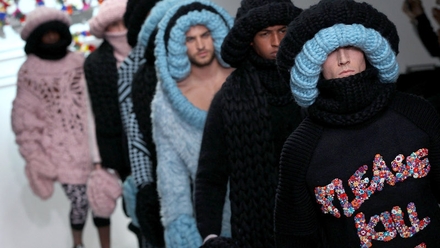 Sibling had fun with their latest collection, focusing on extreme knit. Oversized knits were key - used playfully on hats and mittens, as well as seriously on intricate jumpers - as well as slogans and images woven into knits and patterns printed onto 3/4 length joggers.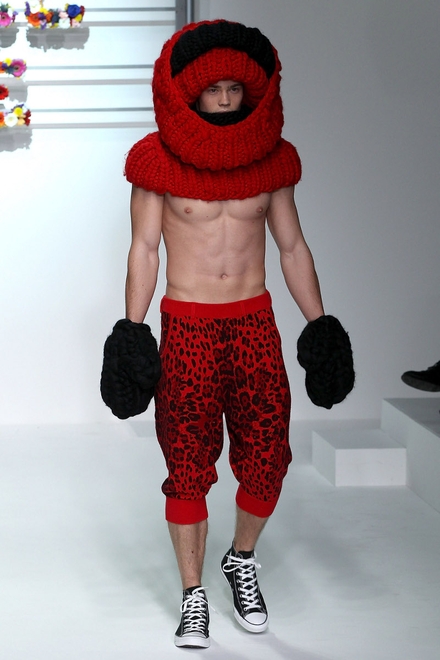 Pink and black reigned supreme, momentarily bursting into red, with subtle hints of blue. Fun, frivolous, and while not typically wearable, definitely warm in winter.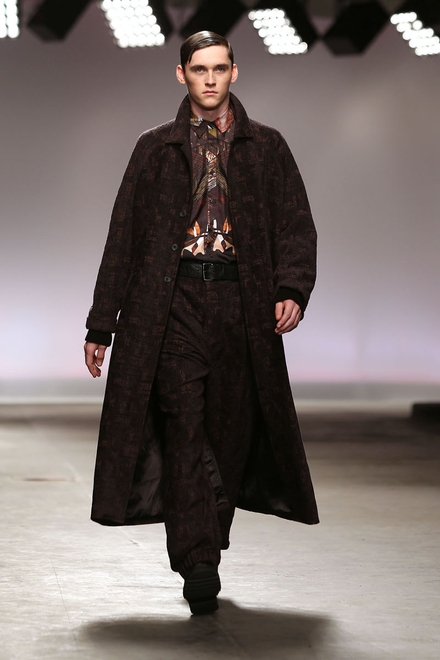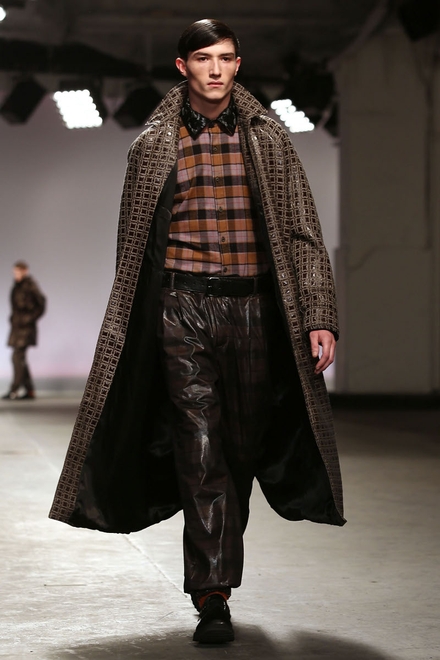 James Long's collection featured a beautiful tonal palette. Warm Autumnal colours throughout - browns, russets, golds, and greens. An interesting use of texture throughout, playing on traditional wardrobe pieces in unique fabrics, textures and tones.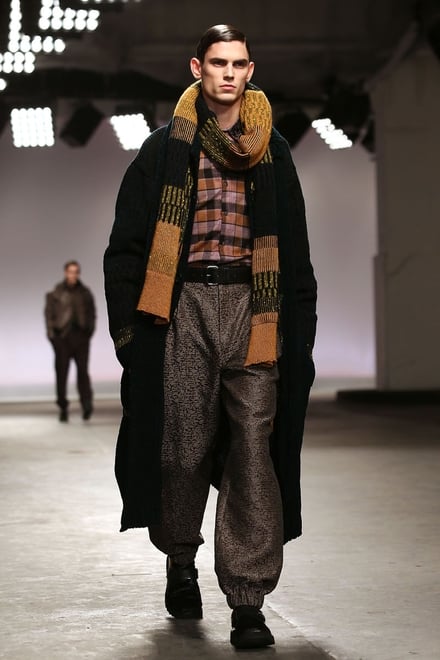 Though famed for his knits, not the spotlight for this collection but still seen boldly and effortlessly in certain looks throughout, sweatpants held an unlikely focus for Long. Whether in leather or cotton, sweats straddled the line between oversized and (almost) MC Hammer-like. It will be interesting to see how these translate from runway to city street.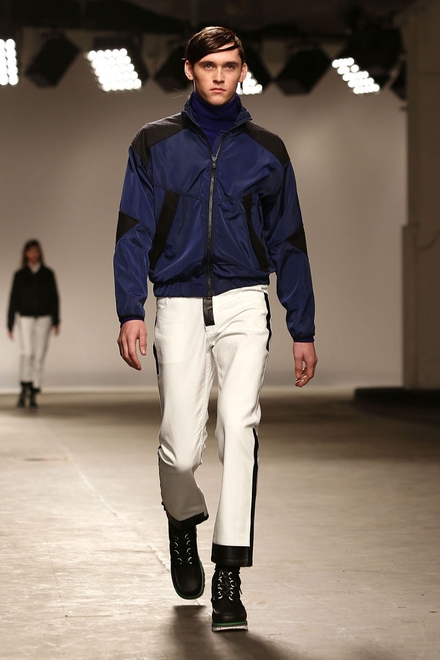 Another celebrated contemporary of Long's, Christopher Shannon also toyed with a meshing of fabrics in unique ways. The palette was quite diverse, while line and cut remained a key focus of Shannon's design process.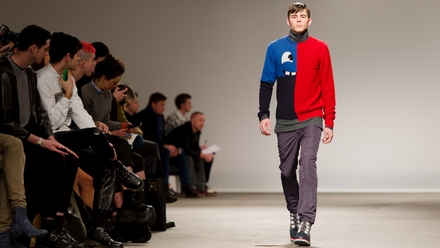 Matte leather ran throughout the collection in a number of guises, most notably as a selection of basic trousers. Though it was a lot to take in, the mesh of detail, colour, and texture, looks to be ultra wearable and easy to access.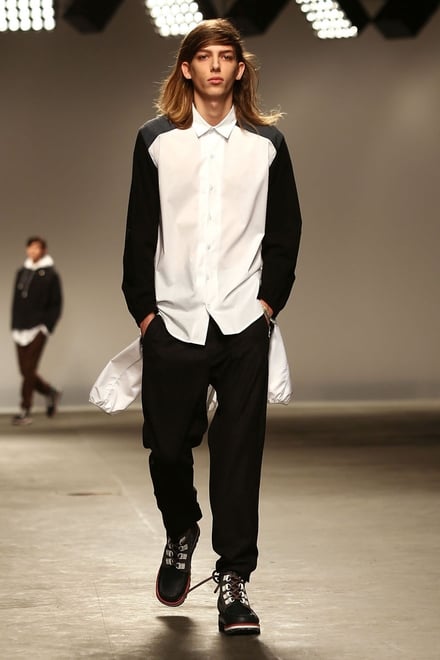 The best collection of the day, for us, went to Martine Rose. The highly-lauded female designer presented, what we witnessed as, a throwback to the 1990's. Though influenced by form, notably sculpture, the aesthetic of the collection was decidedly vintage.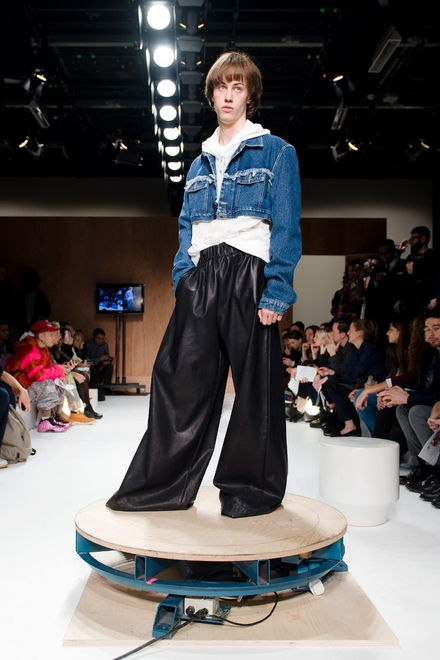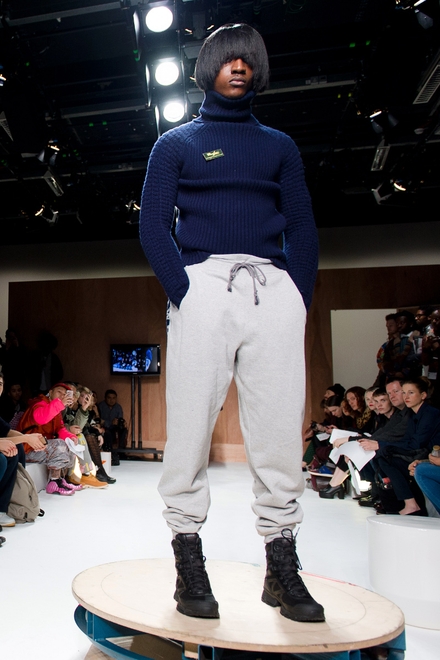 Chunky trainers, leather pants, denim jeans and jean jackets, the age of advertising, hoodie culture, varsity bomber jackets and baggy sweatpants. It was the late Nineties, early Noughties, brought back to life and then re-energised with a simple shot of excess.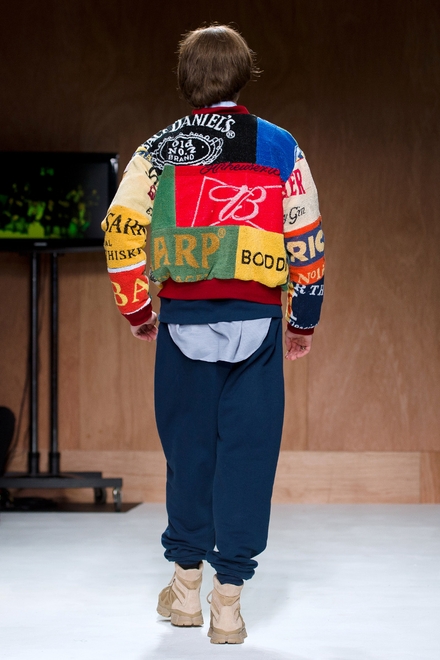 Vivienne Westwood deployed her signature staple of punk, mixed with streetwear and meshed with slick and unique tailoring. Houndstooth was replayed throughout the collection, while layering and clashing patterns, executed effortlessly as always, were interesting.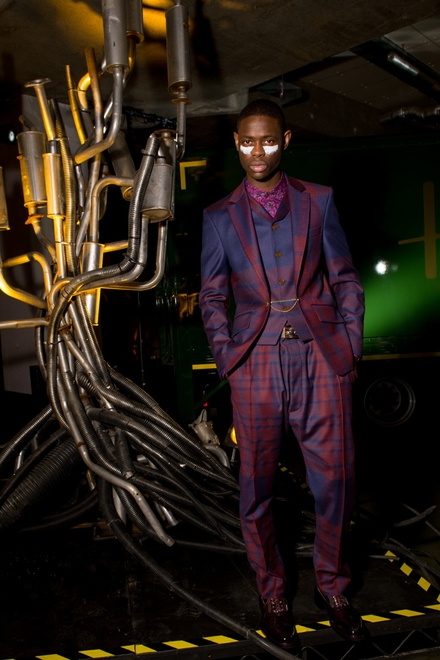 The tailoring - two suits and two jacket looks - was precise and unique as always, with a special mention going to the beautifully toned, patterned three-piece suit with chain front. Another worth noting is the exceptionally high-waisted overcoat. Block-coloured, with hidden buttons, but fitted and tailored to perfection - it's the modern day, style-savvy Sherlock encompassed in a single garment.