Lou Dalton kicked off proceedings early on the first morning with a collection fused between formal and street wear. Some pieces were carried in deep, enticing jewel tones, while the collection as a whole focused on a balancing act between symmetric detail and panelling on clean cut separates.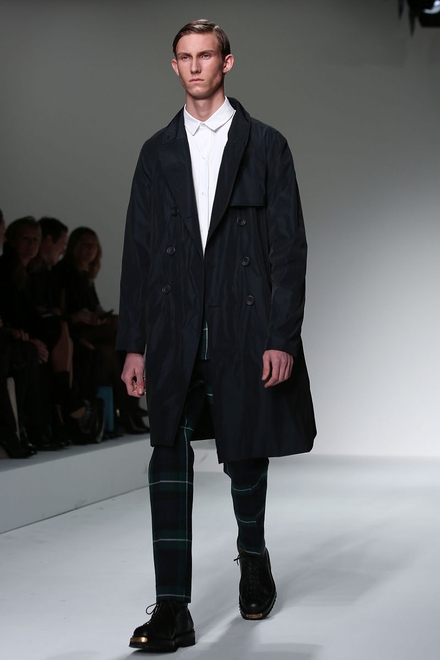 Olympic athlete Victoria Pendleton was also spotted taking in the show from the front row.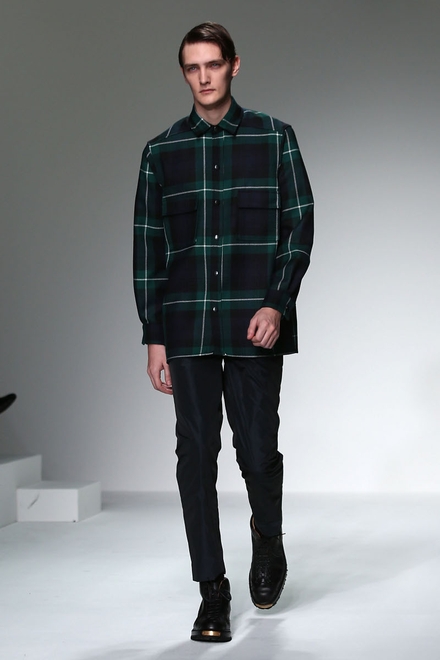 Always a favourite, the Topman Design show was packed in their show space at midday. Allowing fans to catch a glimpse with a 360 degree live stream on their website, the design team presented a wonderful collection which was heavy on layering. Nick Grimshaw and Henry Holland sat side by side to watch, while David Gandy and Tinie Tempah took in the collection from the front row too.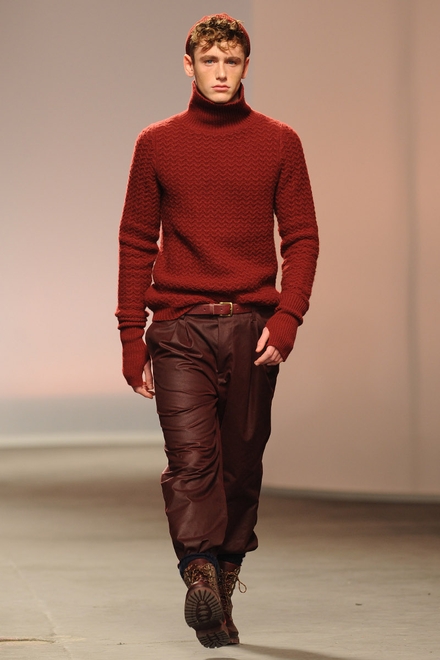 The opulent collection was bookmarked with whites, creams, reds and golds. A healthy amount of double-breasted detail signalled no slow down on the recent trend, while there was a distinct play between top and bottom-heavy looks, with large parkas and coats trimmed with elaborate fur working against looks with oversized parachute pants.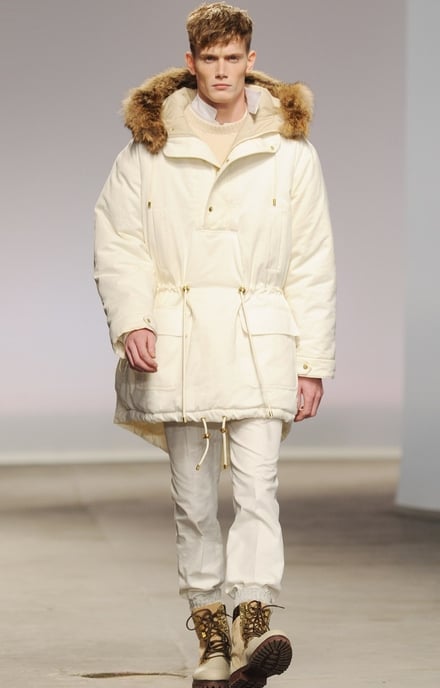 The snowy mountain explorer look was key for Topman, with beanie hats warming the heads of models alongside layers of knit and shirt. Completing the look included an addition of thick hiking boots and heavy duty winter coats with great detail.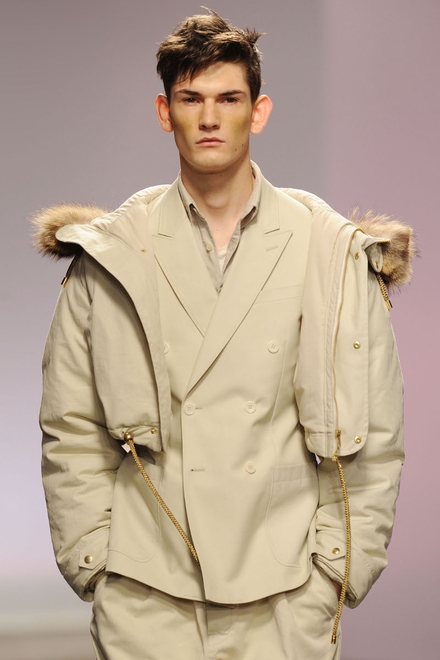 This, we predict, will be the season when Topman Design see celebrities take their designs to the foreground of the international red carpet.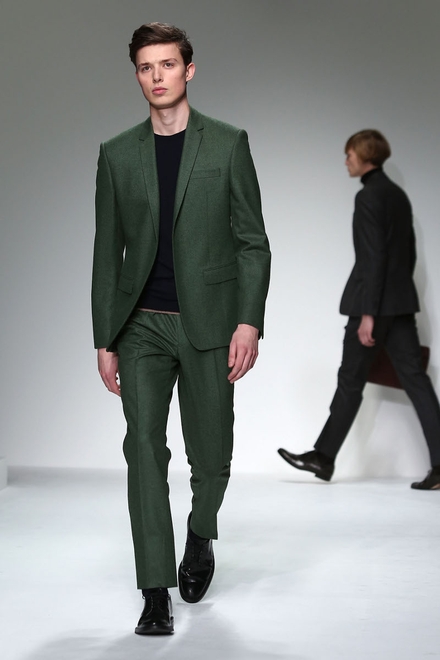 MR START sent looks down the catwalk which were balancing dashes of colour with darker palettes, on a clean, slim silhouette. Detail was key, with the select hidden-buttoned, high-waisted coats being the winners of the collection. Some nice bold colour blocks, and flashes of colour modernised traditional shapes.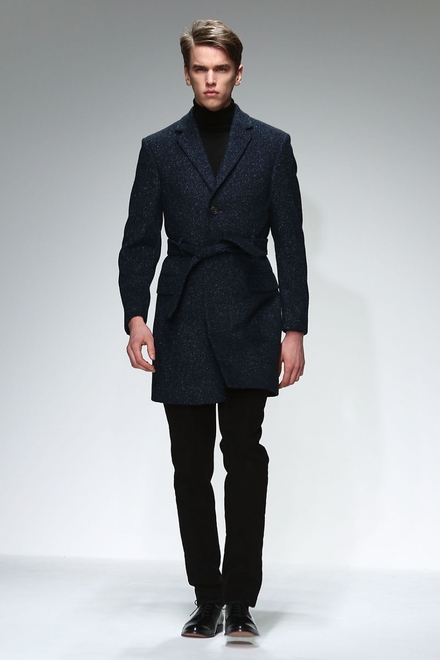 Richard Nicoll was next up, followed directly afterwards by Hackett. Nicoll's collection was primarily focusing on well-cut and excellently executed basics. 50 shades of blue could have been the fitting title, with bursts of silver, orange, and white too.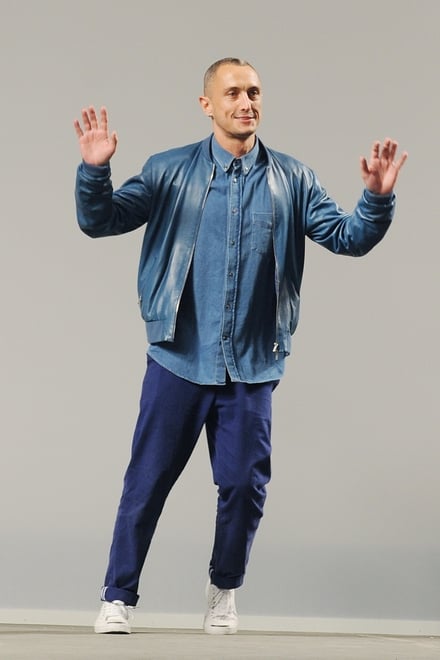 A healthy mix of streetwear and eveningwear will cater to a wide variety of customers.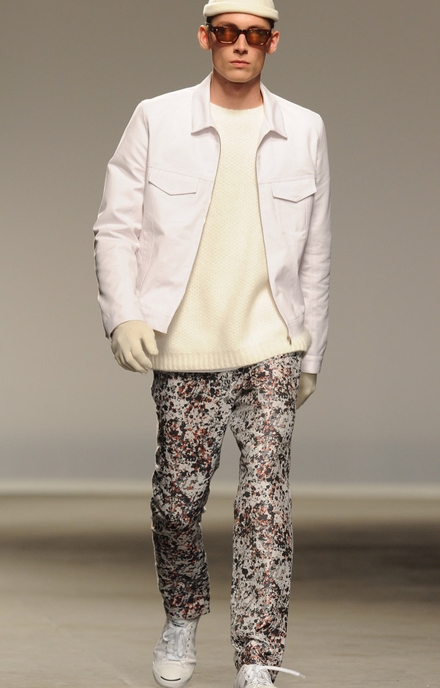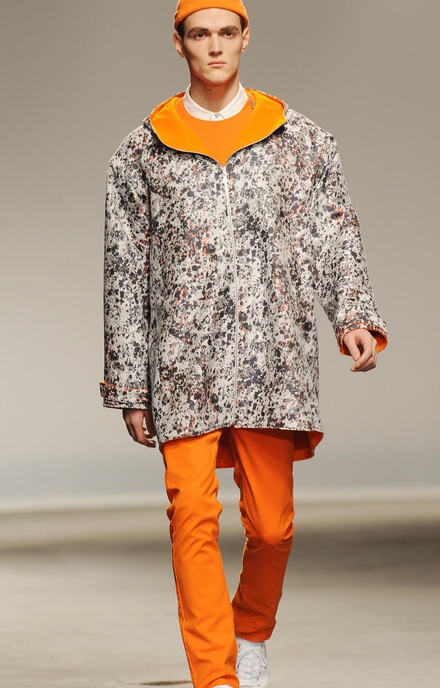 Hackett dazzled with a finale of Erin O'Connor sizzling down the runway, housed in the crypt of St. Paul's Cathedral, in dishevelled tailoring. The collection focused on body-conscious layering, always fitted and working simbiotically, and intricate detailing.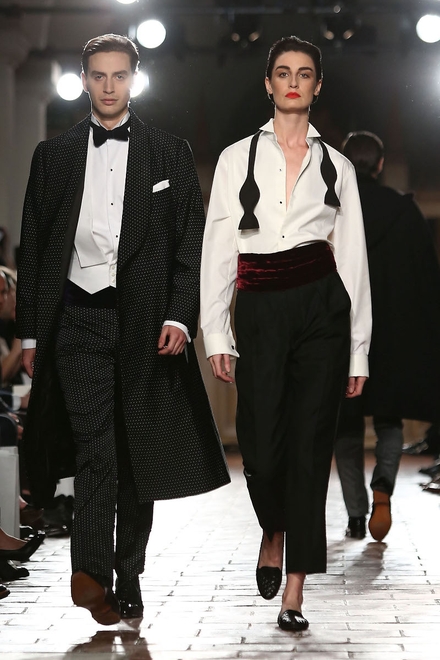 Colour, print and pattern were mixed and clashed with bold confidence, while velvet textures and monkstrap shoes were carried on from this A/W.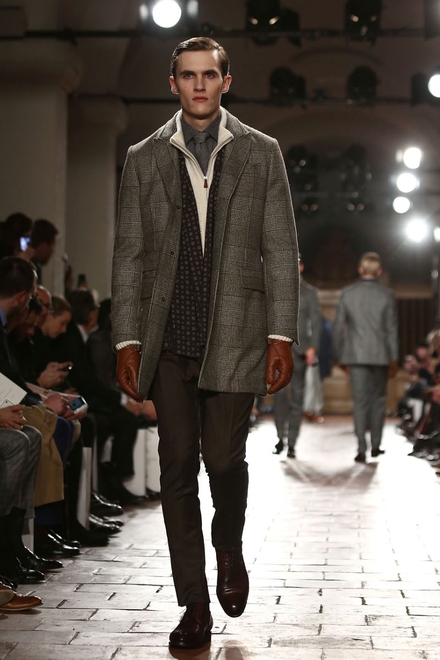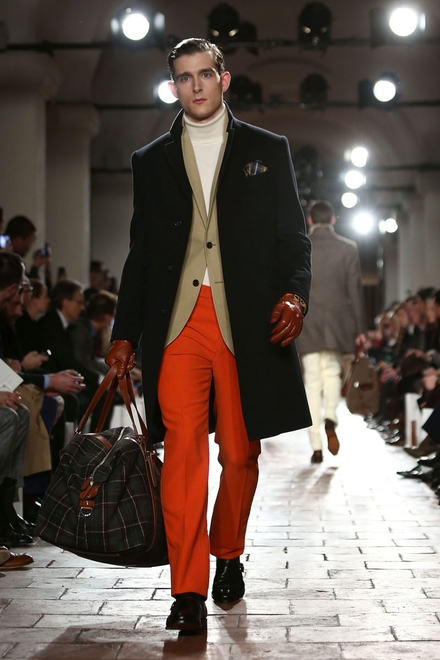 Musicians Willy Moon, Jamie Hince and Tinie Tempah attended the Tommy Hilfiger and Esquire party last night to close day one, alongside fashionable actors Russell Tovey, Matt Smith, and Benedict Cumberbatch.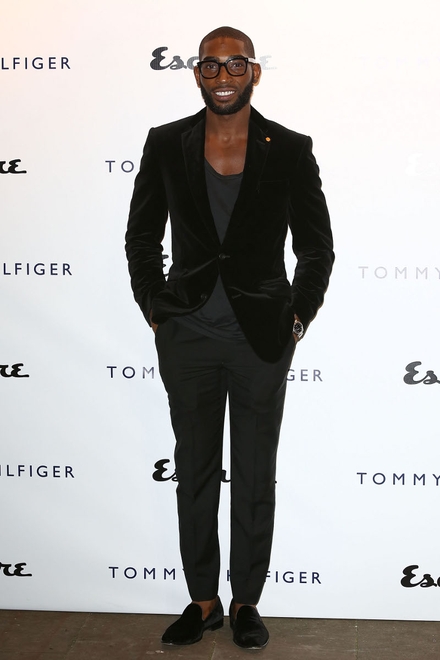 Top male models David Gandy and Oliver Cheshire also attended, as well as broadcasters Reggie Yates, Nick Grimshaw, and Rick Edwards.