At the age of 15, Leo Delaney was a swimming champion, tipped for Olympic gold but he walked away from the sport, having become disillusioned with it all. Last week he finally achieved his ambition to represent Ireland on the world stage - only this time he's competing as a model in the Mr World event. Georgina Heffernan catches up with the 22 year-old engineering student to find out a little more…
Georgina Heffernan; How did you find out about the Mr Ireland competition and why did you decide to enter?
LD: I was living in Limerick studying, when I heard about the Mr Limerick competition. I'd always wanted to get into modelling, so I entered on the spur of the moment and was delighted when I won. I saw the competition as a springboard to a career in professional modelling, so it was an amazing opportunity for me.
From there, I entered the Mr Ireland competition and that was tough because the standard was so high. When they called out my name and I discovered that I was the winner, I was absolutely delighted; it's such an honour to be representing my country in the finals.
So, when are the Mr World finals and how are you preparing for the event?
The final of Mr. World 2012 will be held on Saturday 24th November 2012 in Kent, so it's only a few weeks away at this stage. As for preparation, I go to the gym every day, so I'm in good enough shape but I'm changing up my fitness regime to include other sports such as swimming and running. I'm also doing a three day army boot camp because I want to be as fit as I can.
The Mr World competition is unique in-so-far as they're not just judging you on looks alone, they are looking for the 'perfect man', so personality, intelligence and character all come into play.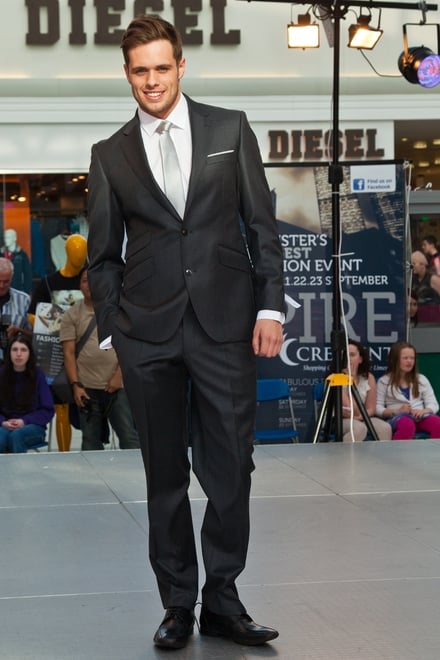 What's your approach to fashion?
I go for a sharp/casual look but I don't really go for labels. Don't get me wrong, I like designer clothes but I'd never wear a label splashed across my chest.
When it comes to high street stores, I really like Zara and River Island, as they do great menswear. It doesn't matter if it's Pennys or Armani If I see something I like, I'll buy it.
When it comes to grooming, I don't really have a regime but I do like a bit of stubble for everyday life, however, if I'm doing a professional photo-shoot I'll go for a clean shaven look, as it looks better in pictures.
What are your long term goals?
My goal is to become a successful model and I'm not very interested in TV presenting or anything like that. Of course, if I was offered a film role where I could become the next Colin Farrell, I wouldn't say no! At the moment my priority is completing my degree in Construction management and Engineering, I only have one semester left, so I'll have my head buried in the books for the next few months.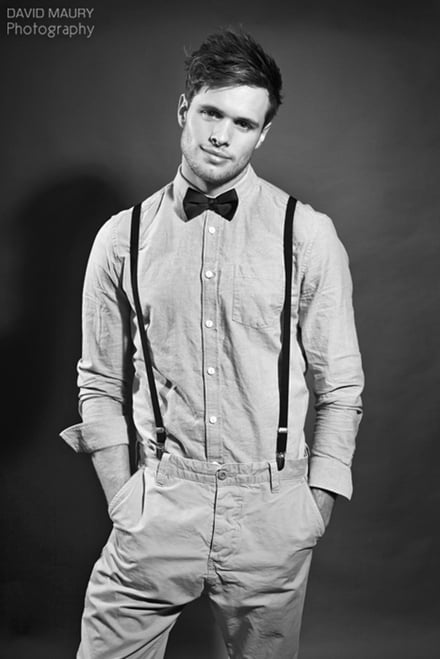 When you were younger, you were a professional swimmer and many expected that you would go on to represent Ireland in the Olympics. Why did you decide to walk away from all that?
I was in line for the Olympics and on target with all of my fitness goals but I just got tired of it all to be completely honest. I'd have to be up at half five every morning to start training for seven hours a day and it was incredibly demanding.
With professional swimming, because of the very nature of the sport, you spend so much time in the water and all of that time is spent on your own. For those reasons I fell out of love with it but it taught me to be disciplined and I still have a fiercely competitive streak. Whatever I do, I want to give it my all.
I feel compelled to ask you this question, in the interest of our readers and, of course, professional journalistic research. Are you single?
No, I've been in a relationship for the past three years!
What do your family and friends think about your success? Are there any Zoolander comparisons?
I'm probably the only one who doesn't get a slagging in our house. To be honest, my friends and family are just delighted that I've done so well in my career and the fact that I'm supporting myself entirely from my modelling work, is obviously a real bonus.
My parents always thought that I'd be representing Ireland as a swimmer - but the fact that I'm representing the country in the Mr World competition is something they are just as proud of.