Georgina Heffernan: When did you establish Charlotte and Jane, and why did you decide to have such a strong vintage look?
Charlotte Cargin: We set up our business in 2009 and the vintage style, which is our signature look, came about because they're the kind of clothes Jane and I love. We've always admired the style and attention to detail that was so much a part of fifties fashion, back then, clothes were classic, elegant and made to last. We were also inspired by icons such as Marilyn Monroe, Grace Kelly and Katherine Hepburn –they simply epitomised fifties glamour.
Where did you get your love of vintage fashion?
When I was a student, living in London, I used to love going to all the markets like Portobello and Spitalfields, where I would spend many happy hours looking through all the vintage stores. I loved the unusual details and fabulous cuts of the vintage gowns but, goodness, they were small! Women were much slimmer back then and the waistlines were just tiny. Both Jane and I were lucky enough to inherit some beautiful dresses from our grandmothers. We'd both love to think that our designs could also become fashion heirlooms that could be passed down from one generation to the next.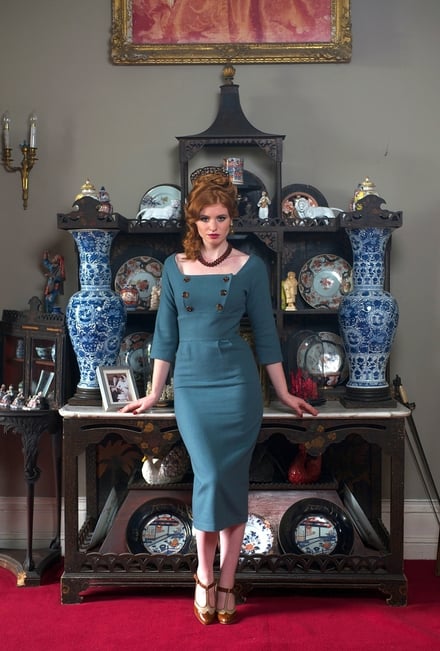 Where do you get the inspiration for your creations?
We work from our design studio in Kinsale, which is situated in an old coach house; a perfect environment for creativity and inspiration! At the moment, I'm looking at our big desk in the middle of the studio; it is just covered with images of vintage clothing that we've found in old magazines, books or printed off from the internet. When we begin to think about starting a new collection, we look though all of this source material, keeping an eye out for details or cuts that might inspire us.
Season to season, our silhouette does not change that much; it's calf length with an hourglass cut and a nice fitted waistline. As we do a made-to-measure service, we can change the details on a dress to help give every woman the illusion of the perfect figure. For example, if a client has large hips, we can give her a wider collar to balance things out.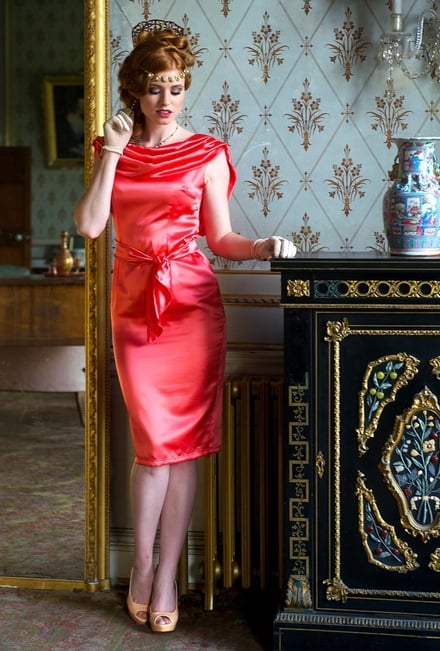 How does the 'made to measure' service work? Do clients need to book an appointment with you?
We have a facility on our website, where customers are able to type in their details and we can make a dress from those measurements. However, most clients do prefer to come in and have their exact measurements taken - just to be sure that a dress fits perfectly .At this stage, we have a great variety of customers, with women from 18 to 85 coming in to us for that something special. Most of our clients have an edge and they know what they like. Last year we made about 7 dresses for Imelda May - she loves picking out the fabrics and getting very involved in the design process.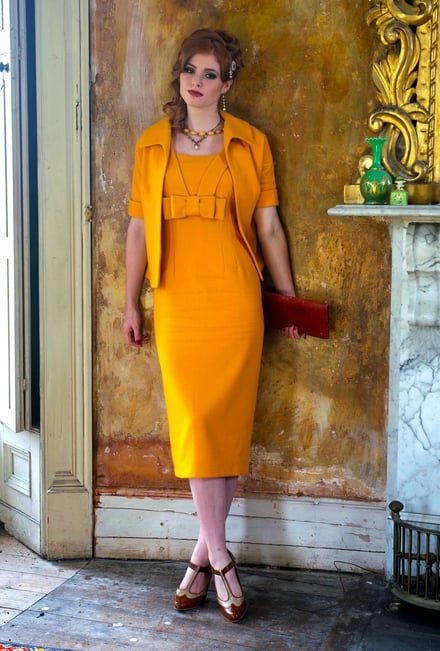 How did you come to work with Jane Skovgaard?
When I was about 18, I spent a year doing a portfolio preparation course. My art teacher was Jane Skovgaard and, at the time, I remember being quite intimidated by her; she was such a talented woman with an amazing eye for colour and print.
When I graduated from Central St Martin's, I was offered a job in Paris but I missed home and wanted to move back to Kinsale. At around the time, Jane was longing to get stuck into a new creative venture, so we decided to start up our own fashion label. We get along very well, which is vital, because we work very hard and we spend more time with each other than with our husbands!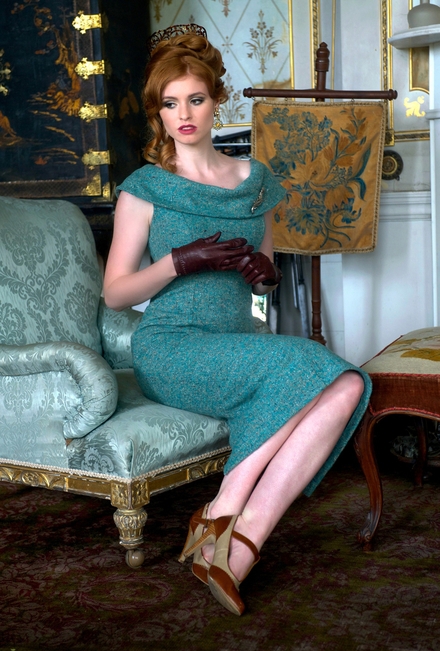 Why, do you think people are drawn to your garments?
I think that people have had enough of fast fashion and they're looking for investment pieces that will last. The very cheap clothes, which you buy on the high-street nowadays, seem to fall apart after a few washes and it's a total waste of money. Today, people want fashion that lasts more than one wear.
When it comes to fashion, I'm a firm believer in 'less is more'. I have a small wardrobe of beautiful pieces that I dress up or down with various accessories; it's such a simple way of dressing. I don't have a huge wardrobe but the one that I do have works very well for me. It's all about investing in well-made pieces that will stand the test of time.
Dresses retail from €195 to €425.
Charlotte & Jane, The Grove, Compass Hill, Kinsale, Co Cork, tel: (021) 470-9855, or see www.charlotteandjane.com