Susannagh Grogan Scarves, as a company, is fairly new, having only launched a mere three years ago in 2009. However Grogan has over 15 years experience in print design and throughout that time worked on a number of significant commissions and consulting jobs before launching her eponymous business.
Commissioned jobs throughout her career include labels like Tommy Hilfiger, Victoria's Secret, Estée Lauder and Macy's in New York, while closer to home Grogan has designed for Peter O'Brien and A|Wear.
Last year, Grogan was awarded Fashion Innovation Awards' Accessory Designer of the Year. The designer creates exclusively in her studio in Dun Laoghaire.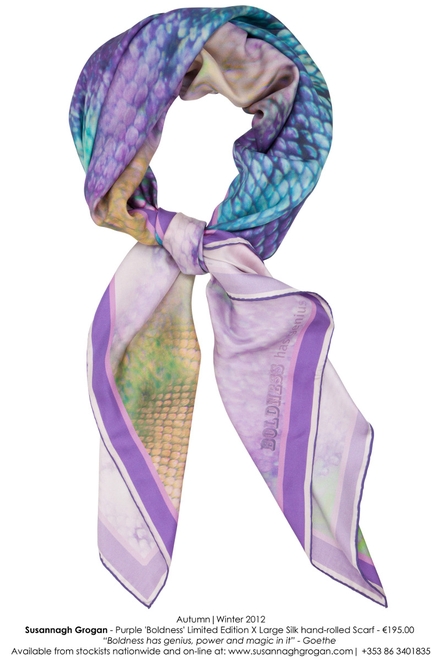 Susannagh Grogan Scarves have had a busy year so far; they were shown at Scoop International at the Saatchi Gallery, London in February and July, as well as Coeur, LA and The Accessory Circuit, New York in May 2012. They were selected as gifts for Michelle Williams and Melissa McCarthy, among others, at the US Irish Alliance Oscar Wilde party last Spring.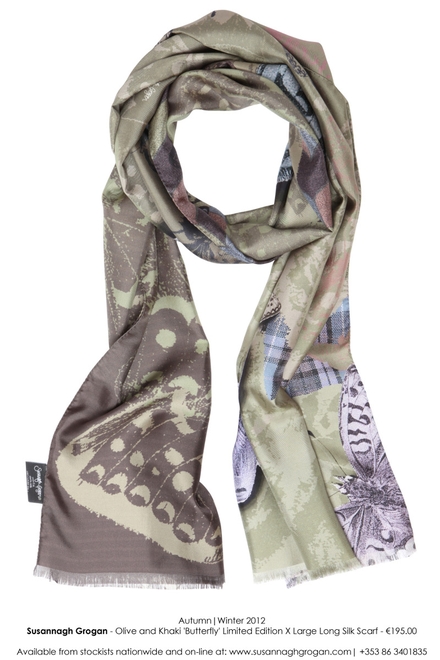 Inspired by poignant quotes and with a vibrant use of colour, Grogan's latest collection for Autumn Winter 12-13 is inspired by the sea. The prints are decorative and co-ordinated. Floral and skin prints come in purple and blue tones, with hints of warming winter berry. An almost reflective aesthetic is given to her pieces, mimicking the deep, intricate and expansive palette of colour in the sea.
Check out our gallery of Grogan's A/W scarves collection
Stockists in Ireland for AW12 include Brown Thomas, Juju Greystones, Emporium Kalu Naas, Kimono Limerick & Cork. Overseas stockists include (new for this season) UK Hoopers department stores in Walthamstow and Tunbridge Wells, as well as stockists in Germany and the US.
For a full list of stockists see www.scarf.ie