The on-line store, which has a showroom in Dundrum, offers a selection of high-end designer labels, accessories and headpieces -- all to hire. Georgina Heffernan caught up with Kara to find out a little more
Georgina Heffernan: How did you come up with the concept for the store?
Kara Maher: I fell in love with the dress rental concept on a trip to New York. After so many years going to weddings and events - and spending a fortune on dresses - I thought it would be fantastic to be able to hire a stunning designer dress - the kind , usually, I would never be able to afford.
What labels do you stock?
I bring in new labels all the time. Currently I stock Valentino, Carla Zampatti, Rachel Gilbert, John Galliano, Temperley, Roberto Cavalli, Marc Jacobs, Jenny Packham and some fun party dresses by Jovani and All Saints. To compliment the dresses, I showcase some beautiful millinery by Irish designers such as Fiona Mangan, Edel Staunton, Sarah McGahon, Edel Ramberg and Suzie Mahony and jewellery by Irish designer Ruby Jewels.

Describe your own personal style?
I'm going to be honest with you. I'm a mum of two and spend my days in jeans and sweaters running around after them, but there is nothing more I love than putting an outfit together when on the rare occasion I meet my girlfriends for lunch, or going out to dinner with my husband and friends. I love the classic look, meaning both elegant and sexy. I believe true style and elegance is both timeless and fashion proof. I try to stick with this belief when styling an outfit for myself and also when choosing the gowns for Frock N Fabulous.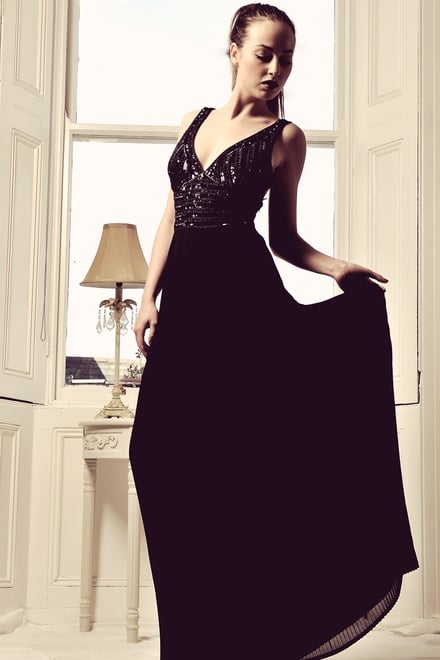 Rachel Gilbert Gown at Frock N Fabulous
Why do you think your business has become such a success?
Of course, things have changed for most people on a financial level, but that hasn't stopped women wanting to treat themselves every now and then. I provide a personal service to my clients - women who have been working hard all day or running around after their kids - they don't have much time for themselves.
I operate on days where I have open viewings and other days where it's by appointment only. Clients can come into a relaxed place, have a browse through a wonderful collection and have fun trying on pieces that retail up to and over €2500. They can pick out a fab Valentino dress that's going to make them feel incredibly special and only spend from €100 - €150.
Are most of your customers shopping for weddings or black tie events? If so, what can they expect to find.
There is a real mix actually. Weddings, balls and debs' are the main events I'm catering for at the moment. I am extremely busy with hats and head pieces now for the races and weddings. Women are definitely wearing hats/fascinators more to weddings these days. I think the lovely Kate Middleton has inspired many with her stunning pieces that she wears and to be honest, I really feel they pull an outfit together. I love them.
How does the borrowing system work – do you have to pay a hefty deposit?
It's quiet simple really. When a client books her dress she pays for it through the online system. The price on the website includes dry cleaning. A credit card or laser card is taken as security but there is no deposit required.
What happens if a dress comes back damaged?
Thankfully, I've had no real damage done to any of the dresses so far. There are terms and conditions on the website explaining how it works which is, if there is damage done to the dress the client pays for the alteration. I use a fantastic alterations company. They can pretty much fix anything so it hasn't been an issue. Of course accidents happen but to date there is nothing that they haven't been able to fix for no more than €30 - €40.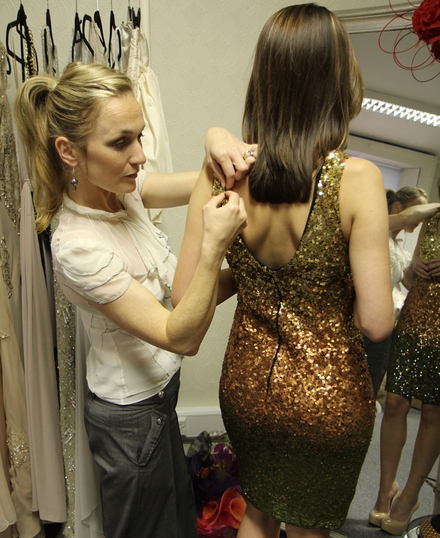 What do you enjoy most about running your own business?
I love everything about this business. I have always worked in sales/customer service and I feel very strong about providing the best customer service I can. I really enjoy what I do. It's such a wonderful feeling when a client comes into me. "She may have just finished work or had a long day with her kids. She enjoys a bit of "me time" at the Frock N Fabulous showroom.
She gets to try on some incredible pieces and walks out excited about her upcoming event knowing she is going to be wearing something amazing and doesn't have to hide the shopping bag or even worse the credit card bill from her hubby, as she's managed to access her dream dress for a fraction of the cost and the best bit - she doesn't have to tell anyone it's borrowed.