Georgina Heffernan: How did you come to be a designer?
Jen Doyle: I have always been artistic and, over the years, have experimented with various different mediums from painting to jewellery making. I did some jewellery parties and successfully tested the waters with my designs, but everything kicked off in 2009, when making some bridal jewellery, the bride in question asked me if I could make her a hair comb.
When I told her I didn't make hair accessories, she had a bridezilla moment, flung her handbag on the floor and snapped ''Well for heaven's sakes you have beads and wire don't you?!' I figured she had a pretty good point, so off I went to play with my beads and wire - produced a satisfactory hair-comb, and things have grown from there!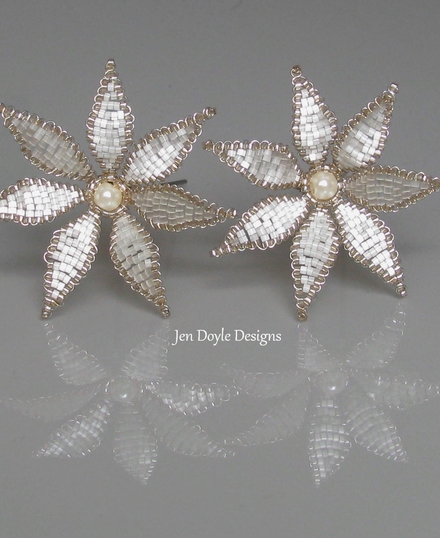 Medium Beaded Flower Bridal Hairpin, €25
Where do you get the ideas for your creations?
I get my inspiration from all kinds of things, old movies, music, something I read in a book and, of course, from the people I design for, but mostly from nature. I live in rural Donegal and I couldn't ask for more inspiration than all of the colours and textures, scents and sounds that are right outside my door.
Are there any celebrities that inspire your style?
I tend to take inspiration from various elements of lots of different styles, but I really love some of the styles from the 1920's-1960's, I think the fashions back then celebrated the female form in such an elegant and feminine way - Grace Kelly and Audrey Hepburn come to mind. I try to capture elegance and feminine beauty in my work- especially the bridal pieces.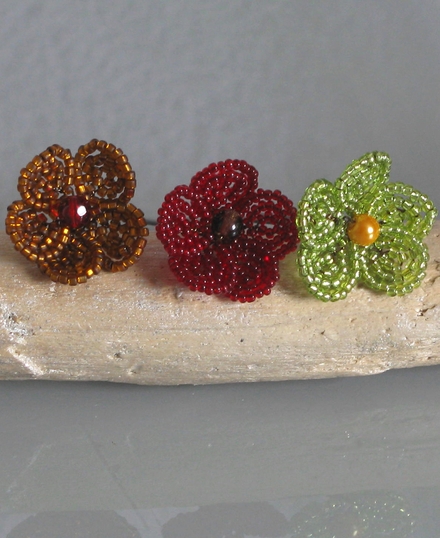 Set of 3 Beaded Flower Hairpins, €45
Is it difficult to compete with the high street, in terms of price and quality?
I think it depends on what a person is looking for. Budget is really important, especially in the times we live now, and I offer a good range of pieces to suit most pockets. But if you choose to have a piece custom designed for you, I can assure you of excellent quality craftsmanship and a stunning piece that you can pass down through the years.
Where do you see your company going in the future?
My online business has grown considerably over the last couple of years and I want to continue to expand my customer base, both here in Ireland and further abroad. I love to experiment with different materials and techniques so I can offer a diverse range of jewellery and hair accessories - many of them one of a kind pieces. I feel this is what brings my customers back - they know that they will get great customer service and accessories unique to them.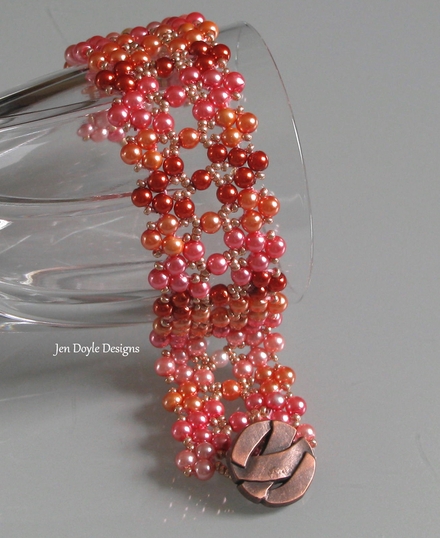 Summer Sunset Beadwork Bracelet Cuff, €55
And lastly, where is your collection available to buy?
You can visit my website www.jendoyledesigns.com where there are links to online photo galleries, my Facebook page and blogs. I also have an online store with a growing selection of made to order bridal headpieces and ready to wear jewellery and hair accessories.