As Milan is still, arguably, for some the fashion capital of the world, it means designers fall over themselves to show and be accepted amongst the Italian set. Burberry, Calvin Klein, Marc Jacobs all show alongside top Italians Versace, Dolce & Gabbana and Prada.
This past weekend has showcased some of the top talent in the business with their Spring Summer 2013 collections, here is a round-up of the shows: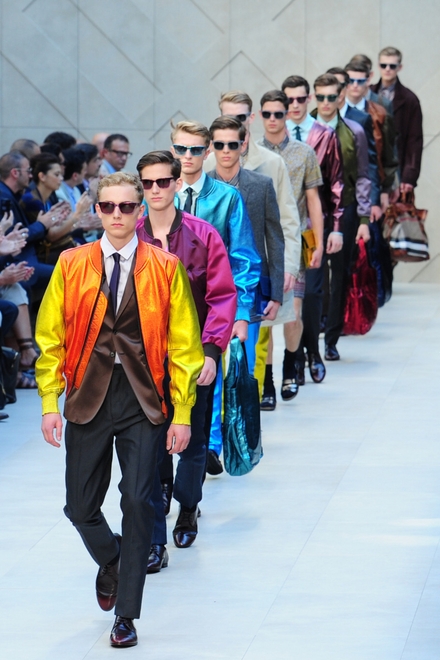 Burberry staged a stand-out show that many people are still talking about. The British heritage brand sent a pick'n'mix of faux pas down the runway, from socks and sandals to shimmery metallics.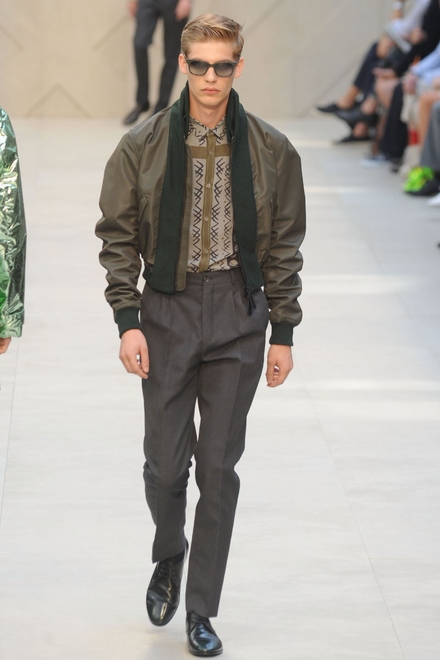 Luke Leitch of Fashion Telegraph put it best when he reported on their metallic, Quality Street hues, and that's exactly what there was. The silhouette was slim, with tapered, skinny formal trousers paired with candied, foil-like jackets in rainbow colours. Two-tone, reinvented bomber jackets were a sight to behold and the entire collection kicked off MFW with a bang.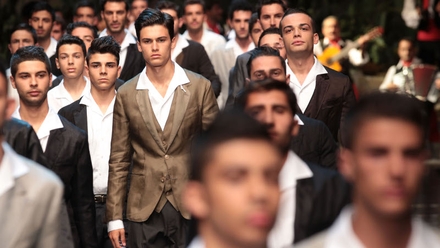 Dolce & Gabbana always have one of the most elaborate, exquisite shows of the week. They disappointed this time around as neither long-term muse David Gandy, nor Adam Senn (current face, and body of The One Sport fragrance) took to the catwalk, though sat in the front row. For their show, they twisted the norm, by having a slew of average, everyday Sicilian men on the runway.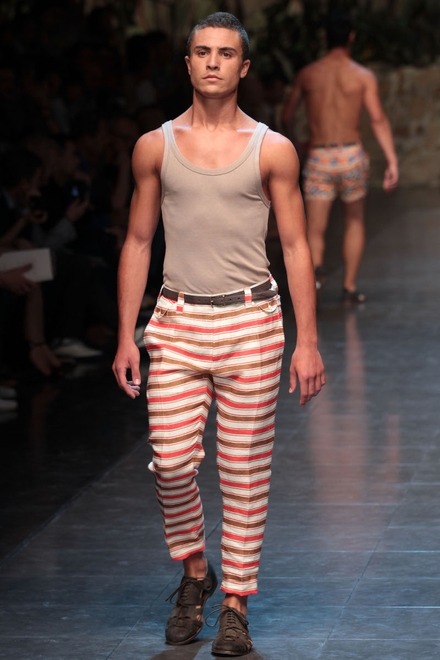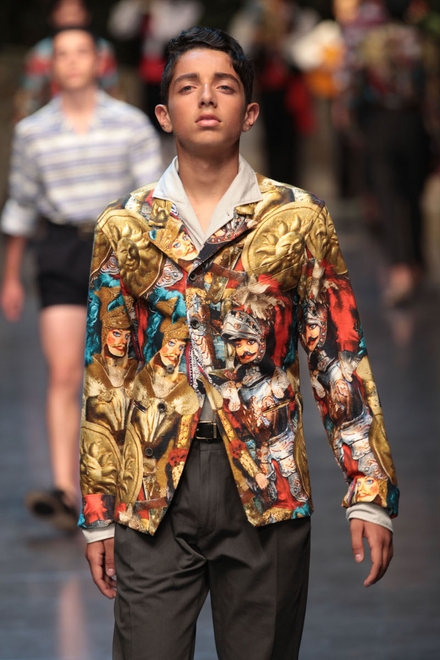 They were all quite handsome, but of very varied ages and sizes.
Tapestry, 'fresco' printed shirts and t-shirts set the bar for exuberance throughout. Horizontal stripes were a key look as the menswear trend for high-waisted trousers, with suits and casual eveningwear progressing towards the end in darker colours, keeping the male silhouette a little higher throughout the collection.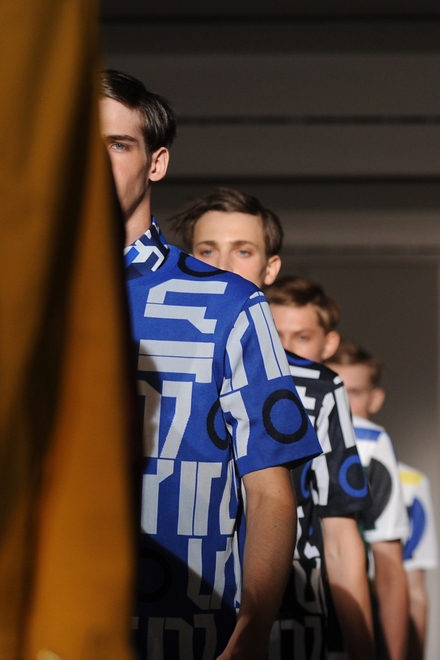 Jil Sander returns to her eponymous label for her first menswear show in over a decade and brings things right back to basics. Whether elongated or oversized, or both, everything was minimal and expertly finished, as we have come to expect from the label.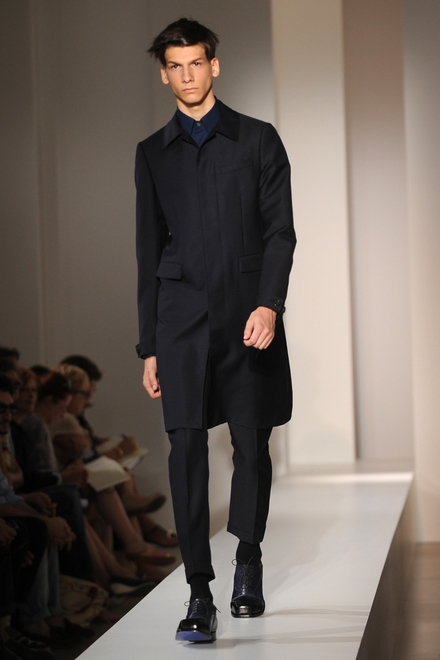 Though not as strong and focused as when Simons designed, the collection was rich, teased with some colour, and in particular the trench coats were something to behold. A mere starter of what's to come now that Sander is back at the helm.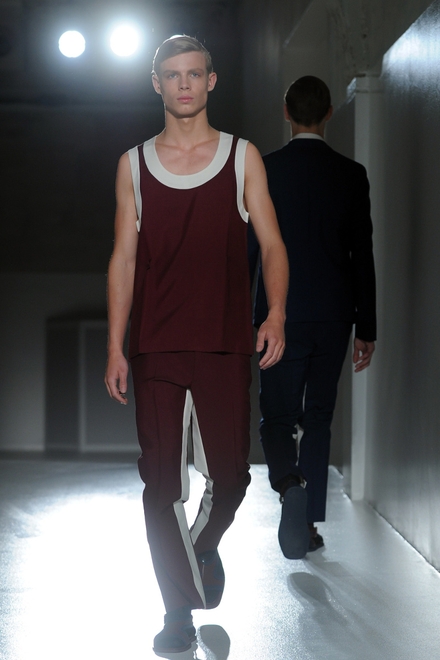 For her last menswear showing, Miuccia Prada enlisted the help of a barrage of A-list actors to showcase her A/W designs. However this time, not a soul on the catwalk but a mere male model. Prada threw a spanner that no one was expecting from Italy, sport! Though summer beckons the sport shape and aesthetic, the Olympics have made sport slightly cliché this year, but Prada cunningly kept it impeccably minimal.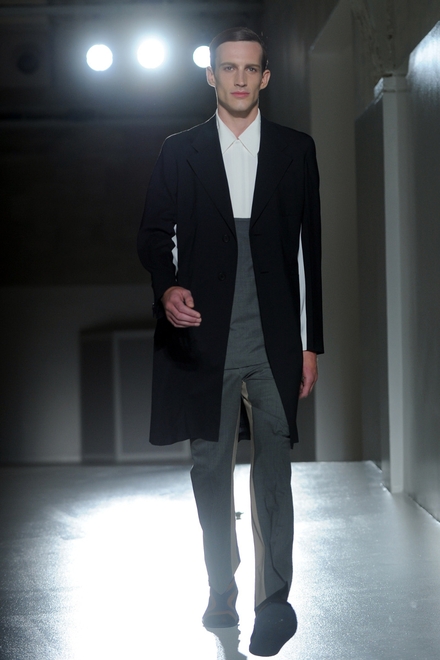 With slight colours, complementing each other as Prada so keenly chooses, sweatbands, deep curve-necked polos and vests and a baggier, comfortable silhouette added to the theme. Male and female walked harmoniously in the grand industrial space, with only light and shadow as embellishment. There weren't actors on the runway, but the drama was certainly there.
Donatella Versace staged a mythical call to arms, with her models decked out in more accessories than clothes, with large golden belts, cuffs and shin-high gladiator sandals to kick off.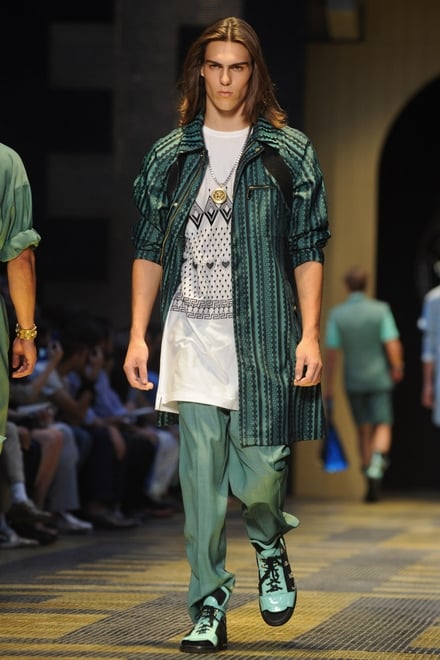 Models wore slips of dressing gowns and scant briefs before the looks turned into nineties, sportswear influenced metallic track and evening suits. It was overwhelmingly bronzed and golden, almost to the point of tacky, but the team reigned it back with clever detailing and bursts of unexpected pink and aqua tones.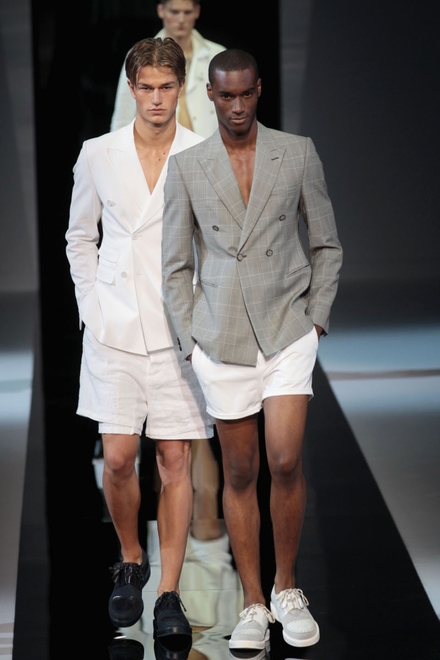 For the Emporio Armani show, models often simultaneously walked in twos or threes. Short shorts were triumphantly paraded, even in eveningwear, while sheer yet block lined t-shirts and jumpers caused a stir showcasing the body underneath.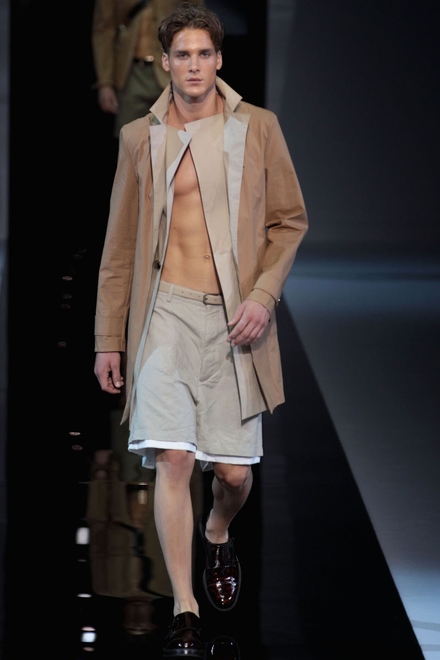 The entire idea of the show was lose a layer, so jackets and blazers were simply paired with shorts and if and where another layer was needed, sheer, slips of t-shirts were employed.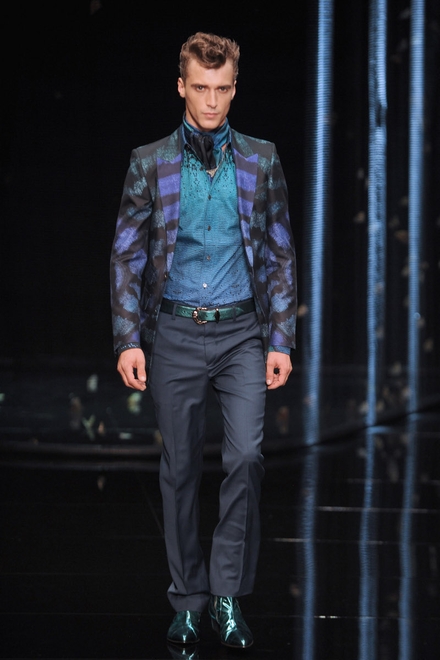 Cavalli continues his harp back to the past, with a modern twist for his latest collection. Almost every model rocked a Danny Zuko hairstyle which oozed cool and confidence, while the aesthetic was somewhere between a Sixties rock star, T-Bird and Elton John.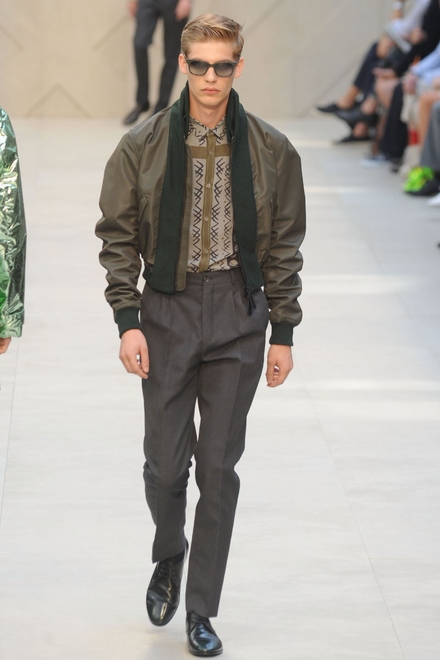 Matte, muted tones were paired against harsh metallics, progressing to jewelled metallics for bursts of colour and drama.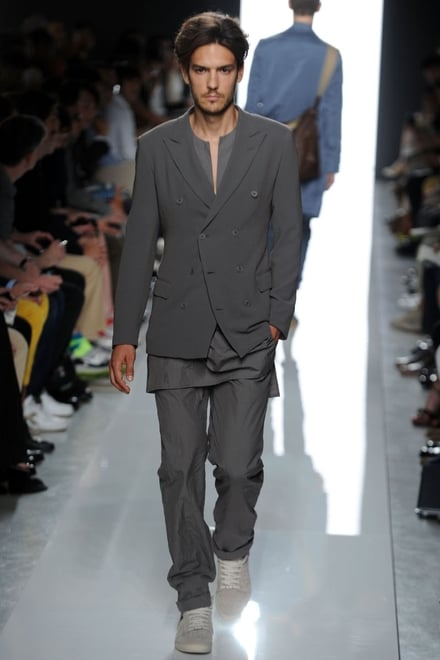 Bottega Veneta was a beautiful surprise. The designer seemed to draw international influence, clean Asian lines and Scandinavian polar necks, jackets and coats were juxtaposed against tribal fringing, desert boots and tasselled shirts. The collection grew as it played out, texture and layering grew to the forefront as looks became more polished, with colour dipping in and out momentarily.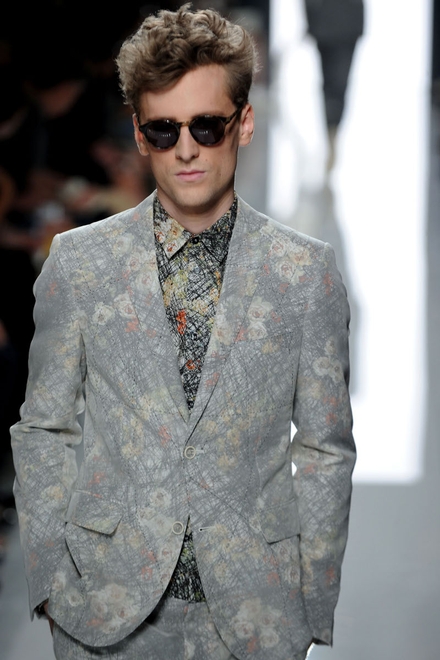 The crowning glory was the visual illusion of almost see-through prints on suits, jumpers and t-shirts. Floral printed designs played off against each other were a huge, yet welcome surprise.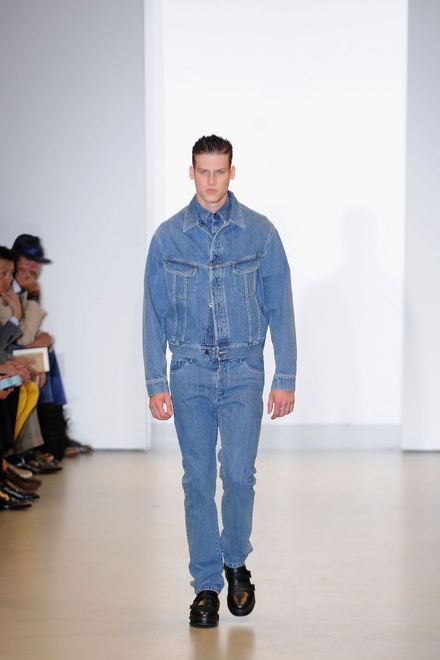 Finally, Itallo Zucchelli presented Calvin Klein Collection as a harp back to the nineties. Teen idols, boy bands and basics sprung to mind when look No.1 came out in triple denim. That trend continued throughout, gelled hair fuelled the fire and whiter than white tees topped it all off.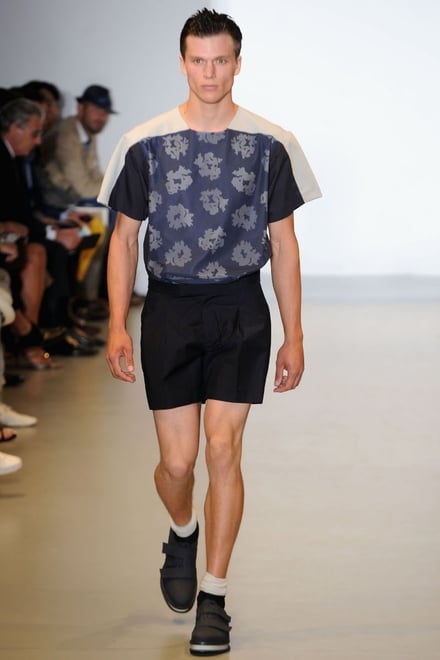 The collection then became quite muted, based on playing off cream and navy against each other. Floral patterned motifs adorned shirts and blazers, entrancing the viewer until the finale.
Throughout today, Etro, Alexander McQueen, Gucci and Marc Jacobs will showcase their designs and before we know it, the menswear press will be whisked to Paris in a matter of hours for the next fashion fix.
-Patrick Hanlon