The initative is based on a give and take system, each time a customer buys an item they are encouraged to give an unwanted pre-loved piece. The free service to 'give' when you spend will be installed in all M&S clothing stores, available year-round and customers are encouraged to donate items even when not purchasing.
M&S have partnered with Oxfam to re-sell, re-use and recycle the unwanted pieces, which will support people living in poverty.
Thousands of garments are sent to landfill sites daily and through this scheme M&S do not want to contribute a single item more to this epidemic. Instead, the company is hoping to recycle as many clothes as it sells per year, 350 million.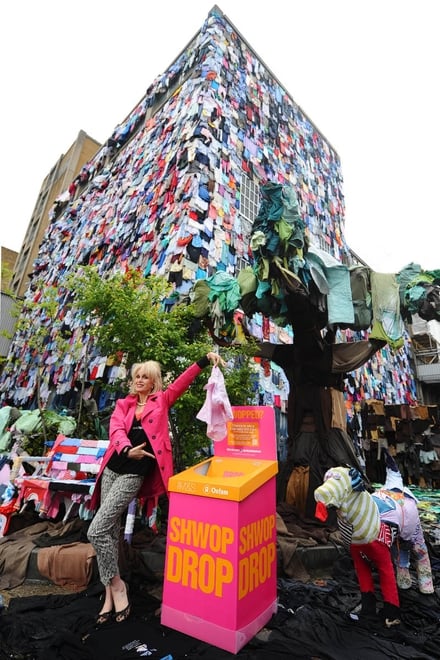 Joanna Lumley unveils the scheme, hoping to change how we discard unwanted clothing
Joanna Lumley is the new worldwide ambassador of the Plan A iniative which is organising the 'shwopping' drive. "I'm really excited to be working with M&S and have long admired Plan A. Their latest initiative is all about getting customers to recycle unwanted clothes every time they shop at M&S. It's a big, bold campaign and a first for the high street" said the Absolutely Fabulous actress.
"We're asking people to open their hearts, their minds and their wardrobes. Remember we used to just throw away plastic bottles. Now we recycle them without even thinking about it. We need to do the same with clothing. Bring in something old; buy something new. Swap and shop. It's that simple."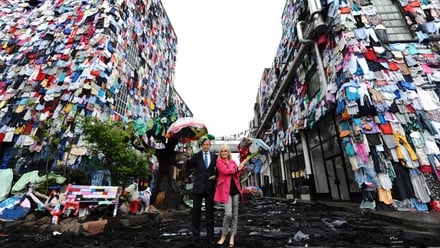 The actress with Marc Bolland, CEO of Marks & Spencer
Marc Bolland, CEO of Marks & Spencer said "We're leading a change in the way we all shop for clothing, forever. This is the right, responsible move for the UK's biggest clothing retailer and the ultimate goal is simple – to put a complete stop to clothes ending up in landfill."
For more information, log onto marksandspencer.com/shwopping or you can interact on Facebook and download a special 'shwopping' app to your smartphone.