Damien Duff helped to launch the t-shirt, which will also feature football superstars Robbie Keane, John O'Shea, Shay Given and Richard Dunne.
Speaking at the launch, Duff said "this exciting initiative is essential to raise awareness for these two outstanding children's hospitals, it's important to note their hard work and dedication to all the children that pass through their doors...so dig deep and help us achieve our goal of €50,000".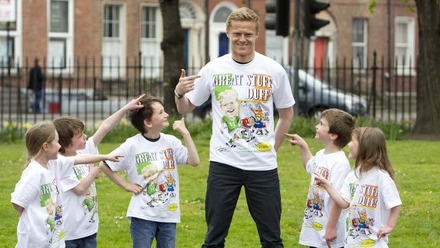 Damien gets a little help to launch the t-shirt charity campaign, showcasing his own t-shirt style
Denise Fitzgerald, Fundraising CEO, Temple Street Children's University Hospital said "Now more than ever Temple Street Children's Hospital needs much-needed funds that go towards vital lifesaving equipment that help save the lives of thousands of patients each year".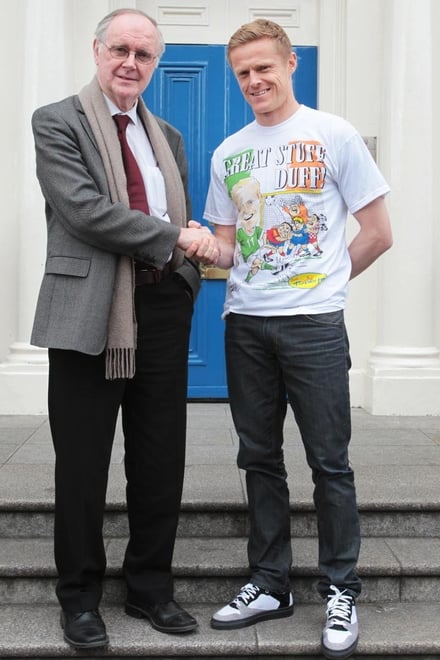 Duff pictured with Penneys chief Arthur Ryan who has grown the business to international success with over 220 stores to date
"Every year Our Lady's Children's Hospital treats 130,000 children. We carry out 550 heart surgeries. We care for our children fighting aggressive cancers" said Joe Quinsey, CEO of the Children's Medical and Research Foundation at Our Lady's Children's Hospital Crumlin.
"But all these tough life struggles are happening in cramped and out of date facilities. This has to change. When people buy these T-Shirts they will help support our drive to 'Fix Crumlin' and deliver world class facilities for our sick kids with cardiac and cancer conditions", he added.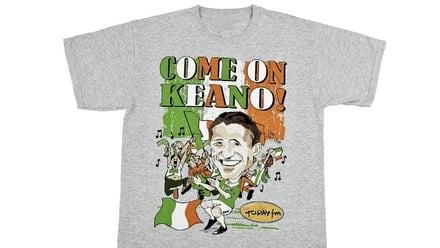 The Robbie Keane design t-shirt
The limited edition range of five t-shirts are priced at €6 each for adults and €5 each for children's sizes. The range is available now at all Penneys stores nationwide. Keane and Duff's styles have gone on sale first, with O'Shea, Given and Dunne styles following soon after.
With Euro 2012 coming up, there is no excuse not to support both the two children's hospitals, and the Irish players by picking up a t-shirt of your own.