Rihanna, Azealia Banks, Katy Perry and Paris Hilton were spotted at the festival, alongside UK exports like Laura Marling, Florence Welch, Alex Turner and Calvin Harris.
Rihanna performed with Calvin Harris and tweeted her outfit and her crowd location during the festival yesterday. She wore a 'Peace' petite crop top by Topshop with studded, high-waisted denim shorts by The Ragged Priest. She topped off her look with a vintage pink and black Chanel bomber jacket.
Meanwhile, Rih's best friend, Katy Perry, also tweeted about her look during the festival. Rocking a new electric purple hair colour, the Part Of Me singer tweeted her various style inspirations for the weekend, which were all Ninties-centric, including The Craft, No Doubt, Courtney Love, Virgin Suicides, Garbage.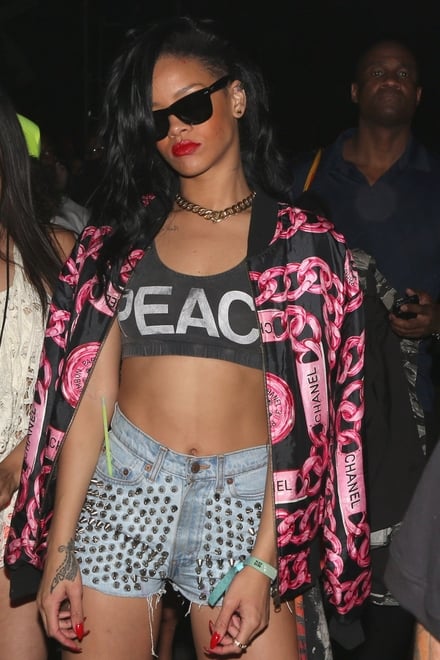 Rihanna rocking her personal style in a mix of vintage and high street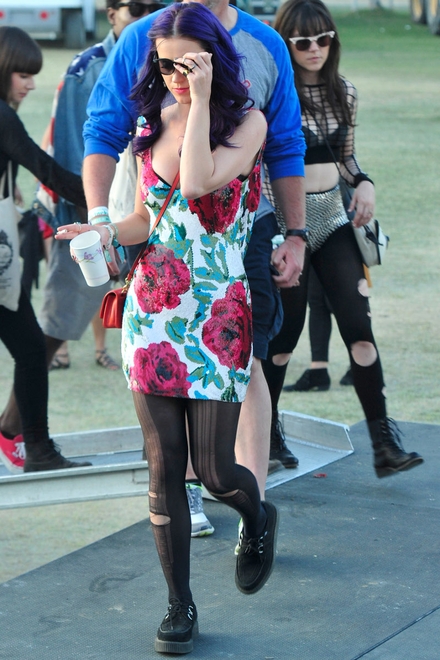 Katy Perry wears a pair of creepers, ripped tights and a floral, encrusted mini dress backstage at the festival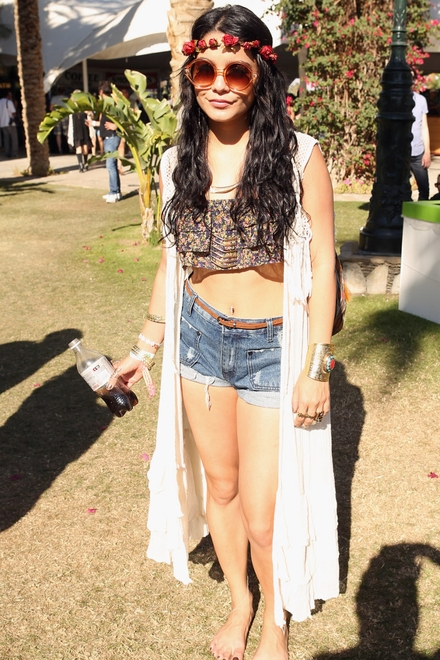 'High School Musical' actress Vanessa Hudgens brought along her boyfriend and rocked a floral headress, with a crop top, short shorts and an oversized vest-cardigan.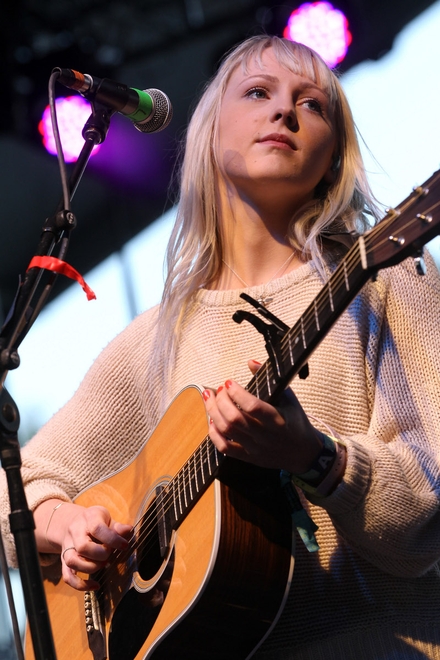 Laura Marling
Recent Brit Award winner for 'Best Solo Female Artist', Laura Marling performs at the festival. Marling kept it casual in a chunky knit and skinny jeans for her set. Emma Watson and English top model Sophie Sumner were seen in the audience for Marling.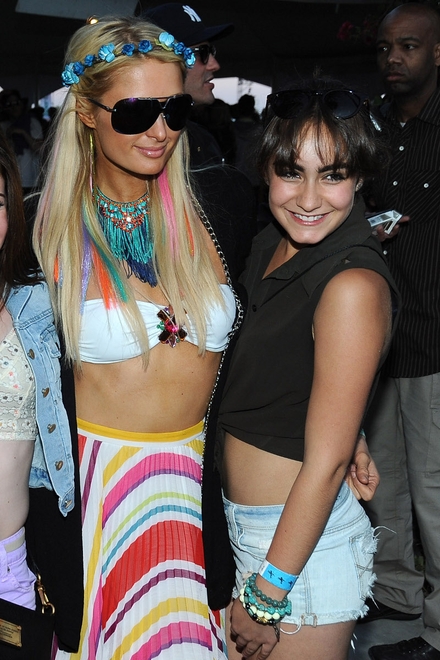 Paris Hilton poses for a fan photo during her time at the festival
Paris Hilton kept herself to herself, though former close friend Lindsay Lohan was also in attendance, and was seen supporting her boyfriend Dj Afrojack. The heiress wore a colourful maxi skirt which matched her colourful hair extensions.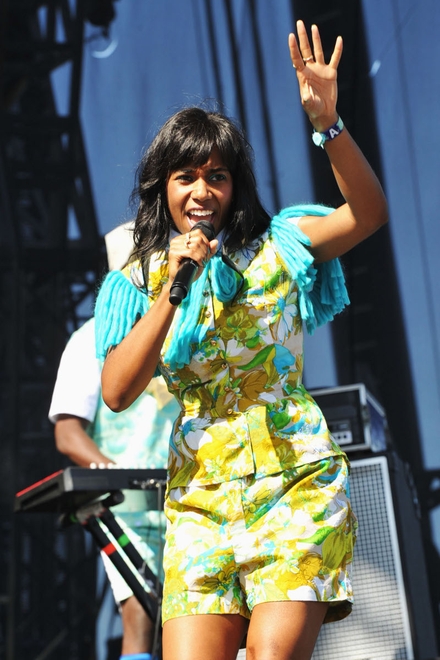 Santigold, real name Santi White, performed at the event and had a costume change in between her set. She wore a yellow and lime floral short suit which had blue cotton dreadlock detail.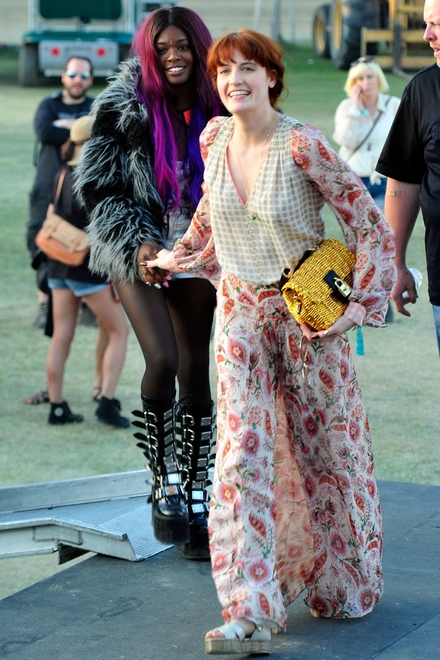 Azealia Banks pictured with Florence Welch backstage
Rapper of the moment Azealia Banks caught up with several performers at the festival -Katy, Florence, Santi- and managed to squeeze in a performance of her own, she later tweeted her appreciation for her audience, saying "I cried all thru my set lol!! (sic)". The singer wore a purple, mermaid hairpiece, and accesorised with a bindi on her forehead.
Florence Welch of Florence and The Machine later wore a bespoke Hannah Marshall ink dress with Swarovski encrusted detailing for her set. The singer previously wore one of Marshall's pieces during her video for 'Drumming Song'.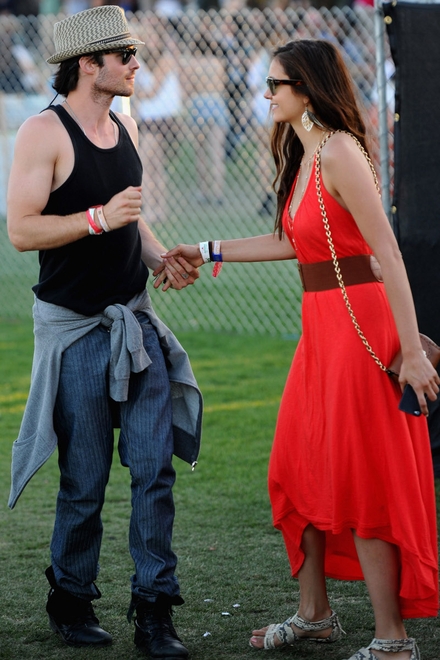 'Vampire Diaries' actors and real-life couple Ian Somerhalder and Nina Dobrev were pictured enjoying themselves at the festival on Sunday.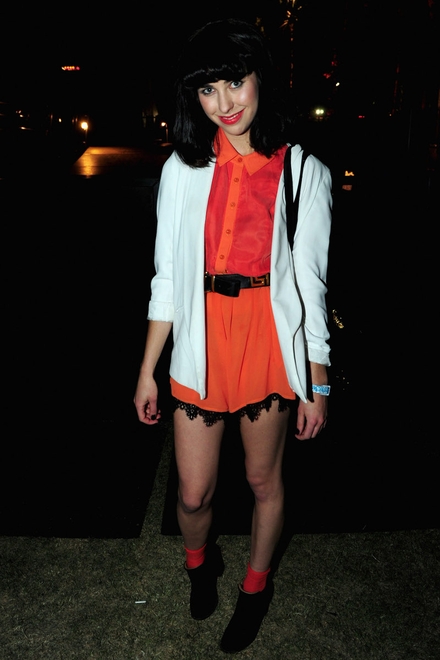 New Zealand singer Kimbra, who recently scored an Irish No1 with her collaboration on Gotye's 'Somebody That I Used To Know', performed at the festival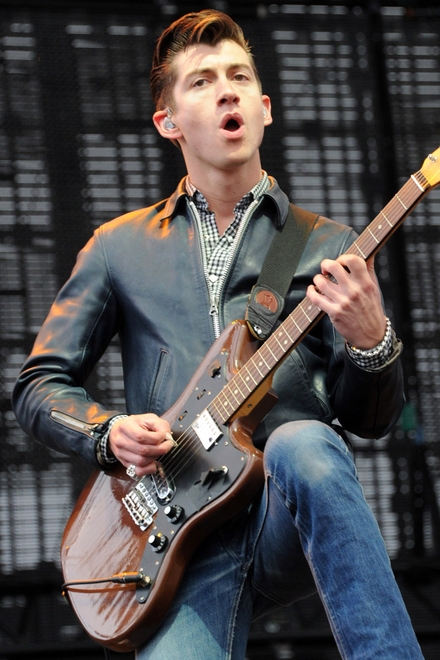 Holding up the fort for the male contingent, Alex Turner of The Arctic Monkeys performed wearing a different style, throwing back to the Fifties with coiffed hair and a leather jacket. Arctic Monkeys were amongst the headline acts at the festival, which also included Pulp, The Black Keys, Radiohead, Dr. Dre and Snoop Dogg, David Guetta and Swedish House Mafia.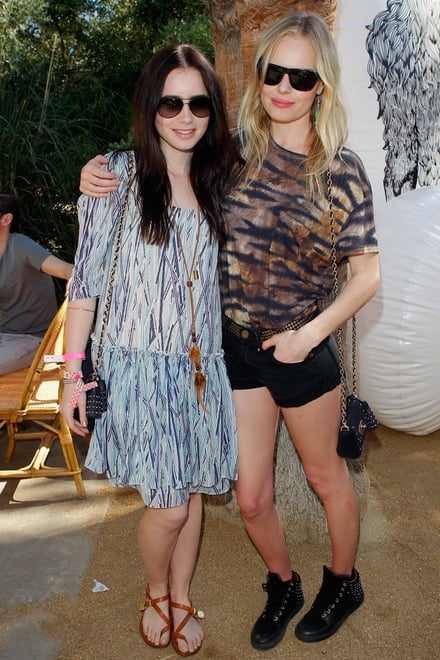 Mulberry hosted a pool party during the festival to showcase some of their Fall 2012 collection, which brought out A-listers, including Kate Bosworth who rocked a full Mulberry look. She took time out to pose with Lily Collins, who wore a full Mulberry spring look. Both actresses held their 'Lily' Mulberry shoulder bags.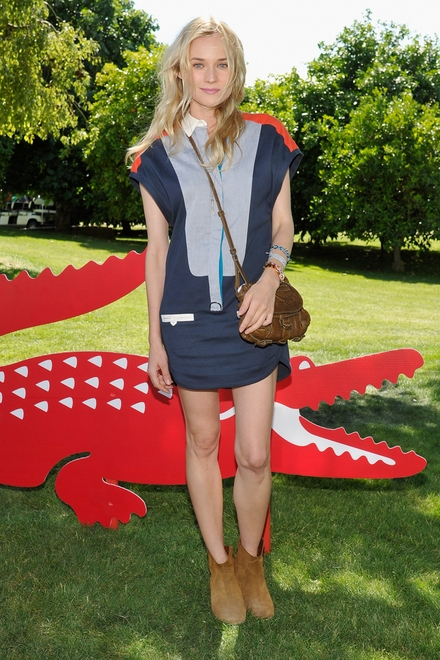 Diane Kruger attended a Lacoste L!ve party on Saturday with boyfriend Joshua Jackson
The festival, which is split into two weekends in April, will return this weekend, with most of the same acts performing on both occasions. This is the first year the festival has been split, which also resulted in 2012 being the fastest-selling year to date.