Unlike Paris and Milan, who have entire days devoted to menswear, and New York, who have mere menswear moments dispersed between ready-to-wear shows, London give just one full day to menswear and yesterday brought out the UK's best.
Kicking off the morning was Irish designer JW Anderson. The Derry native showcased a collection which was not unlike his womenswear in influence. The home and texture influenced a colourful and detailed collection using a variety of mediums. Tile, rubber and plastic seemed to spur on the aesthetic which included neoprene, bubble suits, plastic hybrids and cotton.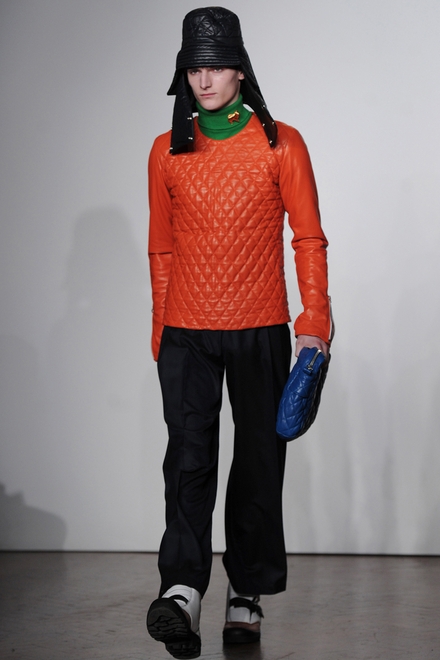 A model walks for JW Anderson during yesterday's show
Lagging jacket-like ski-suits in different colours were a particular high point of the show, which also included a little bit of tradition with polo neck jumpers and brooches.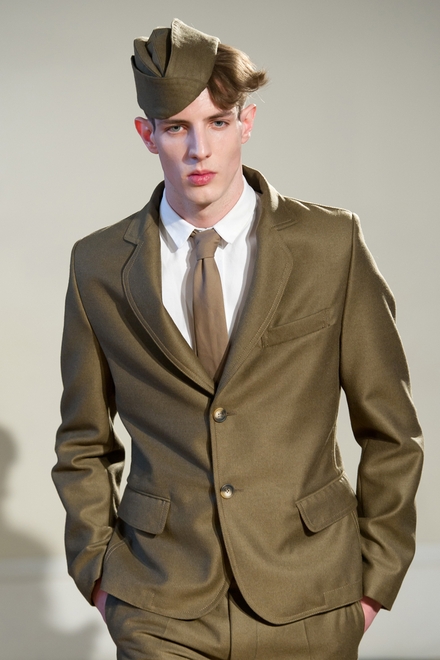 One of Lou Dalton's military-inspired looks
Lou Dalton went right back in time and presented a collection derived from Forties and Fifties military. Double-breasted suits were key to this look which focused on military colours. He also showcased looks which seemed to interpret the Fifties off war duty, with denim jackets, baby blue suits and casual jumpers.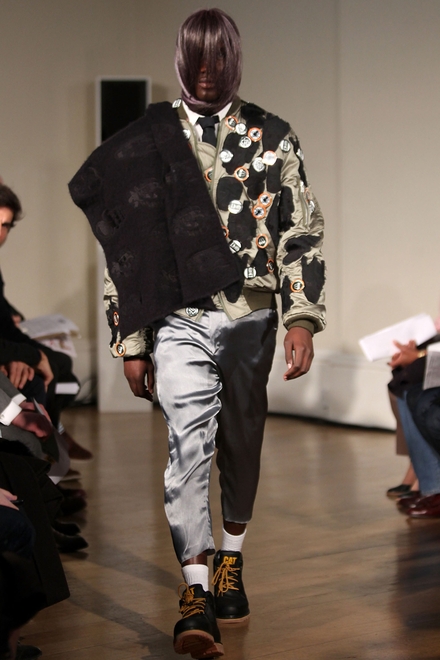 Martine Rose A/W 12/13
Martine Rose sent her models down the runway in a variety of coloured wigs. For a small collection, it spoke volumes and her intricate silk printed pants were a great base for the collection. Another lovely touch were blackened tribal patches adorning modern varsity and silk hybrid jackets.
E Tautz showcased their signature stamp of traditional, dapper coolness with a collection focused on sharp tailoring. Navy, grey and black were shown in a variety of combinations, until loud red began to filter through towards the end.
The hats were a talking point of the show, some called them the best hats of LFW altogether. Looking like a mix between a Medieval bucket hat and a panama hat, they were created by Laird London in collaboration with Patrick Grant.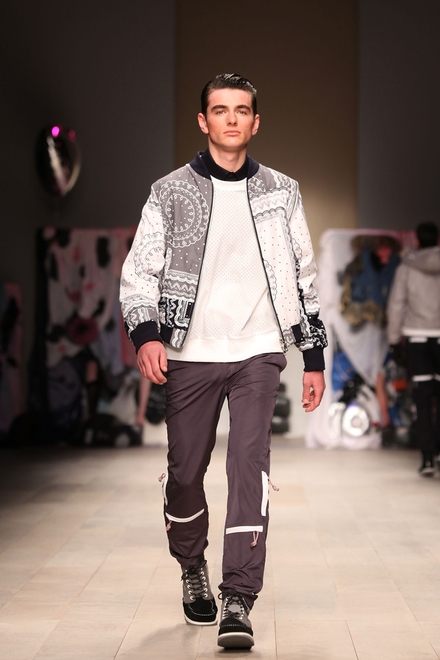 A look from Christoper Shannon's show
Christoper Shannon focused on zip and button detail. His collection used traditional shapes with influences of urban streetwear. The bold monochrome prints towards the end were stand-out.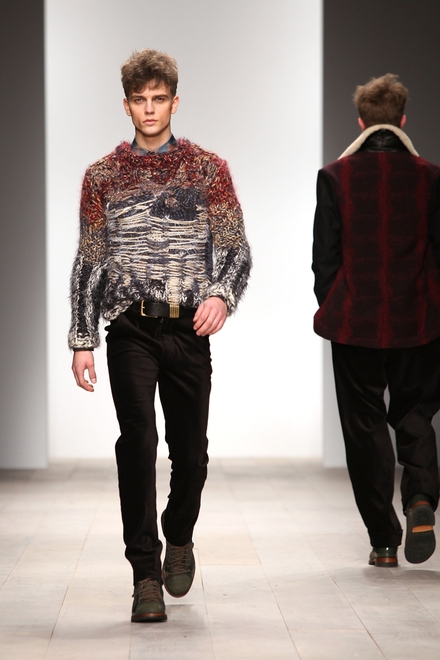 One of our favourite looks from James Long A/W 12/13
James Long's silhouette was a split mixture of slouched and skinny, with both styles of velvet trousers on different models. His knitwear is always key and this A/W it's big, chunky, distressed and textured. Graduated colours within jumpers, jackets and coats gave the collection a modern feel and one of the top looks was a double-breasted jacket with biker leather sleeves and a fur collar.
Topman, who streamed their Design show live on their site and Facebook page at midday yesterday, had Ronnie Wood, Mr. Hudson, Amir Khan and Emilia Fox on their front row, alongside owner Sir Phillip Green and his two children.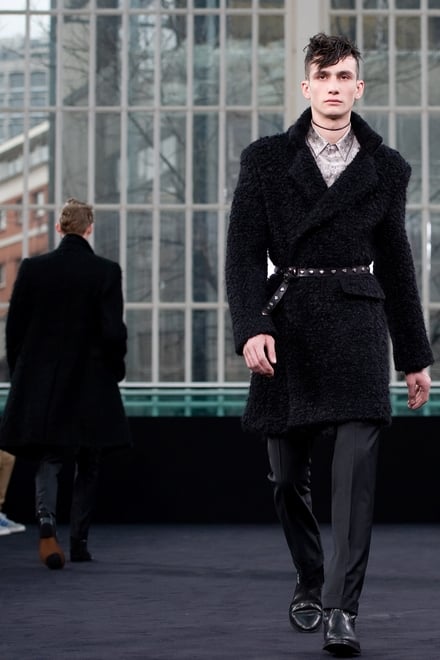 One of the belted and high-waisted Topman looks
There was a distinct gothic element to the show which focused on black formalwear in a variety of materials, using leather, velvet, knit and cotton. Sixties floral shirts gave the collection a light lift while the hair was slightly punked in gel-heavy, wet-look mohawks.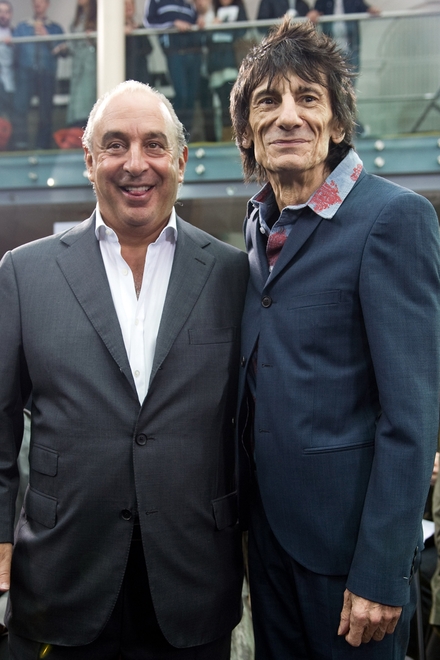 Rocker Ronnie Wood and Topshop boss Sir Philip Green
Oliver Spencer began his collection quite traditionally in shape and design, but throughout the runway show it transformed and became high-quality tailoring with unique cuts, especially on blazers.
Older models walked the show, as well as different models of ethnicity. There was a large emphasis on button detail within the collection with an abundance of buttons adorning waistcoats, jackets and coats.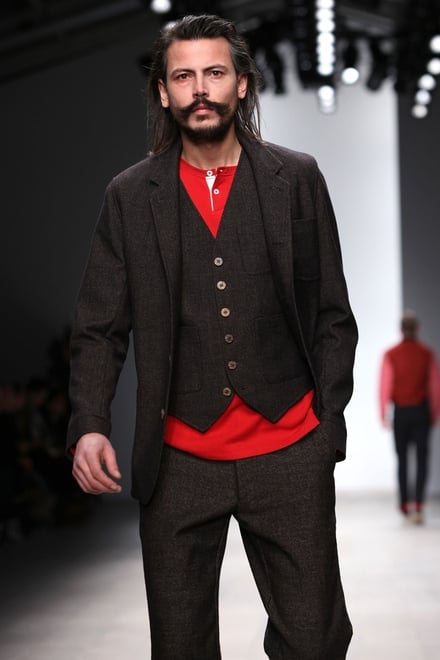 A model walks for Oliver Spencer
Mathew Miller presented his signature traditional menswear which is interpreted with a high-fashion edge in detail. It seemed more grown-up and tailoring-focused than previous outings. That could be positive or negative, some may say it's more conformed or scaled back, but we enjoyed the difference of viewpoint and we expect Miller to always keep his high-fashion detailing no matter what.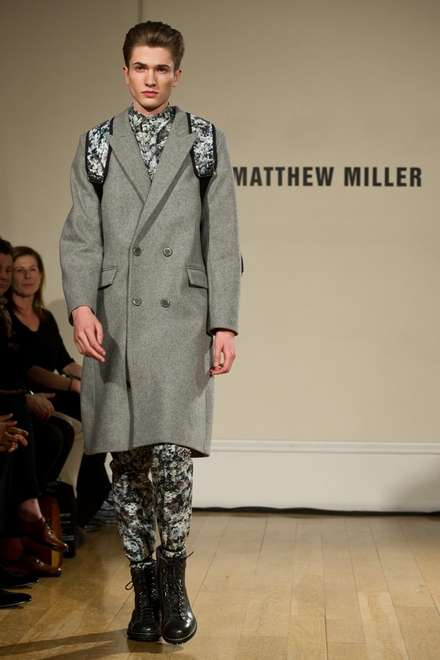 A look from Matthew Miller
All in all, London Fashion Week came to a close with menswear and certainly showcased some of the best homegrown menswear designers in the world right now. We look forward to the first ever London Men's Fashion Week in June!