There are many ways to end up in the career you want and the Department of Further and Higher Education, Research, Innovation and Science have shared some great options for further education and training with us. So, take a breath and whenever you are ready read on...
CAO Options
When you log onto the CAO website, you will see further education choices, apprenticeship choices as well as higher education choices.
The Leaving Cert can be a pathway to your next step in life, but there is a place for you in third level if you want it – whether it be higher education, further education or apprenticeships.
There are so many ways for you to get to where you want to. So, for example; if you've put down nursing in a University through the CAO, and if you don't get the points, for whatever reason, there are pre-nursing courses you can do in your local Further Education college, that can help you progress to becoming a nurse.
Or if you want to work in healthcare and want to earn as you learn, do you know you can become a healthcare assistant through an apprenticeship programme? These are just two examples of how there are different ways of arriving at the same destination.
There are so many avenues open to you, education is about opening doors, not closing them.
Log onto cao.ie/options to find out more.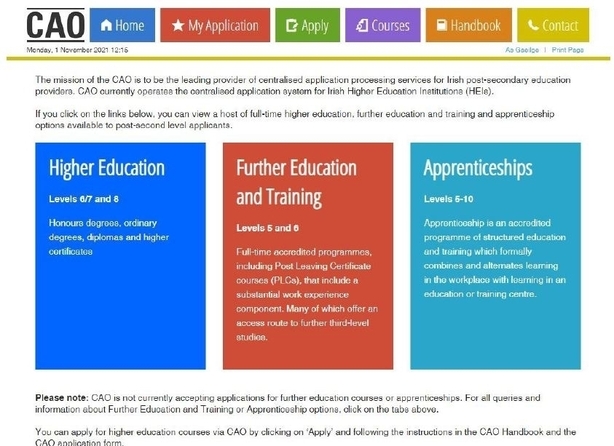 So what is…Further Education?
FET is further education and training. It happens in colleges and training centres all across the country. There is a FET centre in every county in Ireland. You can find a list of them HERE
There are lots of different courses available. Some of them qualify you for a wide range of specific careers, and designed to prepare you for entry to the world of work, while other courses can be useful for progression into higher education.
For example, you can do a course in business, law, nursing or art portfolio as preparation courses. The national website for further education and training options is www.fetchcourses.ie where you can see find information on, and apply for, a range of both full and time part time, fully accredited courses.
That sounds interesting – how do I apply?
Applications for the 2023/ 2024 academic year for new CAO/ FET courses will open on 5 November 2022.
You can also access over 6000 FET courses nationally, on the Fetchcourses.ie website where applications for FET courses are open throughout the year.
You can find more information on FET courses, stories from learners on FET courses and their careers / learning journey and general news about the sector on www.thisisfet.ie.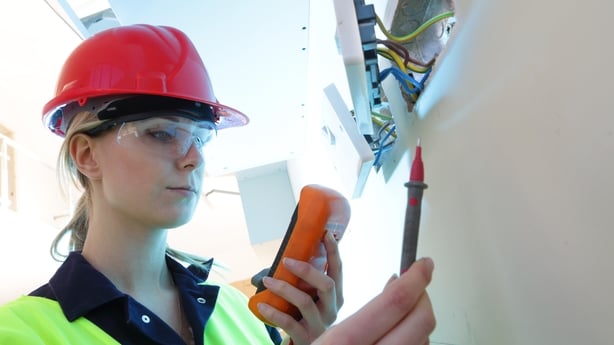 What is an Apprenticeship?
An Apprenticeship is a work-based learning. It incorporates a minimum of 50% on-the-job training with off-the-job training. The off-the-job learning ranges from remote or online learning to one day per week or longer duration, typically from 10-20 weeks, in a third level institutions. It varies depending on what apprenticeship you are doing and there is lots of choice.
Apprenticeships last between 2 and 4 years, and lead to qualifications up to Masters.
Degree level in some cases. There are over 65 different types of apprenticeship programmes. One of the great things about apprenticeship is you can earn money while studying.
You can become an apprentice in areas such as carpentry, plumbing, electrical, hairdressing, finance, IT, insurance, sales, healthcare, property, recruitment, science and many others once you find an approved apprenticeship employer.
Lots of new programmes have been added recently including:
Arboriculture,
Equipment Systems Engineer,
Healthcare Assistant,
Principal Engineer – Professional Doctorate,
Recruitment Executive,
Sales,
Scaffolding ,
Supply Chain Associate,
Bar Manager,
Wind Turbine Maintenance Technician,
Transport Operations & Commercial Driving and Cybersecurity Practitioner.
Click here to see the full list of what is available.
Or visit apprenticeship.ie for more information.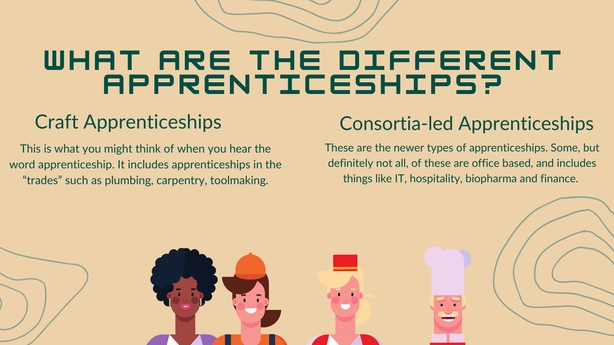 How do I apply for an Apprenticeship?
An apprenticeship is offered on the basis of a contract of employment between the apprentice and their employer.
Apprenticeships are "demand-led". This means that the number of places is determined by how many apprentices employers need.
For example in the case of craft apprenticeship*, this employment may start at any time of year, with subsequent off-the-job training scheduled accordingly throughout the year.
For the consortia-led apprenticeships*, this often happens in January and in September/October of each year but this can vary from programme to programme, and the application process is usually open all year round.
Go onto apprenticeship.ie to find a list of what apprenticeship jobs are open for application.
You can also find the contact details of the consortia leads for the newer consortia led apprenticeships who will have details of course structure and may have details of potential interested employers, by clicking on the FAQ-> Find out More section under each listing in the Apprenticeship Directory on the website.
We will be sharing more options throughout the year from the Department of Further and Higher Education, Research, Innovation and Science letting students know about all their options.