It's time to regsiter for Generation €uro - Ireland's leading economics competition for Transition Year and Fifth Year students.
The competition is run by the Central Bank of Ireland in conjunction with the European Central Bank and teachers and students have to regsiter and complete the online quiz by 17 December to take part.
First, students need to assemble a team of between three and five people and nominate one teacher as a mentor. A teacher may mentor more than one team.
To register, sign up and complete the quiz visit www.generationeuro.eu
Key dates
Round 1 Register and complete online quiz before 17 December 2021.
Round 2 Compete the assignment between 20 December 2021 and 18 February 2022.
Round 3 Do the Presentation at the National Final 29 March 2022.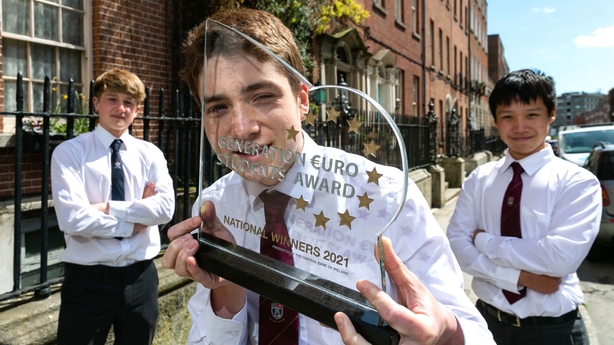 More on the quiz
The quiz consists of 30 multiple-choice questions covering various aspects of the euro area and monetary policy. Students may complete the quiz in more than one sitting. Before starting, teams can practise with a trial version of the quiz.
To help prepare for the quiz, you will find lesson plans and other resources on HERE. Further information is available on the Central Bank of Ireland Website.
The top scoring teams from Round 1 will progress to Round 2 and three finalist teams will compete in the National Final at the end of March 2022, which may take place at the Central Bank of Ireland in Dublin.
The schools that successfully complete each round will be publicised on the Central Bank of Ireland website, social media channels and in national/local media.
Prizes
The national winners will receive a specially commissioned glass trophy for their school in recognition of their achievement. Individual prizes and certificates will also be awarded to each finalist.
Questions and support
You can contact the Central Bank by emailing generationeuro@centralbank.ie.
Read more about last year's winners on RTÉ News Online!