The subjects are becoming more varied as we come towards the end of week two of Leaving Cert 2021. In today's Leaving Cert Diary we look at Business with Emer and Art History with James.
Once again, massive thanks to The Irish Second-Level Students' Union (ISSU) for their help and to all the students who have contributed so far.
Emer took care of Business today!
Today, I sat my final Leaving Cert exam - Business! What I can say about the business paper other than I loved it!
I found that Section 1, the short questions, were slightly harder than the long questions which is unusual. We had to answer four out of twelve giving us plenty of choice and room for mistakes! I was able to answer nine of them with confidence finishing the first section of the paper with a great start.
Section 2 was dreaded by students around the country, the compulsory Applied Business Question (ABQ)! The ABQ this year was on units three, four and five. Here, we essentially unload all of the information we have learned in these three units into one long question.
I was really happy with the ABQ we were given, it was much easier than those from previous years. Unfortunately there was only a small mention of unit five - marketing, my favourite section of business, but, it was a great question anyway!
For the final section we had to answer three questions, one from part one, one from part two and a final question from either part. Much like the short questions, we had a really broad choice. In part one, I answered Question 1 on People in Business, In part two, I answered Question 5 on Enterprise and Managing and for my final question I answered Question 8 from Part Two on Business in Action.
I was lucky enough to have time left and I was able to answer some extra questions. I answered Question 4 from Part One on People in Business and Question 2 from Part One on Domestic Environment. I was lucky to be able to do the extra questions, allowing me more flexibility with mistakes in my answers. Overall, I was delighted with the paper.
Your final exam essentially marks the end of your second-level education and I'm glad I was able to leave on a positive note.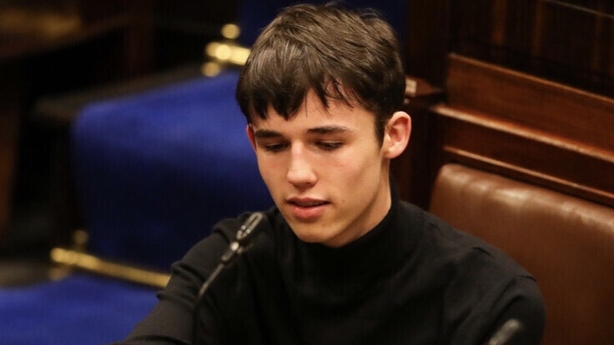 James went all the way back to the Stone Age with Art History!
The Art History and Appreciation is a monster of an exam. The questions can essentially be any Irish and European artist from the Stone Age to the modern day and while there are certainly certain movements and artists to focus on, it can definitely feel a bit overwhelming while you are studying it.
The decision this year to cut it down to two questions rather than three was a welcome one, especially with the reliability of the gallery question. I answered Q1 on Stone Age monuments and Q16 on the difference between visiting a digital gallery over a physical one.
I'm really happy with my answers and I think only having two questions to answer allowed me to go much more in depth than I would have been able in a regular year. I considered answering the question on the Baroque movement in art for a while as I had an essay prepared for Rembrandt but decided against it.
I felt that an essay on Caravaggio or even Reubens might have better suited the question and I hadn't particularly studied them in the lead up to the exam. Overall I'm really happy with how the exam went and that my studied topics came up.
Click here to catch up with more Leaving Cert Diary entries!
Coming up tomorrow we have German and Construction Studies
Massive thanks to the students who gave their time to record and write for us and thanks to all at The ISSU.
The ISSU Exam Blog is HERE
About the ISSU
Founded in 2008 and now in its 13th year, the ISSU is the longest running national second-level representative body in the country, representing over 500 member student councils.
They represent Irish second-level students on a local, regional, national and international level.