The 3rd and 4th class students from Clooney National School, Clooney, County Clare, have been crowned this year's national winners of Engineers Ireland's STEPS Young Engineers Award for their Ash Antibiotic invention.
The student's prototype robot aims to detect and cure ash dieback disease and was developed to support and foster local wildlife in Clare and to support hurling manufacturing in the county.
Tiernan, Jane, Patrick, Maggie and Kate, aka the Clooney Crackers, are the teamwho came up with the Ash Antibiotic invention that brought home the top award.
The students created a spherical robot, made out of cardboard and paper mâché, and a working motor to demonstrate the possibilities of their invention and how a robot could travel to an infected tree and inject a liquid medicine to help cure the disease.
You can watch the full awards ceremony in the video up top!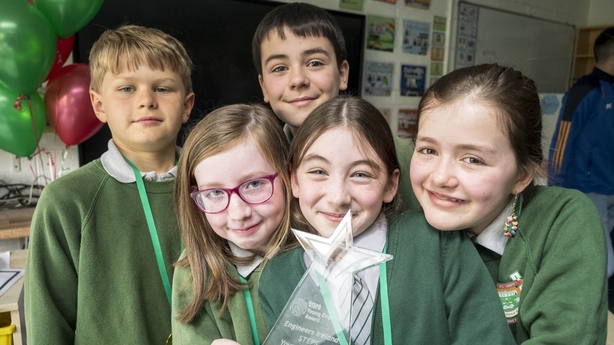 The winning team said: "Ash trees have been part of our history for thousands of years. They are one of the seven sacred trees of ancient Ireland and are one of the most common native trees in Ireland.
We believe that our invention could help to prevent ash dieback disease which is very prevalent in our community. By protecting trees from this disease, we can not only help the animals that live in the trees, but also support our hurling community, so that hurleys can be manufactured from local wood."
According to their teacher, Sinead Lynch: "The STEPS Young Engineers Award was a fantastic opportunity for the children to engage with their local environment and become invested in their community.
It allowed the children to appreciate the real-world application of subjects such as maths and science and fostered 21st century skills such as collaboration, problem solving and critical thinking skills. All of the children who participated thoroughly enjoyed the process".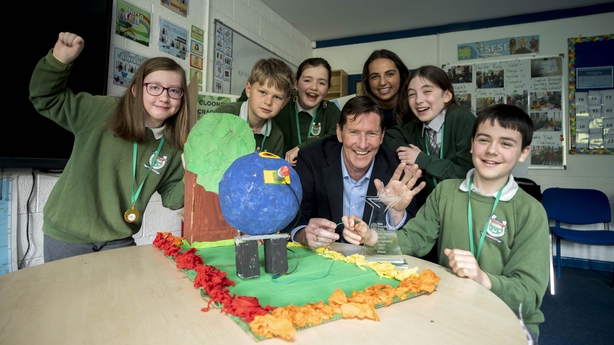 Clooney National School students faced stiff competition from 116 other class groups from across Ireland who submitted almost 600 projects to this year's STEPS Young Engineers Award, which is co-ordinated by Engineers Ireland's STEPS programme - funded by the Department of Further and Higher Education, Research, Innovation and Science and industry leaders Arup, the EPA, ESB, Intel and Transport Infrastructure Ireland (TII).
Now in its fifth year, the nationwide primary school competition encourages 3rd and 4th class pupils and their teachers to explore the world of engineering by developing an engineering project that would help to improve their local community.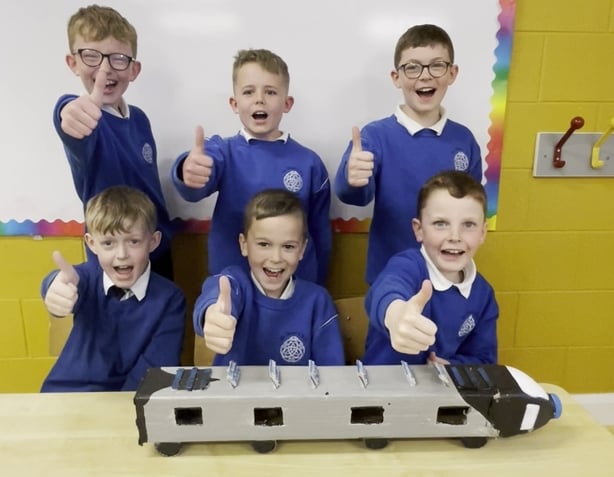 St Oliver's National School, Drogheda, County Louth were announced as runners-up in the competition. The Super Solar Pals - Finn, Oran, Matthew, Adam, Jake and George are pictured with their solar panel train invention above!
And the following schools all recieved ighly commended status for their innovative designs:
Scoil Eoin, Innishannon, Co Cork
St Andrew's National School, Malahide, Dublin
Coolick National School, Killarney, Co Kerry
Anabla National School, Killarney, Co Kerry
Scoil San Treasa, Mount Merrion, Dublin
St Joseph's National School, Woodford, Co Galway
Each project team was recognised today at a virtual awards ceremony on Engineers Ireland's website and YouTube Channel. eFlow are kind supporters of all prizes for winners of the STEPS Young Engineers Award 2022/2023 programme.
Click here to find out more about STEPS Young Engineers Award!
About Engineers Ireland
Engineers Ireland is one of the largest representative bodies in Ireland, with over 25,000 engineers. The membership incorporates all disciplines of the engineering profession across public and private industry, academic institutions, and engineering students.