Spideog le Feadóg, Gabhar le Giotár agus Píobaire Tigerlily. Níl sin ach trí rud le cloisteáil i gclos scéal nua Gaeilge do pháistí (0-6) á sheoladh ar RTÉjr Radio ar Lá Fhéile Pádraig i rith Seachtain na Gaeilge.
Is é 'An Flóta le Cóta' an chéad scéal 'léigh le chéile' i sraith nua de cheithre scéal am codlata ag teacht ó Loch Garman. Beidh 'An Flóta le Cóta' beo ar RTÉjr Radio ar 11.30 agus 16:30 ar Lá Fhéile Pádraig.
Tá sceitimíní ann mar beidh an tUachtarán ag freastal ar an bparáid ach tá gaoth láidir ann freisin. Nuair a thagann stoirm, cuireann sé an lá mór i mbaol!
Beidh sé fáil mar phodchraoladh ar RTÉjr Podcast.
Bileog gníomhaíochta le híoslódáil anseo!
Le aisteoirí Cory Ó Brollacháin agus Heather Hadrill, leanann an scéal drumadóir Gínie ag máirseáil don chéad uair le banna píob Na Seamróga ar Lá Fhéile Pádraig.
Is í Tigerlily Keoghan an píobaire uilleann ar an taifead agus is í baill den bhanna Ros Mhic Thriúin chomh maith le bheith mar aonréadaí. Bhí Jonathan Weatherill-Hunt ar fhuaim (innealtóir fuaime/dearthóir fuaime) agus rinneadh Lee Hynes obair breise.
Beidh ábhar breise le híoslódáil ó shuíomh gréasáin RTÉjr Radio le gach scéal sa tsraith. Is é i gceist ná an téacs i nGaeilge, foghraíochta agus Béarla ionas gur féidir le tuismitheoirí agus caomhnóirí a bhfuil an Ghaeilge nua acu léamh in éineacht lena bpáistí. Beidh bileog gníomhaíochta le híoslódáil freisin.

Tá an scéal scríofa, stiúrtha agus léirithe ag Alison Ní Mháirtín (scríbhneoir) le tacaíocht ón gComhairle Ealaíon, RTÉjr Radio, Conradh na Gaeilge, Seachtain na Gaeilge le Energia, an tÁras Náisiúnta Ceoldrámaíochta, Lee Hynes agus South East Radio. Buíochas freisin don tacaíocht féinléirithe Heather Rose (Super Paua), comhairleoireacht amharclainne Mark Ball agus Éamonn Ó Dónaill.

Píobaire: Tigerlily Keoghan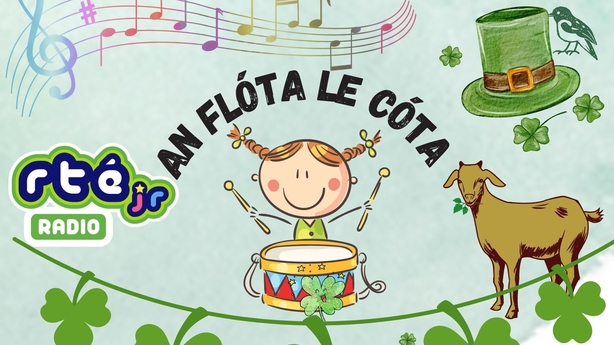 Listen up! A special St Patrick's Day story on the march to RTÉjr Radio
A robin with a tin whistle, a goat with a guitar and an uilleann piper called Tigerlily. These are just some of the things you can expect to hear on a new Irish language audio story for children (aged 0-6) being launched on RTÉjr Radio on St Patrick's Day.
'An Flóta le Cóta' is the first in a series of four 'readalong' bedtime stories from Co. Wexford which will be broadcast on RTÉjr Radio at 11.30am and 4.30pm on St Patrick's Day.
Excitement is high as President Michael D Higgins is due to attend but so too is the wind and when a storm shows up, it threatens everyone's big day.
Listen to the show on the RTÉjr Podcast feed here!
Download the activity sheet here!
Featuring the voices of Wexford actors Cory Ó Brollacháin and Heather Hadrill, the story follows drummer Gínie (Heather Hadrill) as she marches with pipe band Na Seamróga for the first time in Wexford on St Patrick's Day.
Music on the recording is provided by uilleann piper Tigerlily Keoghan, who plays with the New Ross & District Pipe Band in addition to her work as a solo musician.
Each story in the series will feature supplementary material downloadable from the RTÉjr Radio website. This will include the text in Irish, phonetics and English so that parents and caregivers new to the Irish language can read along with their children.
The story is written, directed and produced by writer Alison Ní Mháirtín with support from The Arts Council (Agility Award), RTÉjr Radio, Conradh na Gaeilge, Seachtain na Gaeilge le Energia, the National Opera House, Lee Hynes and South East Radio, and Éamonn Ó Dónaill. Alison would also like to acknowledge the self-producing support of Heather Rose (Super Paua) and dramaturgical support from Mark Ball.

Piper: Tigerlily Keoghan