Help Truffles the Treasure Hunting Piggy on a journey through Limerick City.
Each level you complete will unlock a ceramic treasure from one of the three muses; The Hunt Museum, the Limerick Museum and the Limerick City Gallery of Art. Look and listen closely for evidence of a city rich in cultural heritage.
Play the game here!
What you need to gather...
If you play the game with the sound on you will hear Truffles speaking, she speaks in Limerick slang! What can you hear her say?
Listen carefully – do you hear the Bells of St Mary's Cathedral?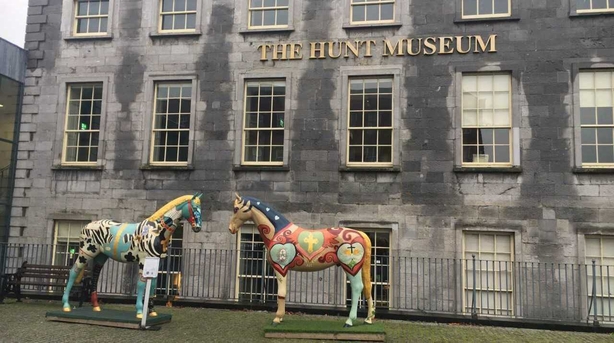 The layout of the old city of Limerick that Truffles navigates through is inspired by an illustration of Limerick from 1578 in the Limerick Museum Collection.
The colour palette for Truffles and the city was taken from a selection of watercolour paintings in the Permanent Collection of the Limerick City Gallery of Art.
Truffles our main character is inspired by Limericks 'pigtown' food heritage. The patrolling diver 'guards' are inspired by the diving suit in the Limerick Museum Collection.
The sweets that Truffles collects on her way to find the keys are inspired by the shapes of sweet mould artifacts from Limerick sweet production, also on display in the Limerick Museum.
Look closely and you will see King John's Castle, the river Shannon, the windmill from Windmill Street, and St Mary's cathedral. Look ever closer and you will see a Pike splashing in the Shannon. There are a number of stuffed fish in the Limerick Museum.