In the latest The Kids Are All Right we speak with science consultant and writer Dr Naomi Lavelle about the science of sleep and how science can help us get a great night's sleep!

Dr Naomi tells us that it is important not just to rest our bodies, but actually to keep us well and healthy in our minds AND our bodies!
Press play up top or tune in to RTÉjr Radio at 7pm this evening!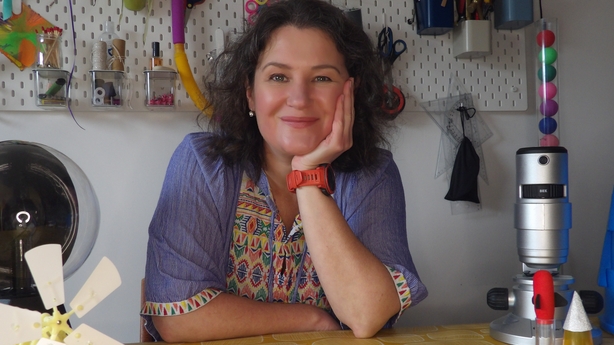 Buster and Buddy learn that when we sleep, our brain doesn't go to sleep, it is in fact really busy doing lots of jobs, like organising what we have learned that day as well as cleaning the toxins from our bodies…Wow! And this is why we can feel really bad the next day when we haven't had a good nights' sleep.

Buster and Buddy learn that one of THE most important things in getting to sleep, is for our bodies to produce enough Melatonin, which is also called the Sleep Hormone.
And Dr Naomi explains that we can ONLY produce Melatonin when there is enough darkness around us, which is why screen time too late and too close to bedtime can confuse our brains into believing it is still daytime, making it much harder to get to sleep…Wow!

Buster and Buddy learn lots about the science behind sleep and are buzzing with ideas to help them get a great night's sleep AND drift off easier to the land of nod…Zzzzzzz!

And remember to try to: Stay Healthy, Stay Happy and Stay Well!
Click here to download the first activity sheet!
Click here to download the second activity sheet!
Here's a great recap of what we learned on the show...
We need your consent to load this comcast-player contentWe use comcast-player to manage extra content that can set cookies on your device and collect data about your activity. Please review their details and accept them to load the content.Manage Preferences
More about our special guest...

Dr Naomi is a science writer and consultant and she particularly loves creating content for children, from TV shows to radio, to live workshops.

With a background in biochemistry she has a PhD in Molecular Biology and has worked in the Medical Diagnostic Industry and lectured at third level – however she believes that her biggest educators are the children she's worked with!

Her passion is working with children, from 2 to 20 years because they all have one thing in common…curiosity! Her motto is: "If you can't explain it to a six-year-old, you don't understand it yourself!"

This passion for science and kids led to Dr How's Science Wows; from hands-on visits to writing, workshop design and consultancy. Some highlights have included working with outreach programmes, writing and consulting for children's tv and collaborating with some international projects; but there is still always a buzz to getting around a table with a group of children and seeing what science has to offer today.

Click here to visit Dr Naomi's website!
And there are loads more great episode to catch up on.
Subscribe to The Kids Are All Right Podcast here!
And check out more resources from the series here!!