The Kids Are All Right is the mental health show for kids on RTÉjr Radio!
In the latest show we chat with Irish TV presenter, food writer and cook Donal Skehan as part of our Mind Your Head! segment where we talk with people about what they do to mind their head….you know, mind their mental health!
Listen to the show up top and subscribe to the podcast here!
He chats about all the different television cooking shows he has worked on around the world and all the brilliant kid cooks he met who came up with some incredible, crazy food combinations!...but NOT Buster's Ice-Cream pasta invention!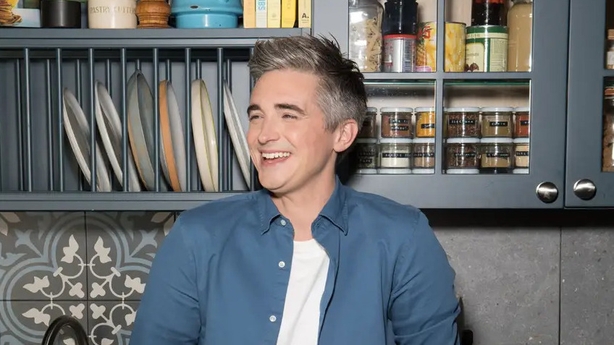 He tells Buster and Buddy about some the crazy foods he has tried during his food travels around the world; and while kids don't need to go as far as he has, he talks about how it IS really important to eat a wide variety of food to ensure we have a balanced diet….AND so that eating food is FUN!
Donal sets a Vegetable Challenge for the kids listening to try vegetables in lots of different ways….so if you don't like broccoli boiled, then try it baked, or fried or sauteed…because vegetables taste completely different when we cook them in different ways!
Buster and Buddy hear that even celebrities need to mind their heads, as Donal talks about how his mental health has been challenged over the last few years and that now he is very aware how important it is to be aware of how you feel in your head and that if your worries are getting big, that it is so important to talk to someone and to find those things that bring you to your happy place!
And remember, try to; Stay Healthy, Stay Happy and Stay Well!
Click here to download the 1st worksheet!
Click here to download the 2nd worksheet!
Press play below to watch the recap of the show!
We need your consent to load this comcast-player contentWe use comcast-player to manage extra content that can set cookies on your device and collect data about your activity. Please review their details and accept them to load the content.Manage Preferences
More about Donal...
With 10years under his belt as a TV host & award winning food writer, Donal Skehan provides his audience with do-able meals that anyone can master. A Dad of two, Donal knows a thing or two about juggling parenthood, work and cooking!

Donal has released 10 cookbooks, with this most recent, 'Every Cook' having won Ireland's cookbook of the year in 2021 and reached number 6 in the Amazon UK book charts.

Donal's numbers TV series have aired in over 40 countries worldwide and his profile continues to grow.
Donal has filmed hit TV series on BBC, Food Network, RTÉ & FOX. More recently, Donal starred alongside Rosana Pansino on HBO Max 'Baketopia.'

He is a regular on Saturday Kitchen on BBC One in the UK as well as hosting regular cooking slots on ITV's This Morning, NBC's TODAY Show, Rachel Ray Show and Home & Family on Hallmark Channel in the US.

Donal's YouTube channel is the fastest growing Irish food channel in the world with over 45 million views and over 1 million subscribers! The channel is entirely managed by Donal and focuses on promoting accessible home cooking to a dedicated audience of almost a million food fans.

Check him out @donalskehan on Instagram for daily updates on family life, fun & lots of good food.
Subscribe to the Kids Are All Right Podcast here!
And check out more resources from the series here!!