Well done to the third class students from Robertson National School, Ballintra, County Donegal, have been crowned national winners of Engineers Ireland's STEPS Young Engineers Award for their Hydro-Electro Storm project, a solar and rain powered car which aims to reduce CO2 in the atmosphere.
You can watch the virtual awards ceremony up top!
Developed by the Robertson Eco-Roadsters, comprising of teammates Alex Murphy, Georgia Green and Will Crawford, the Hydro-Electro Storm operates using solar and hydraulic energy. The innovative two-seater car was developed with the Irish climate in mind and comprises of a creative roof system to collect and funnel rainwater to a hydraulic pump and solar panels to absorb sunlight to help power the car.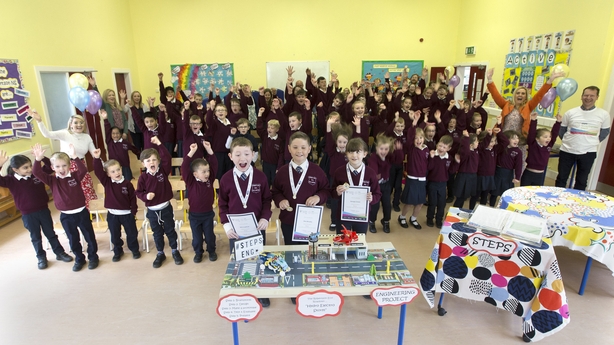 The Robertson National School students faced stiff competition from 428 schools from across Ireland. In addition to the winning team, students from Scoil Naomh Áine, Clondalkin, were announced as runners-up in the competition, with pupils from the school also receiving highly commended status alongside The Model School Kilkenny, Mary Mother of Hope Senior School, Castaheany and St. Christophers Primary School, Ballsbridge for their innovative designs.
Almost 500 projects to this year's STEPS Young Engineers Award, which is co-ordinated by Engineers Ireland's STEPS programme - funded by the Department of Education and industry leaders Arup, the EPA, ESB, Intel and Transport Infrastructure Ireland (TII).
The nationwide primary school competition encourages third- and fourth-class pupils and their teachers to explore the world of engineering by developing an engineering project that would help to improve their local community.
For more information and to get involved in the STEPS Young Engineers Award CLICK HERE!