Safer Internet Day 2022 takes place on Tuesday, 8 February and our friends at Webwise are here to tell us how Primary Schools can get involved.
Safer Internet Day (SID) is an EU-wide initiative to promote a safer internet for all users, especially young people. It is promoted in Ireland by the PDST Technology in Education and Webwise, the Irish internet safety awareness centre.
There are lots of ways to get involved in Safer Internet Day. Here are some useful ideas to help get started thanks to our friends at Webwise...
1. Get free wristbands for your schools for Safer Internet Day
Regardless of how big or small your event or activity is, if you are marking Safer Internet Day – let us know! The interactive Safer Internet Day map of Ireland highlights the schools and organisations from all over Ireland that are taking part.
Register to feature on the map, and to receive your free Safer Internet Day pack and wristbands.
2. Use the Free Webwise online safety resources, lessons and videos in your class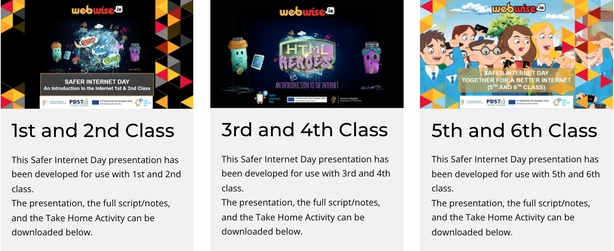 Safer Internet Day is a great time to explore online safety topics and issues in schools. Use the FREE Webwise resources, lessons and presentations to address topics such as cyberbullying, privacy, respectful online communication, screen time and online wellbeing and more.
Why not introduce internet safety to younger students with HTML Heroes, or use the All Aboard for DigiTown activity book to help 9-12 year-olds become responsible digital citizens.
These resources can be accessed for free on webwise.ie and we also send out hard copies to schools.
3. Lead an internet safety talk
Using scripted Safer Internet Day presentations Free scripted presentations are available for children and young people here, and have been specifically designed to help schools and organisations taking part in Safer Internet Day.
These include Primary school presentations for use with 1st and 2nd class, 3rd and 4th class, and 5th and 6th class.
The scripted presentations for primary can be used within the classroom or for remote learning and are also supported by a Kahoot Quiz, video materials, and a take home activity sheet.
4. Introduce online safety to young children using the HTML Heroes Storybook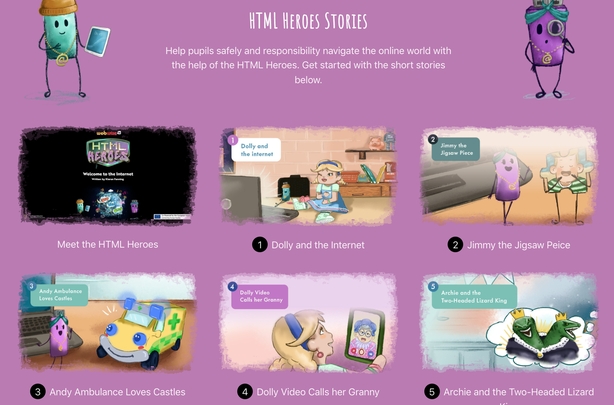 Safer Internet Day is a great opportunity to promote online safety and to explore key topics, and an online safety short story can be a great way to start the discussion!
The new HTML Heroes Online Safety education programme for 1st and 2nd class pupils features five short stories on various online safety topics ranging from exploring the internet for the first time to your online wellbeing.
You can download or order a hardcopy of the HTML Heroes short storybook HERE.
5. Get parents involved using the #TalkListenLearn resources
For Safer Internet Day 2022, Webwise is encouraging families to #TalkListenLearn and to talk regularly about the benefits and the challenges that children encounter online. Webwise has developed a great, fun tool to help families come together.
The #TalkListenLearn topic generator encourages families to sit down, have an open discussion using the questions on the website.
Check out the topic generator and lots more resources for parents here.
Parents can also download the updated Parents Guide to a Better Internet here.
These are just a few ideas for what can be done to mark Safer Internet Day 2022, but how you highlight online safety is up to you! You can find lots of more ideas on how to celebrate Safer Internet Day on the Webwise SID Hub.
Whatever activity you choose to do, be sure to join in the national and international conversation online using #SID2022, #TalkListenLearn and tag Webwise on social media.