Next year there will be a new boat helping Marine Institute scientists study the seas and oceans around Ireland and further afield - the RV Tom Crean.
It had its first dip recently and you can see its hull launch in the video above.
Named after the famous explorer, the RV Tom Crean, will replace the 31-metre RV Celtic Voyager, and will provide a year round service, enabling 300 operational days at sea each year, and up to 3,000 scientist days of research per year.
The new research vessel will be a silent vessel, capable of operating throughout the Irish Exclusive Economic Zone (EEZ). The RV Tom Crean will be able to go to sea for at least 21 days at a time and is designed to operate in harsh sea conditions.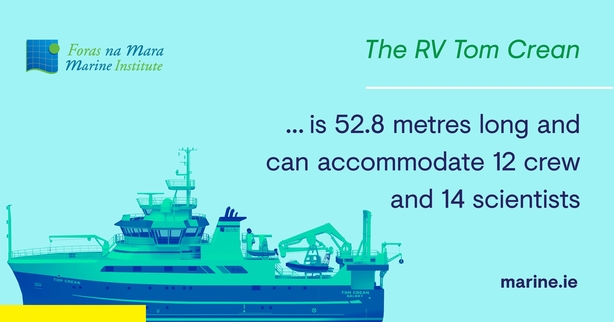 The RV Tom Crean will be on the seas with the RV Celtic Explorer...
The RV Celtic Explorer can stay at sea for up to 35 consecutive days and is at sea for about 300 days every year.
Download a fun fact sheet about the vessel here!
Click here to download the Celtic Explorer colouring sheet.
The RV Tom Crean is expected to go into service in the summer of 2022 but you can find out more about the ship it is replacing here, The RV Celtic Voyager, in the video above.
It is the first modern research vessel for the Marine Institute, and for Ireland. Over the past 20 years, the vessel has been involved in almost 600 surveys, enabled 5,000 science days and sailed 400,000 miles.
Click here to find out more about the work of the Marine Institute on RTÉ Learn!
And visit their website HERE!!