It's a big week for the climate and Ecolution had to be part of the #COP26 conversation.
So, we've teamed up with the youth organisation spunout.ie to try and explain what #COP26 is about. And why all of us should care about what happens in Glasgow this fortnight.
Tune in to RTÉjr Radio or press play above now!
Hannah Byrne of spunout explains why this collaboration was so important at this time.
"spunout.ie is Ireland's youth information website for young people aged 16-25. The climate crisis is one of the biggest challenges facing young people today, and as a youth-led organisation, we think it's important to speak up about climate action and demand more from world leaders, businesses and decision makers.
This is our future - and we deserve better. That's why we've teamed up with Ecolution to discuss #COP26 and what it means for young people in Ireland."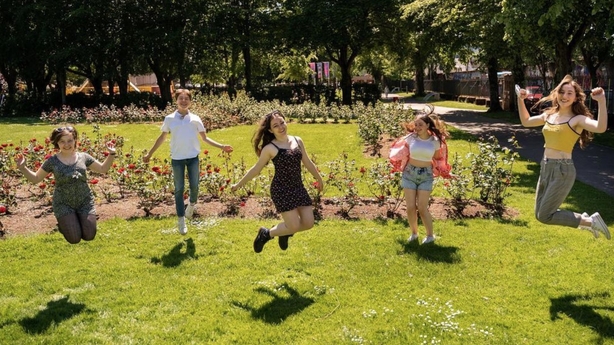 Three spunout volunteers agreed to write and record items for the show.
Orla Fitzpatrick is on the spunout youth panel, is 17 and based in Dublin. She speaks about what might happen if negotiations are unsuccessful at #COP26, but conversely, how our cities could look if we made all the changes we hope to see begun the conference.
Peter O'Neill is 16, an avid farmer in East Galway and a volunteer with spunout. He talks about the rural perspective and explains what COP is and how it will work.
Amy O'Brien is 16, based in Cork and presents the Sustainable Sleepover Club Podcast, made with the YMCA as well as being heavily involved with Fridays for Future and Comhairle na nÓg. She focuses on those people not properly recognized at COP. The People and areas most affected by the Climate Crisis. Or MAPA for short.
Amy also got an interview with Theresa Rose Sebastian, a climate and social justice activist who co founded the NGO Re-Earth initiative. She lives in Cork but she was born in Kerala, India. And she witnessed the impact of extreme weather during the Monsoons of 2018 in her home region. She'll also be in attendance as an observer in Glasgow and shared her insights on how it might pan out.
We need your consent to load this comcast-player contentWe use comcast-player to manage extra content that can set cookies on your device and collect data about your activity. Please review their details and accept them to load the content.Manage Preferences
Young people across the world are those that will be most affected by the decisions made at #COP26, for good or bad. And, if we've learned nothing else over the course of Ecolution, one thing is that young people have a lot to say on the matter.
The Sustainable Sleepover Club acted as our sounding board discussing their hopes and fears around #COP26, why it's vital MAPA voices are at the forefront of all future discussions and what they expect of the 125 World Leaders gathered in Glasgow over the next two weeks.
Theresa Rose was one of the young people who contributed to Climate Matters to Me with RTÉ News Digital Native Content team leading up to the conference.
Subscribe HERE with RTÉjr Radio or wherever you get your podcasts.
Click here to read all the Ecolution articles.