Primary Schools - it's time to get down to business! Registration NOW for this year's Junior Entrepreneur Programme here now!!
The closing date to register is TODAY!!
The Junior Entrepreneur Programme (JEP) is a real-life entrepreneurship skills programme for 5th and 6th classes. Press play above to watch the video!
Running nationally since 2014, over 80,000 pupils have created their own classroom businesses through JEP. Teachers can register their class on the Junior Entrepreneur website www.juniorentrepreneur.ie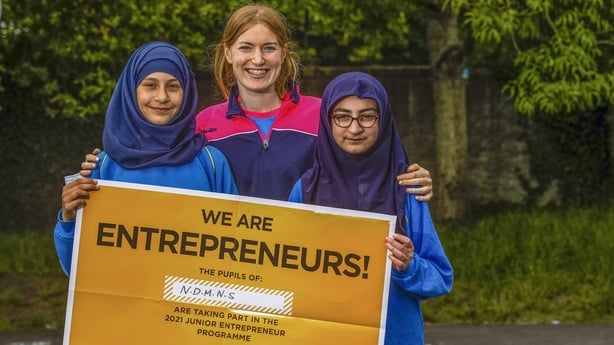 It's all about nurturing teamwork, problem-solving, creativity and boosting confidence PLUS there is a chance for kids to make some money!
Teachers are universally positive about JEP's impact in the classroom and their passion has helped it to grow from modest beginnings into Ireland's leading entrepreneurship and life-skills development programme for Primary School children.
Ellen Costigan is a teacher in Duleek Girls National School and has run the programme for the past three years with her 6th class pupils. Hear what she has to say below...
We need your consent to load this comcast-player contentWe use comcast-player to manage extra content that can set cookies on your device and collect data about your activity. Please review their details and accept them to load the content.Manage Preferences
Children grow in confidence and independence, and experience a wonderful shared sense of achievement when they successfully launch their own classroom business.
JEP promotes creativity and inclusivity. It engages pupils of all abilities, allowing them to discover their unique skills and let their talents shine.
Teachers, the closing date to register is Friday, 22 October. Sign up HERE!
AND here's why you should why you should sign up for JEP!
CURRICULUM INTEGRATION: JEP is academically approved and is directly integrated into the primary school curriculum allowing the teacher to cover Maths, English, Visual Arts, Drama, ICT and SPHE in a fun and interesting way.
CLASSROOM KIT: Participating teachers receive a comprehensive Classroom Kit including a teacher's guide, wall charts, activity sheets and an Entrepreneur's Workbook for every pupil.
SUPPORT: The JEP team supports teachers through every step of the process. Regular webinars and class check-ins are available in addition to phone and email support.
JEP TV: Series of events including live entrepreneur interviews delivered straight to the classroom!
RECOGNITION: Schools, teachers and pupils that participate in JEP are recognised through pupil and teacher certificates, school plaque, school flag and an online high-energy celebration event. Schools can enter their projects in the JEP Awards.
GAEILGE: The core programme resources are also available in Irish.
RTÉ is proud to support JEP, who have partnered with Enterprise Ireland and Tweak.com to ensure the continued success of the programme.
Enterprise Ireland is JEP's programme partner for the second year in a row.