The summer is here and it's hot. Kids can't wait to jump in the sea, river, lake or pool to cool down IF the sun comes out for long enough!
But, before we make a splash it's really important to learn about staying safe in and around water. Water Safety Ireland have two initiatives running right now to help make sure young people are safe this summer.
PAWS
The Primary Aquatics Water Safety (PAWS) programme is designed to teach school children everything they need to know to stay safe in, near and around water. It's the basic water safety information that every child needs and could save a life.
This year the PAWS programme is more important than ever before with the absence of swimming lessons for 15 months. Ahead of what will likely be an extremely busy summer for Irish waterways and beaches, Water Safety Ireland are calling on all teachers to become ambassadors of this free programme and encourage other teachers to share these lifesaving messages before the school term ends.
Follow Splash the Bear and River the Otter as they show children how to stay safe around, in and near water. It only takes an hour or two of class time to teach PAWS and all pupils receive a certificate upon completing the programme. The PAWS certification system is easy to use and teachers simply have to enter their contact details and the number of certificates they need.
With illustrations, interactive games and helpful facts, PAWS is guaranteed fun and gives common sense advice.
It's free, easy and all the resources for primary school ages are available now at www.teachpaws.ie.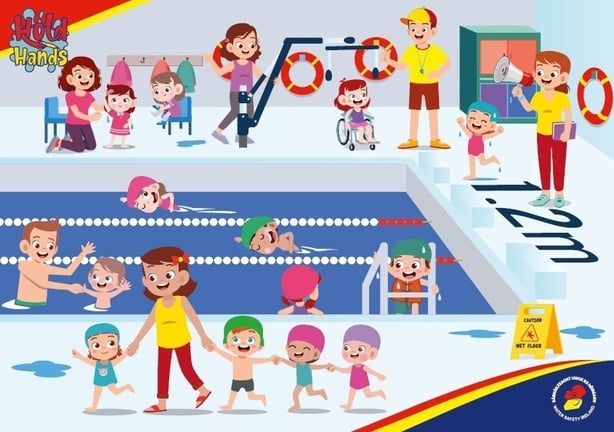 Hold Hands
Water Safety Ireland has launched the 'Hold Hands' water safety resource for Early Learning and Care Centres nationwide.
The programme is intended to empower educators to give children the knowledge needed to stay safe from drowning. 'Hold Hands' is centred around one main message - that a young child should always hold an adult's hand near water.
The resources have been designed by WSI to highlight potential water safety dangers at home, on farms, on the beach, at rivers, lakes and on holiday.
Storyboards grab children's imagination and include a cleverly designed pointer, shaped like a hand, so whenever a child engages in water safety learning, they are physically holding a hand to reinforce the behavioural change the lessons are trying to instill.
More information is available at www.holdhands.ie.
PLEASE STAY SAFE AND ENJOY THE SUMMER!