In the sixth and final episode of Microsoft DreamSpace ByteSize, Michael and Niamh introduce you and your class to the idea of animation.
This is the process of creating an illusion of movement from many still images. They are going to be practicing this by discussing the term animation, the importance of keeping active and creating our own exercise animation to help us get moving.
However, before we design our very own animation on our micro:bit, we need to identify the exercises we want to bring to life and how we are going to do all this using input and loop blocks of code.
During our review, we reflect on how we could have improved our animations and discuss how we utilised our computational thinking skills.
WALT: We Are Learning To Use Animations To Help Us Exercise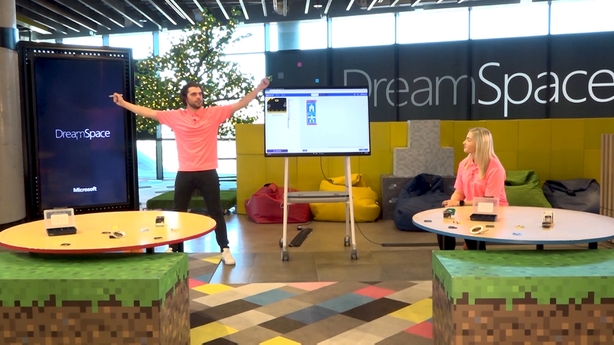 Everything you need to follow this episode of #MSDreamSpace ByteSize is here.
Download the complete handbook HERE
Download the episode guide HERE
Download the worksheets HERE
AND Learn more about MakeCode and micro:bit HERE
Notes
The coding activity will require students to have access to an internet connected device (phone, tablet device or laptop) and to log in, on the browser of choice to makecode.microbit.org
If for whatever reason the student cannot code on the MakeCode for micro:bit web app, they can still practice with the downloadable resources above.
Check out the curriculum links for this episode below:
Curriculum Area: SPHE
Strand: Self-identity
Strand Unit: Myself
Curriculum Area: Primary Language
Strand: Oral Language
Element: Communicating, Understanding, Exploring and using
Strand: Writing
Element: Exploring and using
Curriculum Area: SPHE
Strand: Myself
Strand Unit: Taking care of my body