In the fourth episode of Microsoft DreamSpace ByteSize, Michael and Niamh introduce you and your class to their final problem solving skill used by computer scientists and coders - algorithmic thinking.
This is the process of creating algorithms. They are going to be practicing this skill by discussing the story of Little Red Riding Hood and how algorithms could help solve a problem in that story.
Design your very own algorithms but not before we learn all about how they are just step-by-step instructions, the importance of making them clear and sequenced and what exactly a bug is and how they can help us learn.
During the review, reflect on how we could have improved our algorithm and why it was important to test it as we were making it so that it is easier to find bugs.
WALT: We Are Learning To Use Algorithms To Solve Problems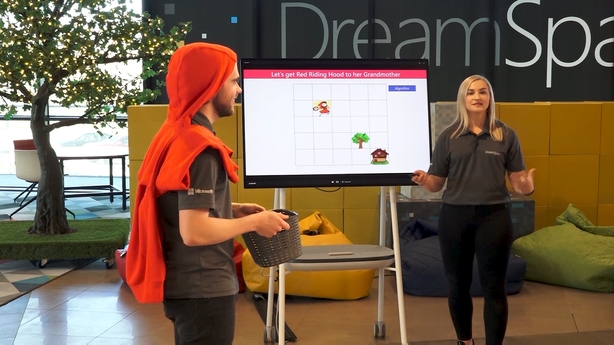 Everything you need to follow this episode of #MSDreamSpace ByteSize is here.
Download the complete handbook HERE
Download the episode guide HERE
Download the worksheets HERE
Notes
Check out the curriculum links for this episode below:
Curriculum Area: Mathematics
Strand: Number
Strand Unit: Counting and numeration
Strand: Shape and space
Strand Unit: Spatial Awareness
Curriculum Area: Primary Language
Strand: Oral Language
Element: Communicating, Understanding, Exploring and using
Strand: Reading
Element: Exploring and using