For World Bee Day 2021 and National Biodiversity Week, Ecolution took a trip to Wicklow to see how one family is trying to help our native pollinators, and a whole lot more.
In a small village in South Wicklow, down a very muddy laneway, filled with puddles and surrounded by thick hedgerows lies The Bee Sanctuary of Ireland.
Paul Handrick and Clare-Louise Donelan bought 55 acres of land ten years ago and, along with their four children, they have turned it into the only dedicated haven for native wild bees in the world.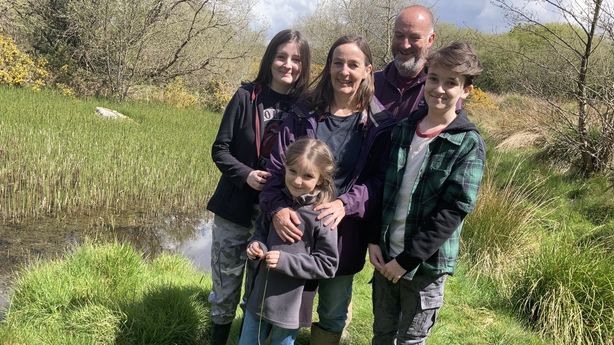 The land is made up of wildflower meadows and fields stocked with sunflowers, phacelia, clovers and mustard. Fields buzzing with bees and dancing with butterflies. Their hedgerows are purposely unkempt and full of nettles, brambles, thistles, wildflowers and wildlife.
For those of us used to the background noise of traffic, here that noise is replaced by bird song. And the variety of bird life, as well as other fauna, is staggering. Screeching barn owls, nesting sparrowhawks, soaring buzzard and kites. Deer, otters, foxes, rabbits and squirrels both red and grey use the land safely.
The twelve acres given over to wetland are home to frogs, newts, waterbirds and rare wildflowers.
But the biggest beneficiary of the land is the bees. And not as we usually think of bees, in hives, providing us with honey. But instead, bees just left to flourish in an ideal habitat.
We have 99 native bee species in Ireland - 21 of them are bumblebees. 77 of them are solitary bees. One is the honey bee.
Over a third of these bee varieties are in danger of extinction.
By offering acres of organic, untreated forage, The Bee Sanctuary allows these native bees to thrive.
But they need more people to help.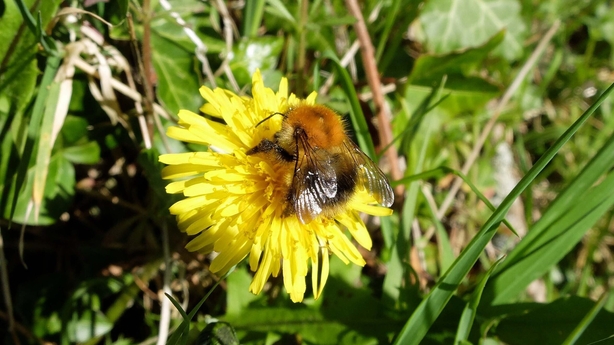 The National Meadowland is an initiative they've just launched asking farmers to put at least 2% of their land back to meadowland. Allow meadows to regenerate where possible, only actively reseeding where necessary after giving natural regeneration a chance.
Click here to read more about The National Meadowland Initiative
Paul explains: "We're not asking for the land to become 'unproductive' but rather less intensively productive. The meadows need to be left to the bees and other insects from March to September. Then they can be cut for hay or grazed over the winter period where suitable. No chemicals – fertilisers, pesticides, herbicides – or slurry should be applied to the land."
They hope to get more support for this initiative, ideally with Farmers being paid for the land that they use to provide for nature. The National Meadowland is their response to the biodiversity crisis we are facing. It is somewhat different to the Pollinator Plan in that it asks for active planting, which, for some is controversial.
However, they are quick to point out that they do no planting in wild areas. The wetlands, the woods and the hedgerows are allowed to grow and develop unchecked. A fallen tree is left to breakdown naturally, providing a lifeline for myriad insects, fungi and animals. Organisms that are crucial to a healthy forest.
Their advice, for your own home, garden or window box is to plant organic seed and offer forage that can last throughout the season for bees in need. The more safe havens there are, the more chance we have of helping all of Ireland's bees.
As the willow branches spring up through the fallen trees, offering early forage to Spring Bees, the possibilities of a thriving, biodiverse and healthy countryside feel all the more possible. What ways can you give more space to nature?
Ecolution is on every Wednesday at 7pm on RTÉjr Radio, or you can get the podcast now, wherever you find your podcasts.
Don't forget to subscribe to Ecolution HERE or wherever you get your podcasts for updates.
Click here to read more Ecolution articles and listen back to the other shows!
If you have a story about the environment you think we should cover, why not email us at junior@rte.ie.
Individuals can become a friend of the bees. There's a €36-a-year subscription for adults or €12 for children. Sanctuary visits can be arranged once Covid restrictions lift.
www.thebeesanctuaryofireland.com
RTÉ Learn has loads more about biodiversity here - BIODIVERSITY