Active School Week runs from Monday, 26 April to Friday, 30 April and we want you to get involved at school and at home!
Here is what you can do to get active for #ASW21!
The Active Every Day challenge encourages schools and homes to work together to help more children and young people, gain more active minutes every day.
The challenge has three parts...
Active at SCHOOL
The challenge for teachers is to find three different ways of energising the school day.
The Irish Heart Foundation have created NEW interactive Bizzy Break activities especially for #ASW21.
You can see them all HERE!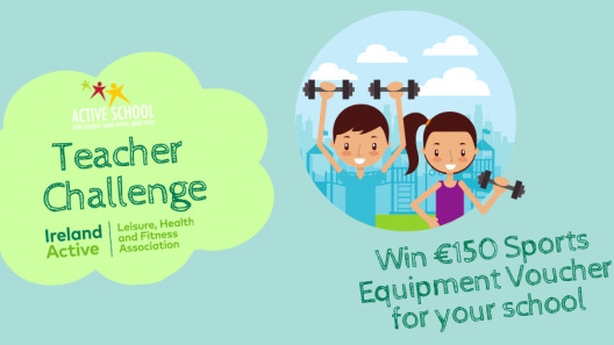 Daily Challenges
We're also asking schools to send out #ASW21 DAILY Challenges.
These physical activity challenges could be set by a member of staff, a sports organisation, a local/national role model, or even an Olympian athlete!
Ireland Active encourage schools to share their #TakeOnTheTEACHERS challenges to be in with a chance to win sports equipment.
As part of #FeelGoodFridays 30 April is Local Hero Day
Last year Irish rugby legend Brian O'Driscoll set this challenge.
A couple of schools contacted me saying they'd delayed their active week to this week and requested a drill to get the competitive juices flowing. So this is what I came up with. Look forward to seeing some of the results. 👇 pic.twitter.com/nyBNtivFJI

— Brian O'Driscoll (@BrianODriscoll) May 5, 2020
There are loads of great challenges with Team Ireland where we look back on all the fun they had on RTÉ's Home School Hub.
Check out the Egg & Spoon Race here!
Keep an eye on RTÉ Learn to see ALL the videos very soon!
Active at HOME
Parents and guardians are asked to encourage children and young people to find two, or more, ways to be active after school.
Even better if the whole family joins in!

On top of all of this the Run Around Ireland challenge is finishing on Friday, 30 April but you still have time to clock up those kilometres!
You can still see how far you can go this week and you can download a progress chart HERE
All the resources can be found at Active School Flag website here: Active School Flag
You can share all your challenges all week by using #ASW21 and tag @ActiveFlag.