This week's Mothertongues goes to Greece. We meet Rosie, Eric and Alice have an Irish dad and a Greek Mum, Katerina.
It's language with a slightly different alphabet, they keep on top of it by speaking Greek with their mum and their relatives.
In more normal times they would spend a long time in Greece during the hot Summers, swimming, playing and eating!
Greece is famous for its food and the family eats it as often as they can, on holidays and here in Ireland. Gyros are a delicious sandwich made with pitta bread and all kinds of nice things. They love cheese, serving Feta cheese with almost everything.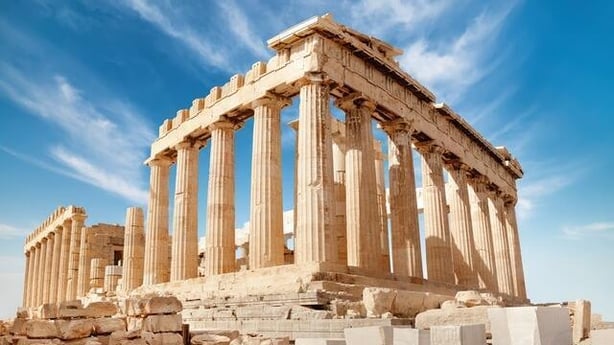 Greece is known for its culture and its myths. Ancient Greece was founded over 3000 years ago but it was a highly advanced civilisation. They invented theatre and were the home of the first Olympic Games.
As we said the letters in the Greek alphabet are very different so have a look at some of the phrases...
Hello = Ακούσατε!

Goodbye = Aντιο σας

Thank you = Ευχαριστώ
To subscribe and listen to ALL the podcasts in the series click the link below:
This is only the beginning for Mother Tongues and the crew are really keen to learn about more cultures and languages.If you would like to get involved and share your Mother Tongue contact us here: junior@rte.ie
Thanks so much to all the families who have taken part so far and to everyone at mothertongues.ie for helping connect the dots. They do amazing work and this is only a small addition to the help they give multilingual families across the country.