Ainmhithe san Earrach
Inniu, labhair Múinteoir Clíona faoi na hainmhithe óga a bheirtear san Earrach, go háirithe ar an bhfeirm. Luaigh sí na hainmneacha a dtugtar ar na hainmhithe óga seo.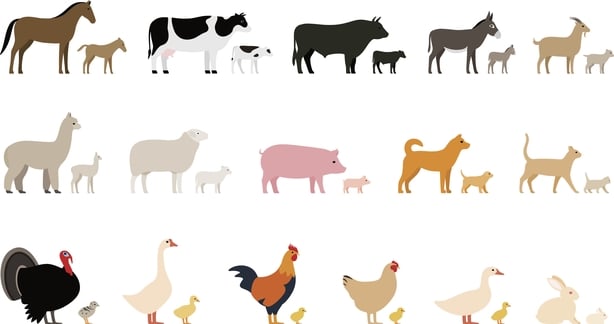 Mar shampla:
Bó agus lao
Caora agus uan
Muc agus banbh

Ach, an bhfuil fhios agat faoin athrú mór eile a tharlaíonn san Earrach chomh maith – bíonn bláthanna nua ag fás!
Beidh muid in ann na bachlóga beaga a fheiceáil go luath, i mí Feabhra agus i mí an Mhárta. Fásann siad aníos ón gcré.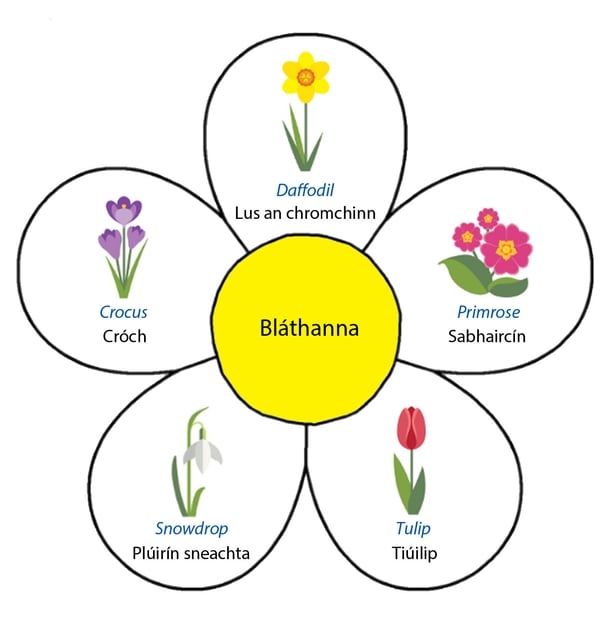 An cheád uair eile a bheidh tú amuigh ar shiulóid, féach timpeall ort chun na bláthanna nua a fheiceáil. Déan cur sios orthu.
Nodanna:
"Feicim _________ ag fás.
Dath _______ atá air.
Ta sé ard / gearr / mór / beag.
Is / Ní maith liom é".

Le cabhair ó do thuismitheoir, breathnaigh ar an bfíseán gleoite seo!
Can't let go: Six month old baby panda, Fu Bao clinging to a zookeeper leg in South Korea is one of the cutest things you will see today. Fu Bao, the first Chinese giant panda born in South Korea, made her official public debut on January 4. pic.twitter.com/RYkqnvYetC

— RTÉ News (@rtenews) January 26, 2021
Bhí sé le feiceáil ar Nuacht RTE an tseachtain seo caite. An bhfaca tu é?
Léirionn an físeán panda óg atá anéilitheach don dhuine on Zú a thugann aire di! Fu Bao is ainm di agus is panda Síneach í. Nach bhfuil sí chomh clúmhach agus bog?!

Bí cruthaitheach!
Cuir dath ar an bpictiúr seo!
Ta cúpla lus an chromchinn le feiceáil sa phictiúr. De ghnáth, bíonn siad buí - ach is féidir leat aon dath ar bith a chur orthu - bí cruthaitheach!