Bike Week is here! Taking place during May for the first time this annual celebration of cycling brings communities together for cycling events, group rides, school events and much more.
Here, our friends at Green-Schools Ireland tell us what's going on and how you can harness pedal power!
Most local authorities have events and initiatives planned during Bike Week; you can check your local area's plan out on the NTA Bike Week website.
The Green-Schools Programme is a key partner of Bike Week and our Green-Schools Travel Officers will be out in schools every day of Bike Week, delivering cycle training, cycling games, leading group cycles and lots of fun activities to get primary and secondary school students interested and involved in cycling.
Wednesday, 18 May is National COW Day (Cycle on Wednesday) and Green-Schools will be hoping to gather the number of students across Ireland who have cycled to school that day. Find out more about Green-Schools & Bike Week at the Green-Schools website and download a document with ideas for celebrating Bike Week HERE.
Here are five things to do for Bike Week 2022!
1. Get back on a bike!
If it's been a while since you've cycled or you don't own a bike anymore, Bike Week is a perfect time to get back in the saddle. You could rent a bike through one of the bike-sharing schemes in Dublin, Galway, Cork and Limerick; Mullingar and Athlone also got their own bike sharing schemes recently so hopefully all larger towns will have access to shared bikes soon.
Schools taking part in the Green-Schools Travel themes can apply for part-funded Cycle Right training and Cycle Right also offers free certified online Cycle Training. This would be suitable for advanced senior students, parents and staff in schools to do in their own time.
The direct link to their resource page is at here and the course registration is here.

2. Cycle 4 Climate
On Sunday, 15 June the Climate Ambassador and Green-Schools Programmes are bringing three 'Ambassador' groups together to Cycle 4 Climate, from Dublin's Conference Centre to St Anne's Park. Bike Week is an ideal time to remember that bikes fight climate change and that cycling is a key way for societies to reduce car dependency.
Why not use this week to map a route you might regularly drive or be driven on and see if you can bike it? Schools could create a cycling policy during Bike Week: discuss the best routes to school, where students can safely store bike and what incentives can be provided to those who cycle all or part of the way to school?

3. Join a group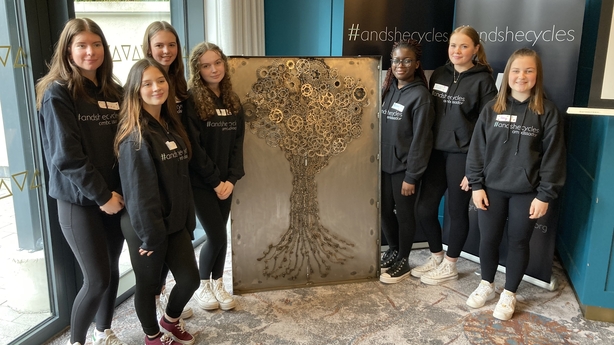 For many people, especially young women, cycling seems daunting and "a boy's thing"*. The Green-Schools #AndSheCycles Campaign is working with young students to change this perception of cycling along with empowering and enabling them to cycle to school.
This Bike Week why not grab some friends and cycle together to a local park or attraction and enjoy the camaraderie of cycling. In Dublin groups like Monthly Cycles meet for leisurely group cycles each month.
If you're in Dun Laoghaire Rathdown on Sunday, May 15th you could avail of free cycle training for women in UCD: Register here!

4. Try a Greenway
Our Greenways are growing! Check out the RTÉ News report on the Limerick Greenway which opened last year.
This Bike Week consider hitting a Greenway close to you and discover the joy of cycling in nature. The best part of longer cycles is the tea break so make sure to plan your stops and snacks accordingly.
The NTA website has information on Greenways and Cycle Routes on the Bike Week website: Click here for all the details!

5. M Check yourself!
You have a bike and a route and you're ready to adventure! What's next? An M check, of course. Don't leave home without doing this quick check on your bike.
The Green-Schools Programme has two videos to help you perform the M Check, in English above agus as Gaeilge anseo.
If you're already someone who cycles regularly there's never any harm in updating your bike maintenance skills – set a goal to learn something new during Bike Week 2022!