Cruinniú na nÓg 2022 takes place on 11 June, so it's time to reveal what's in store as we step back into the real world this year. There are over 450 events taking place all over the country with something for everyone!
Cruinniú na nÓg 2022 is a collaboration between the Department of Tourism, Culture, Arts, Gaeltacht, Sport and Media, the Creative Ireland Programme, local authorities and RTÉ and is the only event of its kind in the world.
At the launch of Cruinniú na nÓg 2022 at Killruddery House and Gardens in County Wicklow, Minister Catherine Martin said:  "Since 2018, Cruinniú na nÓg has become a key date in Ireland's cultural calendar. It has provided wonderful opportunities for Ireland's 1.2 million children and young people to try something new like circus skills, animation, perform at live music gigs, explore contemporary dance, showcase new work through youth theatre and so much more. All events are free."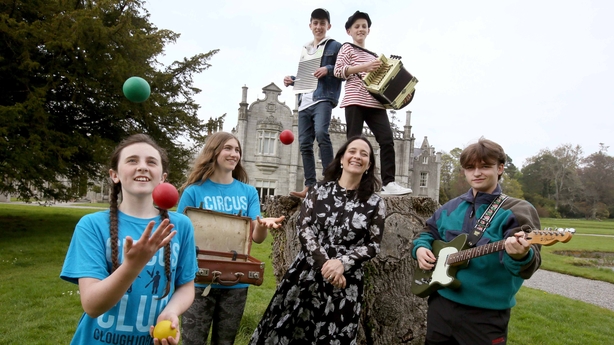 She said: "We are so thrilled that the restrictions of the last two years are behind us and that this year everyone can join together to be creative, express themselves and have fun."
Click here to see all 450 events on the official Cruinniú na nÓg website!
Check out some of the nationwide highlights taking place on 11 June!!
The winners of This is Art!, the All-Ireland art competition from RTÉ and Creative Ireland will be announced on the day. The deadline for entries is Friday, 13 May so get creating now!!
Click here to enter the competition!
Pop-Up Dance is a Dance Ireland project which aims to connect with young people who want to dance. There will be twelve pop-up performances around the country, developed by local youth dance companies to reflect their own communities and experiences.
Garageland is back! And this year they are going live with concerts in Dublin, Meath, Donegal, Waterford, Tipperary, Kerry, Wicklow, Cavan and Monaghan. Running alongside these live concerts will be Galaxyz, a dedicated online TV channel which will live stream the concerts, screen pre-recorded performances and host industry chats.
Irish Street Arts, Circus and Spectacle Network (ISACS) will host open days for young people who want to try their hand at circus skills and street spectacle at their dedicated venues in Cloughjordan, Cork, Dublin and Galway. For those that can't be there on the day, there will be a full range of online tutorials available and 5,000 juggling balls will be given away so that young people can develop their circus skills at home.
Historic Houses of Ireland invites everyone to four of their gorgeous properties. Activities will include aerial acrobatics at Killruddery House and Gardens in Wicklow and a forest school a Kilmokea House in Wexford. Birr Castle will focus on astronomy and biodiversity and Enniscoe in Mayo will have a full programme of events in their historic gardens.
Nenagh Children's Film Festival will run from 10-12 June with Crúinniu na nÓg at the heart of it. In an exciting development, the festival will collaborate with Foróige, Digital Animation Production TUS and the National Talent Academy for Animation to encourage young people to create and participate.
Highlights will include screenings of a commissioned animation dedicated to young audiences and 10 film shorts created in participating schools.
Youth Theatre Ireland will host introductory theatre workshops throughout the country.
TG4 with support from the Gaeltacht division of the Department of Tourism, Culture, Arts, Gaeltacht, Sport and Media, will produce Cruthaím 33 which will champion the talents of 33 children and young people from every county in the country as well as a representative of our young diaspora. Also included in the programme will be four films made by transition year students from Gaelscoileanna around the country.
Keep an eye on RTÉ Learn for more updates, but in the meantime why not click here to meet our Cruinniú na nÓg ambassadors!