It's time to meet intergalactic pop superstar Nova Jones and her crew as they travel the universe in their spaceship, the Jefferson, dropping out-of-this-world tracks, killer videos, and playing sell-out gigs to legions of fans throughout deep space.
Tune in to RTÉ2 from Wednesday, 22 September at 5pm and watch it ALL on RTÉ Player too!
We also meet McLaren, Nova's hyper-capable 12-year-old sister/ manager, who is definitely the grown-up in their relationship. It takes an incredible skillset to manage such an incredible superstar.
Nova lives for the music, so expect at least one maddeningly catchy song per episode. Unfortunately, she also lives for herself, so McLaren will be run ragged trying to keep her star sister happy.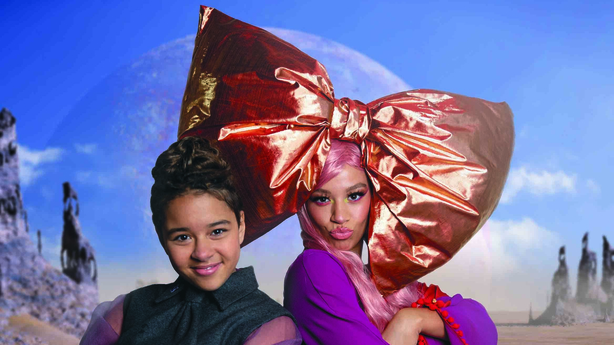 It's not just about one star as it takes teamwork to make to make the dream work and we get to meet everyone behind the scenes too!
Travelling the universe on board the Jefferson Spaceship with the sisters are The Captain and his robot arm named Digit, plus his excitable companion Sid.
There's more talent with Kid Songwriter. Chef Din-Dins serves up some amazing food for the crew - including some colourful aliens.
On their travels they come across showbiz journalist Bobbles Smithsonian, pop rival Johnarchy, his manager Malcolm and The Host of Universe Has Talent.
From intense chart battles and talent-sucking aliens, to confronting space trolls and playing for an audience who might literally explode.
The universe provides an infinitely crazy set of problems for a hard-working legend and her even-harder-working sister.
Tune in to RTÉ2 and RTÉ Player from Wednesday, 22 September at 5pm!
The full box set is also dropping on RTÉ Player the same day if you are very impatient!!
The series was filmed in Belfast with funding from Northern Ireland Screen and Screen Ireland and produced by JAM Media for RTÉ and CBBC.