For the fourth show in the StageSchool Ireland Presents series we are going to the Banner County.
StageSchool Ireland's Ennis group bring you Dare to Dream - an epic Superhero tale!
Tune into RTÉjr Radio at 7pm this evening or press play above now!
Teacher Claudia O'Sullivan tells us more: "We see two sisters one good the other pure evil battling it out for control of New York city! All the superheroes of New York are thrown into a portal and sent to various lands.
This story follows two superheroes Sketch and Oceana as they try to find their way back home to save their city from the evil Dreamer and her sidekick Shadow.
This play was a joint effort between my fabulous students and me! With great advice and guidance from my boss John Lucey and Nicky Coghlan at RTEjr."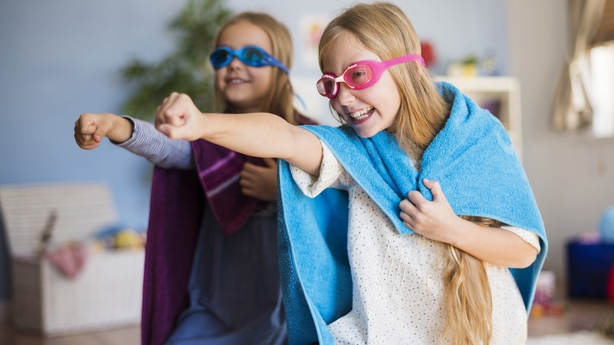 "I brainstormed ideas with my students using character exercises. Every single student gave ideas for characters, locations, and conflicts. I then sat down took what ideas I felt could work and created a rough storyline consisting of six scenes.
Once the storyline was okayed and given some constructive advice, I then spent three days writing the script. It was meant to be a ten-minute play, but I got a little carried away! Many cups of tea could be to blame!
We had some technical issues like sound delays and students being kicked out of the Zoom room. Even I was kicked out one Friday evening! Another time my screen was frozen in a hilarious position, so I'm told. And my poor housemates had to deal with my crazy panic as I tried to fix the internet!"
Well done to everyone at StageSchool Ireland!
The finished play was edited and sound designed by Aoife O'Neill in Tralee. This is her first project with RTÉjr Radio.
Tune in to RTÉjr Radio at 7pm this evening to hear the show!
AND you can find it on the RTÉjr Radio podcast or wherever you get your podcasts.
#ICYMI Listen back to the other StageSchool Ireland shows HERE!!