Cruinniú na nÓg 2021 is here and RTÉ TV and Radio have some great things in store, including great animations from young people!
The full TV listings are at the bottom of this article and you can also catch up RTÉ Player HERE
Plus, RTÉ news2day had THIS report on the launch and RTÉ news will have more on what's happening today!
Click here to see all the events as part of the national day of children's creativity!
On RTÉjr television this week we will have loads of great animations made by young people as part of Nenagh Children's Film Festival which runs from 11-13 June. Check out the online-only compilation here!
There is another cool compilation on RTÉjr TV as well as The Space Adventure by Sarah age 14, Sarah and Lily Make Pizza by Sarah age 9 and Lego Rocks by James aged 13.
Tune in to RTÉjr TV to meet The Speks! Quince, Naymon, Tommo, Pete, Ed and Rafferty love to sing, dance and play Irish music for kids.
Join them as they sing nursery rhymes and kids' songs set to Irish music because they LOVE Irish music!
The Speks live on an island out in the middle of the ocean off the coast of County Clare called Glasses Island because here, everybody wears glasses.
Watch the Speks brand new performance on the Cruinniú na nÓg website on Saturday, 12 June and keep an eye on RTÉjr.
The Magic of the Sea RTÉjr
Fanore National school tell us the story of the fisherman and the beautiful sea creature who turned into a human when she came ashore.
You can see more from this film on RTÉjr television and watch the full on the Cruinniú website..
Beat Your Drum RTÉ2 9.55am Saturday, 12 June
Brian Fleming and the crew at Glór Theatre in Ennis will have this film on RTÉ2 at 9.55am on Saturday and RTÉ Learn will have the final showcase on the day..
It will be an amazing showcase of rhythm from all over Ireland and the world!
Selkie RTÉ2 10.35am Saturday, 12 June
Selkie is a short film, written and narrated by Grainne Rafferty, filmed and edited by Ewan McNulty, produced by Droichead Arts Centre, celebrating Cruinniú na nÓg.
It's a story of how a Selkie came to be in Clogherhead.
And it's not all TV this weekend. Check out some audio treats here too!
Garageland at Criunniú na nÓg on RTÉ 2XM Saturday, 12 June
RTÉ 2XM have partnered with Garageland to bring you performances from 90 bands on a marathon day of music. It all starts at 10am and runs right through the day.
There are loads of amazing special guests too, so check out RTÉ Learn for more details.
Click here to listen to 2XM LIVE on the day!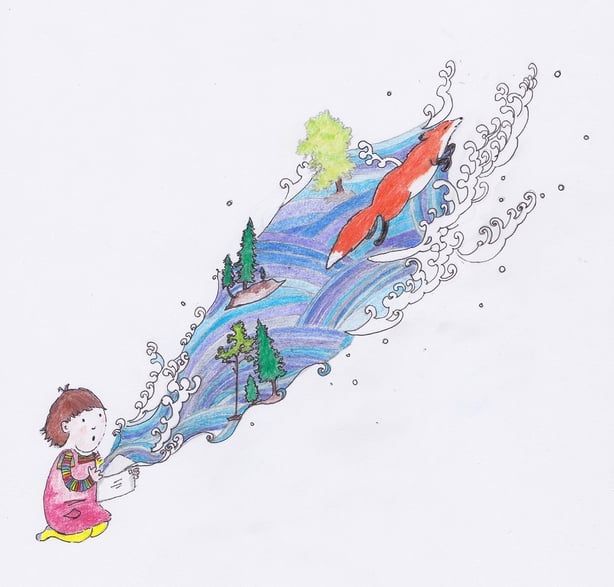 Fox, Bird, River, Sing! on RTÉjr Radio 11.55am and 4.55pm Saturday, 12 June.
Tune in to RTÉjr Radio on Saturday to hear Fox, Bird, River, Sing! A Radio Play for Children. It will be broadcast at 11.55am and again at 4.55pm.
"Where the land meets the salty water you stand, barefoot. The sea laps upon your feet and in-between your toes. It's dawn and the birds are wakening the land and as you lift your eyes, you see the sun peep over the blue horizon. It all looks mysterious today.
You curl your hands to your eyes to make magic binoculars and as you scan the horizon you see appearing far away, where the sky meets the sea, a red fur-bodied, big-eared, white-chested creature sitting proudly on a floating log, the wise Red Fox"
Check out the full listings for RTÉjr and RTÉ2 for Saturday, 12 June
On RTÉjr
07:23 True Specks 2
07:48 Lego Rocks
07:50 The Space Adventure
08:03 Sarah And Lily Make Pizza
09:00 Next Gen Animation Compilation
10:25 Beat Your Drum Finale
11:00 The Magic Of The Sea
11:10 Lego Rocks
12:20 Beat Your Own Drum
12:30 Sarah And Lily Make Pizza
14:50 The Space Adventure
14:55 Next Gen Animation Compilation
15:20 The Magic Of The Sea
15:30 Beat Your Own Drum
On RTÉ2
09.55 Beat Your Drum Finale!
10.35 Selkie
Cruinniú na nÓg 2021 is a collaboration between the Department of Tourism, Culture, Arts, Gaeltacht, Sport and Media, the Creative Ireland Programme, local authorities and RTÉ and is the only event of its kind in the world.