Join researchers at I-LOFAR in Birr Castle Demesne, County Offaly and DIAS Dunsink Observatory in Dublin to watch a solar eclipse LIVE from 10am on Thursday, 10 June.
They have solar telescopes with cameras set up at both locations and will be live streaming a close up of the Sun so we can see the eclipse as it happens!
The partial annular solar eclipse will be visible from Ireland at the following times:
In Dublin, it will begin at 10:01am until 12:21pm with maximum at 11:08am.
In Birr, Offaly from 9:58am until 12:19pm reaching a maximum at 11:06am.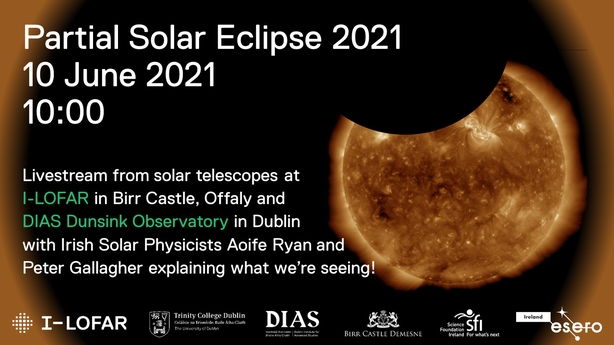 Some of Ireland's leading solar physics researchers like Peter Gallagher and Aoife Ryan will help us to understand what we are looking at, what happens during a solar eclipse and why it is important to study our closest star - the Sun.
Viewers will have an opportunity to type questions for Peter and Aoife which will be answered live to learn more about what we are seeing.
This event is free and open to all, suitable for all ages and levels of expertise. Schools are welcome to log in and view with a class/classes of students.
The live stream and watch party will run from 10:00 to approximately 11:30.
Register on Eventbrite to get a reminder and viewing link directly by email.
Contact info@lofar.ie with any queries and accessibility requirements.
Before the event watch this video with Dr Ryan Milligan where he explains what is happening and how to safely view a solar eclipse.
For more information check out: