This past year has been a very strange experience for everyone, and young people have faced serious disruption to school and lack of social interaction.
As a result UCD School of Psychology are running a series of free webinars for parents and teachers to help them help young people and improve their understanding of their mental health challenges.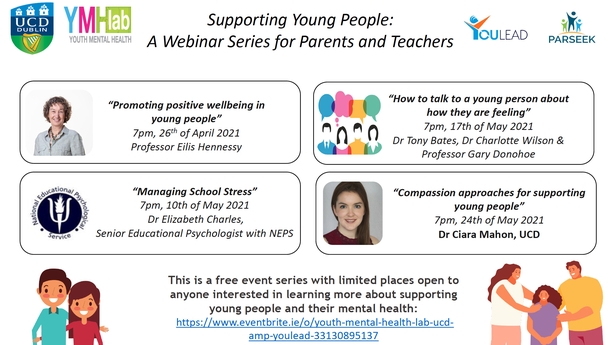 You can register for the talks right up to the event itself by clicking HERE!
Monday, 26 April 7pm-8pm: "Promoting positive mental health in young people". This talk will be given by Professor Eilis Hennessy, Developmental Psychologist from the School of Psychology University College Dublin.
Monday, 10 May 7pm-8pm: "Managing school stress". This talk will be provided by Dr Elizabeth Charles, Senior Educational Psychologist from NEPS (National Educational Psychology Service).
Monday, 17 May 7pm-8pm: "How to talk to a young person about how they are feeling". Panel Discussion with clinical psychologists Dr Tony Bates, Dr Charlotte Wilson (TCD) & Professor Gary Donohue (NUIG). There will also be young people on the panel to give their perspective.
Monday, 24 May 7pm-8pm: "Compassion approached for supporting young people". This talk will be given by Dr Ciara Mahon, Postdoctoral research fellow from the School of Psychology UCD.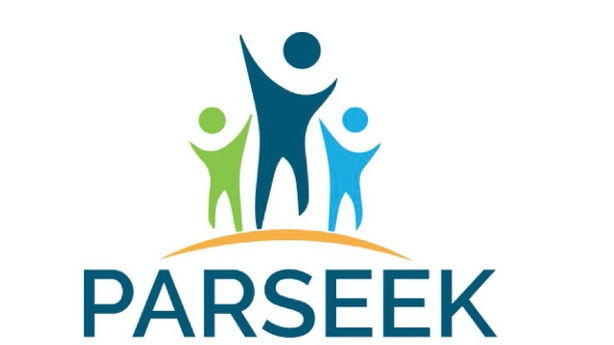 The talks are to coincide with the PARSEEK Study being lead by UCD's Daráine Murphy. It's a ten-minute survey for parents on their own mental health knowledge.
You can follow this link to the survey - Take Part in the PARSEEK study
Parents are also asked to encourage the young people in their own household to take part if possible.
The aim of this study is to help researchers in UCD find out about parents' perceptions of adolescent distress.
They are interested in getting a better understanding of how parents judge whether or not an adolescent who is distressed needs to get additional help. The study also aims to investigate parents' mental health knowledge.