There are many different Easter traditions around Ireland and artist/ folklorist Michael Fortune from Folklore.ie has shared some with us in this special video he produced for the Design & Crafts Council Ireland.
Michael chats about all these great Irish traditions and how they are linked to many of the traditions in mainland Europe. In his home county of Wexford, there is a very old tradition of dressing up and going 'Guggin' for Eggs' at Easter.
The tradition was on the verge of complete disappearance when he started documenting it back in 2006 around the county. In the days leading up to Easter Sunday, children dress up, some with masks and some without, and go 'Guggin' for Eggs'.
Armed with a stick, a basket, an apron and old clothes, children would walk out from the villages and towns and call to farms in the countryside, demanding "Eggs or money, mam?" This was mostly done on Holy Saturday, while some also went out on Easter Monday.
Most children went out during daylight hours. However, the bigger ones went out in disguise at night like at Hallowe'en. Michael's own children take part but sadly last year due to COVID, they could not house call and collect eggs so instead they left gifts of fresh eggs from their own hens for their neighbours.
The term 'guggin' comes from the word 'gug' which is a name used for an egg all over Ireland. All around Ireland children also gathered and ate hen and duck eggs at Easter, however they didn't dress up like in Wexford, but they marked the occasion with an outdoor picnic of sorts.
In Cavan families and neighbours would gather on Easter Sunday and Easter Monday and have what they called a 'Clúdóg' where they lit an outdoor fire and boiled and ate their hen and duck eggs. Sometimes they dyed the eggs by boiling them in pots with onion skins, nettles, gorse petals or whatever they could find.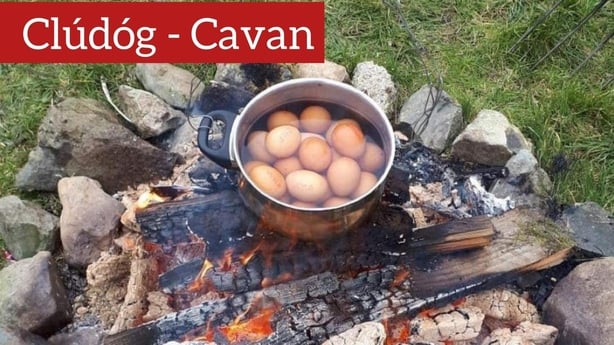 In Donegal and Fermanagh this outdoor picnic was called The Easter House and like in Cavan and other parts of Ulster they would try to light the Easter Fire to boil the eggs on a hill and then play some games. One such game involved rolling the eggs down the hill and another one involved trying to eat as many eggs as possible.
Please enjoy these old traditions, however you won't be able to go 'Gugging for Eggs' this year, it might be fun to dress up for the day and maybe with your parents help - you might try boiling up and eating some hen eggs outside if you can.