The time has arrived! All the training has been done, and now the students in green have the chance to shine on the global stage.
After lots of learning and development of coding skills, we want you to use something that makes us very uniquely human- your imagination. The last five episodes has allowed for a construction of knowledge about coding, AI and the micro:bit itself.
Taking all that knowledge together, the hope is that you can apply it to imagine and create a solution that will work in a real-life context. If you are ambitious to be our Irish champion, you also have the option to create a solution in line with either Global Goal Three or Global Goal 13 and submit an entry to the micro:bit foundation's do your:bit competition.  
To help place you in the best possible position for this, the final episode of this DreamSpace TV series focuses on reflecting on key learnings and looking ahead to a design process. The process the team introduce is called "Design Thinking" and is extremely popular across the world in many industries.
This episode brings you through some explanations and strategies you can engage with to assist with design thinking.
However, it is a quick and brief tour of the approach and if you use this to develop your own micro:bit project, be sure to give it more time than we do and to move back and forth through the stages in order to ensure your project is the best that it possibly can be.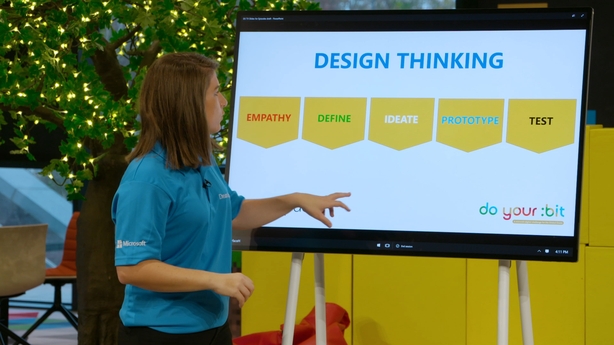 When you have successfully developed out a solution to be proud of, head over to the do your:bit website to submit your project entry.
We can't wait to see the innovation from students all over Ireland. Check out the resources including extra challenges for students and teacher/mentor guidelines for this episode HERE
Teacher/Mentor/Parent Notes
The coding challenges will require students to have access to an internet connected device (phone, tablet device or laptop) and to log in, on the browser of choice, to makecode.microbit.org.
Don't forget, you can find all resources including series guidelines and episodic resources HERE
What areas of the post-primary curriculum could this be linked to:
Computer Science:

Computer Science concepts reviewed
Design thinking approach (relevant approach for many software developers)

Science:

Scientific Method (relatable to Design Thinking)

Engineering and Design:

Design Thinking methodology (Empathy, Define, Ideate, Prorotype, Test)