A huge focus of our series has been creating technology for good and to help us focus on this, we have been looking at the Global Goals.
These 17 goals were decided upon by world leaders in 2015 and the ambition is to achieve them by 2030. How amazing would the world be if we can reach these 17 goals?

It would be a much better society, environment and planet for each and every one of us. 
Goal Three is "Good health and wellbeing". Working towards this goal, no matter where we are in the world or what age, is important. As the saying goes, "your health is your wealth". The global goals website (Global Goals Site) explains:
"Over the last 15 years, the number of childhood deaths has been cut in half. This proves that it is possible to win the fight against almost every disease. Still, we are spending an astonishing amount of money and resources on treating illnesses that are surprisingly easy to prevent. The new goal for worldwide Good Health promotes healthy lifestyles, preventive measures and modern, efficient healthcare for everyone."
As always, we want to challenge ourselves to think about how technology could enable and empower people to lead healthy lifestyles by taking some basic steps (excuse the pun!) in their everyday lives.
So, in this episode, we look at how the micro:bit can be programmed to encourage us to take more steps. Goal Three is also a key goal for the do your:bit challenge  and our tutorial is one of many ways that the micro:bit can be used to work in relation with this goal. Once you have mastered the challenges in this episode, it would be a good idea to think about what else you could do using the micro:bit and your knowledge to ensure "good health and wellbeing" for all.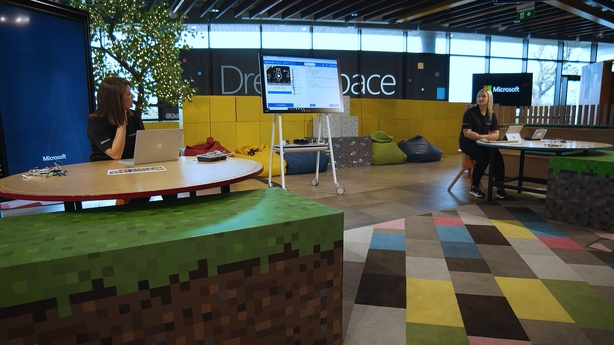 Check out the resources including extra challenges for students and teacher/mentor guidelines for this episode HERE
Teacher/Mentor/Parent Notes: 
The coding challenges will require students to have access to an internet connected device (phone, tablet device or laptop) and to log in, on the browser of choice, to makecode.microbit.org.
Don't forget, you can find all resources including series guidelines and episodic resources HERE
What areas of the post-primary curriculum could this be linked to:
Computer Science:

 Computer Science (MakeCode and Python): Variables, While loops, for loops, functions
 Physical computing with the micro:bit
 AI for Health

Science and PE:

Physical Activity (e.g. step counter, timer, competition) with potential to link to circulatory system, breathing system, respiration.

SPHE:

Staying well, life choices, wellbeing (linking to SDG 3: Good Health and Wellbeing)

Math:

Time
Logical and computational thinking