RTÉ and the Creative Ireland Porgramme's massive online competition This Is Art! has seen the deadline extended until 31 January and here we hear from some of our judges and artists about how important it is to explain your work.
Even though it may be clear to you, as a creator, what the subject matter is or what inspired you, one of the important things in this competition is to tell the judges why your work means so much to you.
There are over a thousand entries so far and you can see them ALL in the GALLERY
Plus you can see them on social media via the This Is Art! Instagram account.

An artist's statement is simply a short introduction to your work. It can be whatever you think is significant or whatever might help a viewer to better understand your work. Best keep it short - just enough detail to keep the viewer interested. No longer than 500 words maximum.
Here is just one example from the gallery below...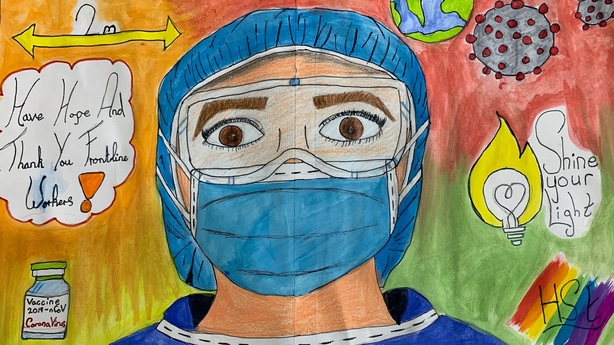 Eabha, 14, from Galway called this piece Thank You.
This piece of art that I have made is about the front line workers and everything they are doing for us. The theme 'this is now' makes me think of how right now there is a front line worker putting their life on the line for someone who they may not know and are working so hard to save that persons life from corona virus. They are doing that right now this very minute and that is why I would like to say thank you.
Here are questions you could ask yourself before you write your artist's statement.
Why did you make this piece of art?
Why are you drawn to this subject? How are you responding to the theme? Giving a behind-the-scenes look into what drives your art is an excellent way to begin building an emotional connection with your audience.
What does your art represent?
Does your art represent something about you or your message about the world?
What inspired you to create this work?
What connection do you have to your art? What motivates you? Try to express why you create what you do and your audience will feel more enthusiastic about it, too.
How did you make it?
Why did you choose these materials? What techniques did you use? Is there a connection between the way you made your work and what your work is trying to say?
If you have not heard of This Is Art! before check out this article on RTÉ Learn - This Is Art!