The theme for the Late Late Toy Show has been revealed and it is the Wonderful World of Roald Dahl. So, let's get to know a bit about his work before the biggest show of the year.
EVERYTHING YOU NEED TO KNOW ABOUT THE LATE LATE TOY SHOW
Roald Dahl was born in Llandaff, Wales, on 13 September 1916 to Norwegian parents. He was named after Roald Amundsen, the Norwegian who had been the first man to reach the South Pole just four years earlier.
His mother sent him to boarding school - first to St Peter's, Weston-super-Mare; then, in 1929, to Repton - where many bizarre and memorable events would later be recounted in his book Boy.
Pupils at Repton were invited to trial chocolate bars, and this happy memory inspired Charlie and the Chocolate Factory.

Roald's own adult life was full of action and adventure too as he would go on to become a fighter pilot for the British Royal Air Force in World War Two. After a crash he could not fly any more so he became a spy for MI6. He had written books for grown-ups and kids but then in the 1960s he wrote some of the all-time great children's classics.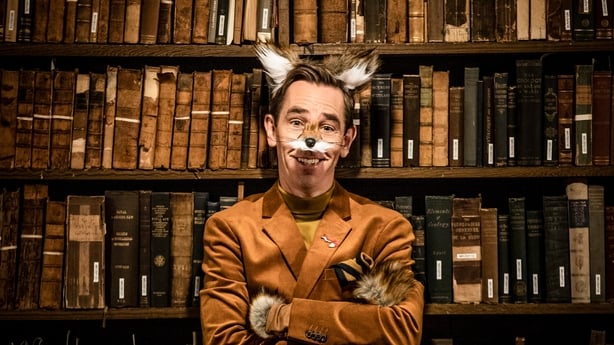 In 1961 James and the Giant Peach was published in the USA, followed by Charlie and the Chocolate Factory. Then came Fantastic Mr Fox which was published in 1970, the year before the film Willy Wonka and the Chocolate Factory was released.
You will get to see some great songs about them on the Toy Show on Friday and check out Ryan as Mr Fox himself!
All through the 1970s Roald Dahl would continue to write some of the your favourites like Danny the Champion of the World, The Enormous Crocodile, and My Uncle Oswald.
In the early 1980s he published The Twits, Revolting Rhymes, The BFG and The Witches. A lot of his work has been made into films too and you will be seeing some of them on RTÉ over the Christmas.
Roald Dahl passed away in 1990, but only the year before he was in Dublin meeting fans at the Ilac Centre in Dublin and you can hear him here: Meeting Roald Dahl
The Late Late Toy Show is set to air on Friday, November 27th on RTÉ One at 9.35pm.