Wellness and wellbeing are important things for us to be thinking about as we aim to live happy and healthy lives. The steps taken to improve wellbeing can vary from person to person but ultimately these steps should lead to improved physical, emotional and social wellbeing.
Challenge: Think and discuss what the difference is between physical, emotional and social wellbeing. Give examples of what could be done for each of these categories.
Sometimes when we are really busy, we don't take the time to practice wellness and wellbeing. So, it is important to ensure time in your day, every day, to do something that helps you. For example, in this episode, Amanda says exercise helps her while Corey says that she likes to read.

These are just two examples but to have a balanced approach, you should vary it with other activities as well (remember to be thinking about what can help you physically, emotionally and socially).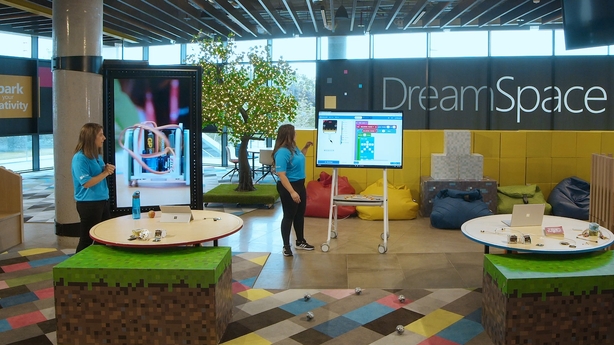 So, our coding challenge in this episode will be to program our very own "wellbeing picker". Never has the "Do" part of our challenges been more important because we do want you to code but we also want this to encourage you to take care of your wellbeing too. Enjoy!

Teacher/Parent Notes
The coding challenges will require pupils to have access to an internet connected device (phone, tablet device or laptop) and to log in, on the browser of choice, to makecode.microbit.org
Check out the curriculum links for the episodes below:
Mathematics
Strand: Data. Strand Unit: Chance
Physical Activity
Strand: Athletics. Strand Unit: Jumping
Strand: Dance. Strand Unit: Exploration, creation and performance dance
Science
Strand: Living Things. Strand Unit: Human life
SPHE
Strand: Myself. Strand Unit: Taking care of my body
Music
Strand: Listening and responding. Strand Unit: Listening and responding to music
Primary Language
Strand: Reading. Strand Unit: Communicating, understanding and exploring and using.
Visual Arts
Strand: Print. Strand Unit: Making prints