On After School Hub we think it's always good to look at how we are all different and how that makes the world a really interesting place.
Special guest, Múinteoir Elsie, talks to us about diversity and tells everyone about her Cerebral Palsy. She did an amazing job, so let's get to know her a bit better!
What are your hobbies?
My favourite hobby is speech and drama which I really enjoy and have been doing since I've been about four or so with Karen Murphy speech, drama and communications. I love swimming and athletics. I am a member of the Finn Valley Athletic Club. I compete in able body competitions but don't do very well!
I have more success when I take part in the Para events and have won numerous medals in both swimming and athletics at events hosted by the IWA and Disability Sport NI. My favourite swimming stroke is breaststroke and I don't like long distance running and prefer to stick to sprints. I really enjoy the Para events as it allows me to compete against athletes of a similar ability.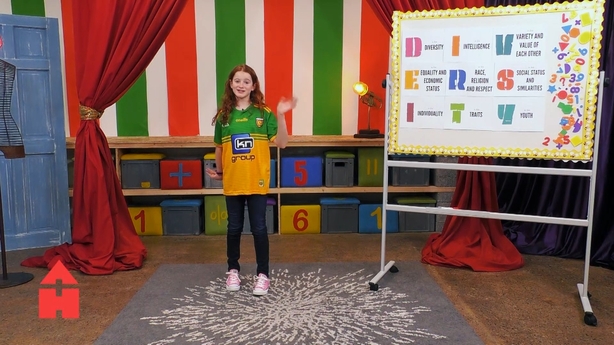 I love Gaelic football. I am a member of St. Marys GAA club, Convoy. However, I struggle sometimes with the skills and using both hands and therefore instead of playing I help out with coaching. I was part of the management team when our senior ladies got promoted to Division One for the first time the year before last.
My other interest is taking part in the Panto. Each year at Christmas I take part in the panto at the Balor Theatre and I also love taking part in the panto production organised by the Sean O'Hare Unit, Stranorlar (intellectual disability service provider). Unfortunately due to Covid 19 this is not happening this year and I'll miss these.
I played soccer for my national school (St. Patricks, Drumkeen) and I would love to see a ladies cerebral palsy Irish National Football Team established as it would be my ambition to play for them in the future.
Who are your heroes?
I don't have any particular heroes I look up to. But I admire and am inspired by my parents, my brother Canice, my teachers (past and present) and many of the people that I engage with in the HSE like the Physios, Occupational Therapists and Doctors.
In respect of the 'Heroes' sweets crunchies are my favourite!
What are your biggest dreams?
I would really love to make a documentary for TV to raise awareness about disability. My biggest dream is to have a career in acting and be in a big movie and/or I would like to be a TV presenter.
Sporting wise I would like to represent Ireland in a CP football team or be a Paralympian swimmer or athlete.