Thursday's After School Hub is mixing it up with some music thanks to Seo Linn, John is going on a voyage of discovery aboard the Jeanie Johnston, Ray is reporting from an imaginary match and Emer is practicing some yoga.
On Friday the After School Hub Winter Games will be coming to an end. Our Team Ireland athletes don't have much more time to stake a claim for their own Gold Medal.

Check out what's in store tomorrow from Kellie Harrington and the crew.
We need your consent to load this comcast-player contentWe use comcast-player to manage extra content that can set cookies on your device and collect data about your activity. Please review their details and accept them to load the content.Manage Preferences
The weekly schedule is here and you can use it to catch up on anything you missed on RTÉ Player...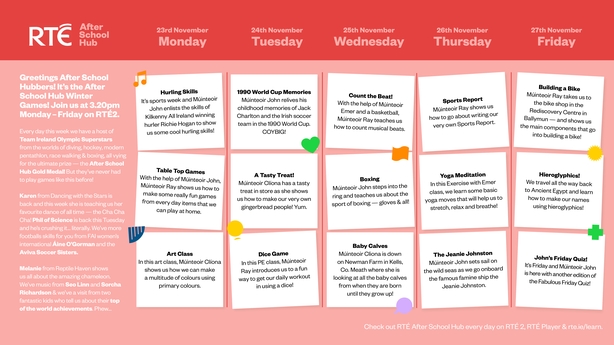 You can download the full version to share HERE
Agus as Gaeilge ANSEO
Coming up on Thursday's show...

Múinteoir John is bringing everyone back in time to when millions of Irish people left the island of Ireland to escape the Great Famine. With thanks to the Jeanie Johnston ship, people nowadays can see what it was like on board these ships as they crossed the Atlantic Ocean for the USA.

TEN FACTS ABOUT THE JEANIE JOHNSTON
When you think of sport, it's not just all about the players. It's about the story and the people who bring you the stories bring you close to the action. Múinteoir Ray is going to show you how to make your own match report for TV and radio.
Think of it like a way of building a story with the facts, the emotion and all the drama. It's something really fun to try and even do it at the weekend with the matches on TV.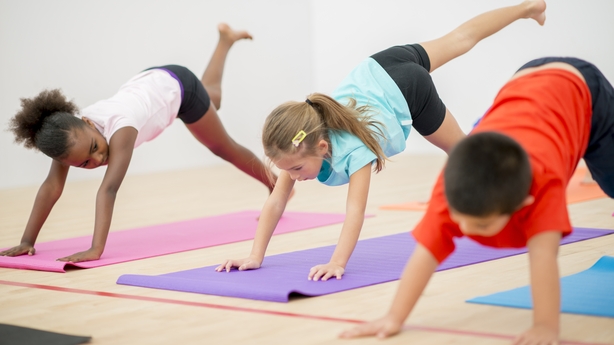 Múinteoir Emer is making sure we are all relaxed as she shows us how to do some yoga. You may have heard about it before, so why not give it a go. Yoga is a group of physical, mental, and spiritual practices or disciplines which originated in ancient India.
It may not technically be sport but there is a big link to Sports Week. Lot's of the top athletes in the world practice yoga to make sure they don't hurt themselves in action, as it stretches all their muscles.
Give it a go!

Music Hub is back too and we are delighted for you to meet the Connemara crew Seo Linn. They exploded on the scene a few years ago with this cool cover version of Avici's Wake Me Up.

Since then they have been all over the world playing their traditional high-energy style and bringing the Irish language to new audiences.

Singing along is a really fun way to practice your Irish too!

AND we are still Dancing with OUR Star - Karen Byrne. She is stepping up the pace with the fourth lesson as she teaches everyone at home one of her favourite dances called the cha-cha-cha which was invented in Cuba waaay back in the 1940s.

If you want to catch up on the first three lessons just click on the link HERE
You know the score! Tune in to RTÉ2 weekdays at 3.20pm for After School Hub and on RTÉ Player
And we want to see your dance moves and sporting skills! UPLOAD HERE