Ahead of World Children's day this Friday, 20 November, young people from Music Generation Kilkenny shared their debut single 'Feel The Victory' with an After School Hub exclusive!
In case you missed it, check out the song and video at the top of the article. It took a huge amount of effort from everyone involved, beginning with an intensive virtual song-writing camp. From there the young people of Music Generation Kilkenny wrote, performed and recorded 'Feel The Victory' at the DRUM Youth Centre, in partnership with Foróige.
Well done to Laura, Charlotte, Clodagh, Katie, Enya and Cathal!
 
About Music Generation 
Music Generation's goal is to transform children and young people's lives by giving them opportunities to create, play and perform music in their own communities and on their own terms.
Since it was established in 2010 Music Generation has grown to reach 25 cities and counties in Ireland, creating 67,000 opportunities for children and young people to engage in music-making every year. About 400 professional musician educators work with Music Generation and together they provide tuition across 200 different programmes, in all genres and styles of music.
Since March 2020, Music Generation has been finding lots of new, innovative ways to continue to support children and young people to make music – online, and at a safe social distance. You can see a snapshot of some of the virtual performances and projects online HERE, or take a look back at the end-of-term concert hosted online by Music Generation during summer 2020 HERE. 
No doubt there will be lots more performances popping up online to mark the festive season!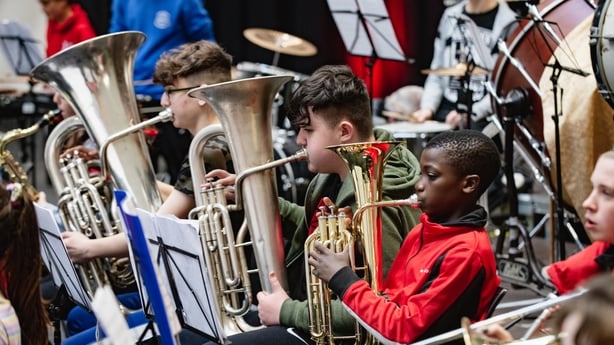 Initiated by Music Network, Music Generation is co-funded by U2, The Ireland Funds, the Department of Education and Skills and Local Music Education Partnerships. 
Music Generation Kilkenny is led by Kilkenny and Carlow Education and Training Board in partnership with Kilkenny County Council.
The song was produced by Mark Colbert and Anthony Donnelly from Music Generation Kilkenny, co-ordinated by Sinead Blanchfield and the video was produced by Shane at Old Mill Pictures.
If you want to find out more about how to get involved with Music Generation in your area, you can visit their website www.musicgeneration.ie.

Find the contact details for your local programme HERE

Follow them on social media:
Twitter: @mus_gen
Facebook: MusicGeneration
Instagram: musicgenerationireland