After exploring lots of coding concepts and practicing coding skills for the last five episodes, it's time to put them to the test. As discussed in previous episodes, coding is our way of giving a computer program a set of instructions.
Did you know we can code in lots of different languages? The key thing that we need to remember is to make sure our code is really clear so that the program understands what we want it to do.
With the upcoming episodes, including this one, our instructions will program a micro-controller called the micro:bit. It is pretty cool!
It has 25 red LED lights, two buttons and lots of special sensors that detect things like movements, temperature, light level and even an in-built compass.
Challenge: Do you know what LED lights are? What things in your home use LED lights to work?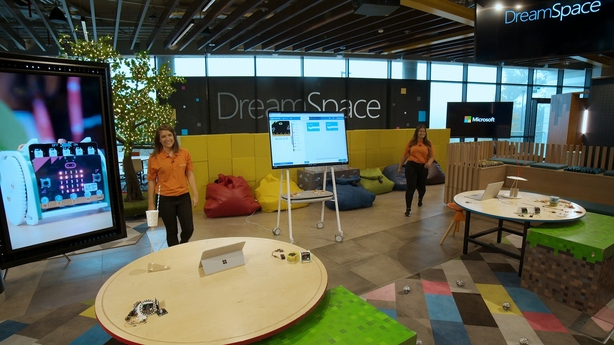 LED lights are all around us. They are the lights that tell us the time on our alarm clock or oven. They are the lights that tell us if our TV is on or on 'standby'. How cool is it that we can program 25 of them all at once?
So, whether in school or at home, join the DreamSpace team to learn how we can do all of this in Episode Six of DreamSpace TV.
Download all the details for this episode here.

The coding challenges will require pupils to have access to a internet connected device (phone, tablet device or laptop) and to log in, on the browser of choice, to Make code at Microbit.org
Check out the curriculum links for the episodes below:
Primary Language
Strand: Reading and Writing. Strand Unit: Exploring and using. Genre: Procedure
SPHE
Strand: Myself. Strand Unit: Feelings and emotions

Geography
Strand: Natural environments. Strand Units: Weather, climate & atmosphere; Rocks
and soil
Strand: Human environments. Strand Units: People living and working in the local
area and people living and working in a contrasting part of Ireland; County, regional
and national centres
Strand: Environmental awareness and care. Strand Units: Environmental awareness;
Caring for the environment
Science
Strand: Environmental awareness and care. Strand Units: Environmental awareness;
Caring for the environment
Visual Arts
Strand: Print. Strand Units: Making prints
Music
Strand: Listening and responding. Strand Unit: Exploring sounds
Mathematics
Strand: Number. Strand Unit: Place value