One of the most powerful and evolving technologies of our time is Artificial Intelligence (AI). Artificial Intelligence is often thought as the ability of a computer program to be able to perform tasks intelligently (through thinking and learning).
For example, if we ask a voice assistant (eg Cortana, Siri, Alexa) a question, they will return an answer. The voice assistant is able to understand and think about the words we have said and return what they feel is the most accurate reply. It might not always be correct and in that case, very often these programs learn from their mistakes. In that way, they are very human and the more 'human-like' the AI is, the better this program has been trained.
Do some research and identify five ways that Artificial Intelligence may play a part in tasks you or your family do each week.
The great thing about Artificial Intelligence is that it can be used for good. In Microsoft, we have initiatives based on "AI for Good" where we provide technology, resources, and expertise to empower those working to solve humanitarian issues and create a more sustainable and accessible world. In this episode, we want to focus specifically on "AI for Earth" which aims to solve and address global environmental changes.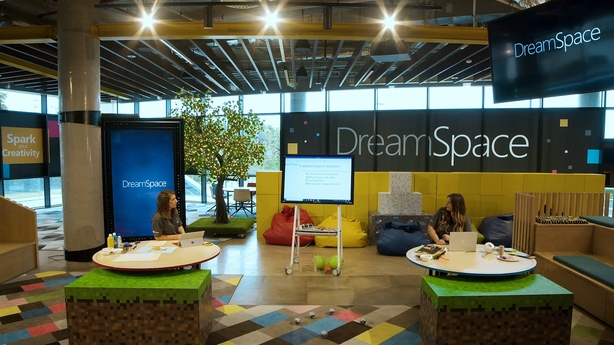 So, whether in school or at home, join the DreamSpace team in Episode Four of DreamSpace TV to learn about what algorithms are and how understanding these may help us to protect our planet's endangered species.

Download the worksheet to take part and help you understand AI more.

The maker challenges will require a variety of recyclable arts and crafts materials with preferably a scissors and an adhesive material for students to use also. The materials are not specific so as to offer flexibility with the challenges but also to encourage students to think creatively and produce a solution with the resources that they do have.
Check out the curriculum links for the episodes below:
Science
Strand: Living Things. Strand Unit: Plant and animal life
Strand: Materials. Strand Unit: Properties and characteristics of materials
Strand: Environmental awareness and care. Strand Units: Environmental awareness;Science and the environment
Primary Language
Strand: Oral Language, Reading and Writing. Strand Unit: Exploring and using. Genre: Information report
Visual Arts
Strand: Drawing. Strand Unit: Making drawings.
Strand: Construction. Strand Units: Making constructions; looking and responding
Mathematics
Strand: Shape and space. Strand unit: 3-D shapes
SPHE
Strand: Myself and the wider world. Strand Unit: Developing citizenship